Well fellow 67s fans, another hockey season has come to an end. An end far too early for many of us. This season marked the 40th anniversary of the 67s organization and the 30th year of Kilrea behind the bench where he also marked his 2000th game in major junior hockey. All fine milestones.
As you readers know, I'm certainly no expert in the fine (?) art of hockey so you may well argue with my following observations. I certainly invite your feedback 'cause among the things that I have learned in my journey to informed fan-hood is that there are as many points of view as there are fans. There really isn't any such thing as "being absolutely right".
We all had high hopes for a wildly successful season and a deep run into the playoffs. Didn't quite turn out that way.
Some numbers:
The record: 30 wins, 34 losses, 1 overtime loss, and 4 shoot-out losses for 7th place in the conference.
Top scorer, Jamie McGinn placed 17th in the league overall with 89 points (46 goals and 43 assists). He didn't miss a game.
The 67s next top scorer is Logan Couture who ranked 33rd in the league with 78 points in 54 games (26 goals and 52 assists)
Rounding out the top three is Brett Liscomb at 81st (interesting - his jersy number too) with 55 points in 62 games (24 goals and 31 assists)
In the rookie ranks, Cody Lindsay ended up 28th with 27 points (9 goals and 18 assists)
In the D-corps: Derek Joslin ranked 14th in the league with 49 points (11 goals, 38 assists), Joe Grimaldi was 25th with 36 points (2 goals an 34 assists) and Tyler Cuma was 60th with 19 points (3 goals and 16 assists).
Goals for: 198 (6th in the conference and 12th in the league)
Goals against: 274 (6th in the conference and 8th in the league)
In goalie stats, number 1 Brady Morrison was 13th in Goals Against Average, 14th in Save Percentage and 16th in wins.
14th in the league for power plays having scored 90 goals in 497 chances. Not sure where short-handed goals against figures into the stats.


13th in the league on the penalty kill having allowed 91 goals on 437 shots allowed.
What the heck does all that mean? To my untrained eye, it looks like the team was pretty much middle of the road in all areas. Didn't dominate anywhere; didn't lag signficantly anywhere. So a first round exit might have been well expected.

One charactaristic of this team was inconsistentcy. It was amazingly consistent how inconsistent they could be. They could go from winning against teams they shouldn't have (Barrie twice) to losing badly to teams they should have beaten (Erie, Toronto). It was always a guessing game which team would show up.

But it was still fun to watch and fun to be a fan. Major junior hockey is what it is - exciting, unpredictable hockey. We were entertained by some incredible plays, big hits, exciting goals and spectacular saves. Well worth the price of admission.
Goodbye and Good Luck to This Year's Overagers:
Brodie Beard: The longest serving 67s from this year's batch of overagers having joined the club in the 02-03 season. This South Porcupine native played 270 games as a barber pole scoring 10 goals and 43 assists. His total PIMs were 225. No word on his plans for the future. Whatever he decides, here's hoping the best for him.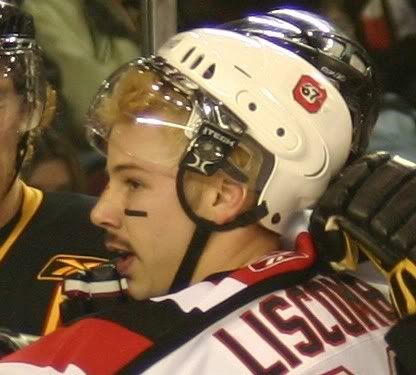 Brett Liscomb
Brett joined the team mid-way 05-06 in a trade with the Windsor Spitfires. He often played bigger than he is, not hesitating to mix it up with guys much bigger. He's the inspiriation for our proposed Gulliver Rule: players who tangle with others who are at least a head taller should be allowed a seconder without getting the third-man in penalty. Brett has mused about going down east to go to university and play hockey. Good luck and say hey to the other former 67s out there.
Joe Grimaldi:
Joe also joined the 67s mid-way through 05-06 having left the University of Nebraska-Omaha. He certainly managed to evoke strong responses from the fans. In 100 games he scored 14 goals, 55 assists and served a whopping 292 penalty minutes - a habit that the fans reacted the most to. For my part, I always liked how he played in the offensive zone but his defensive zone play made me nervous. He had a try-out with the Islanders last year; who knows what will happen this year. Good luck Joe.
Will We See Them Next Year?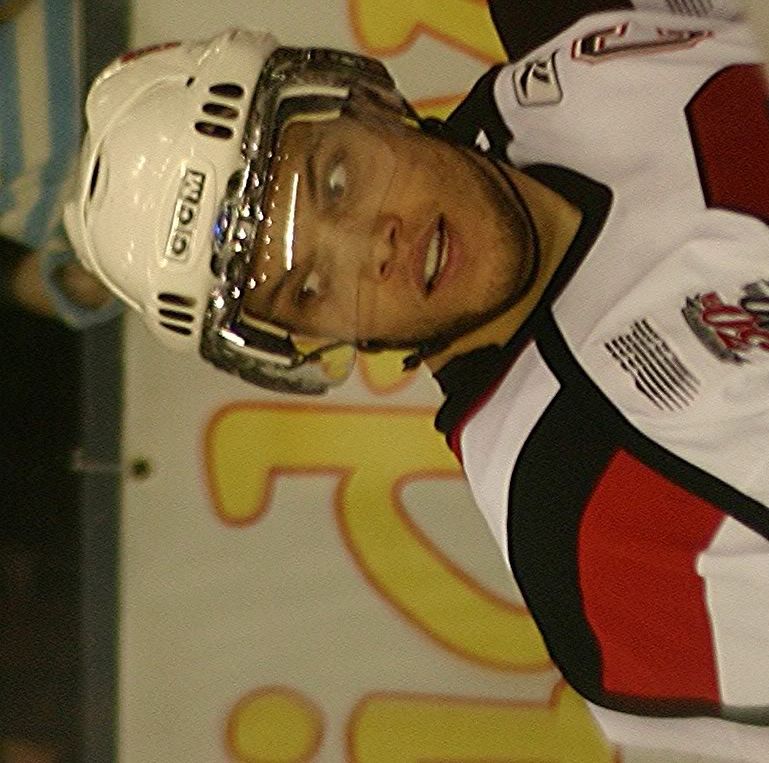 Captain Derek Joslin
Derek is another player who has spent his entire OHL career as a 67s player having joined in 03-04. He didn't miss a game during his run here and amassed 30 goals and 101 assists. He also was named to this year's Eastern Conference All Star Team. Derek was signed by the San Jose Sharks in December and popular thinking is that he will join former team mates Lukas Kaspar and Brad Staubitz down on the farm in Worcester. Rumour has it that he is already there on an Amature Try Out (ATO) contract. He will be missed but we wish him all the best.
Jamie had a career year here in his third season. He was the team's top scorer with 89 points in the regular season and 6 in the short playoff run. He too was a member of the Eastern Conference All Star Team. He's an unsigned, second round pick of the San Jose Sharks and word has it that he too is off to Worcester for an ATO. Some have speculated that he may not be back but I think he will - both Sharks teams appear to be rather full at the moment. But the experience will do him good. Looking forward to seeing him next year - possibly as the new captain.
This rookie goalie from Switzerland came into the club with a lot of promise but he struggled in the first half. He went home to be a member of the Swiss World's Junior team and came back a diffferent kid. Not sure what the status is for European players - sometime real soon teams will be limited to 1 European on the roster.
This third season with the 67s has been his most productive, scoring 17 goals and 24 assists. He played on pretty much every line, ending the season on the top line with Couture and McGinn. Some have speculated for some time that he is talented enough to bring in some solid defenseman in a trade. It would be sad to see him go but it takes a good player to get a good player. We'll see what the summer brings.

Potential Overagers Next Year: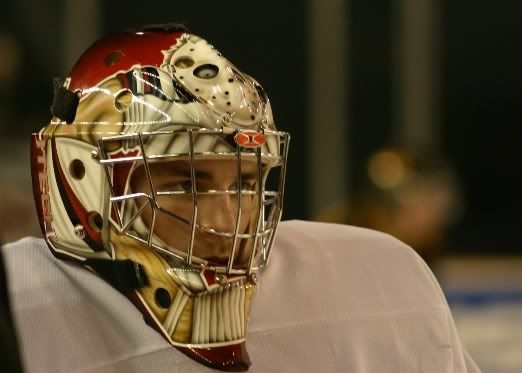 Brady Morrison
Last year's goalie was a tough act to follow but Brady came in and gave it a good run. He joined the team in 05-06 after starting in Kingston the prior year. He played a total of 66 games for Ottawa resulting in a win/loss record of 26 and 32 with a 3.75 GAA and .889 SV%. He's eligible as an overager next year but it seems he may have already comitted to Carleton University.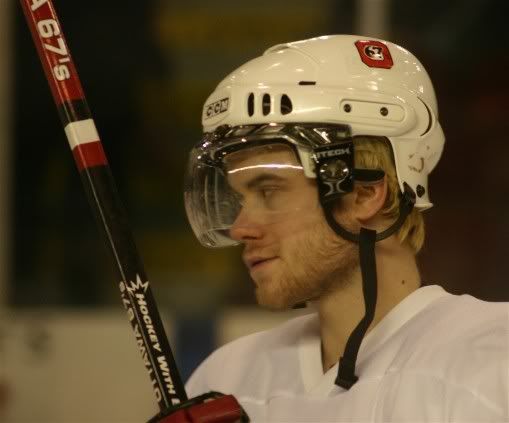 Jakub Vojta
The other European member of the 67s squad, Jakub is an unsigned prospect of the Carolina Hurricanes. This year he was a member of the Czech Republic's World Junior hockey team. While Ottawa will be hurting on the blue line, it's largely thought that he won't be back next year.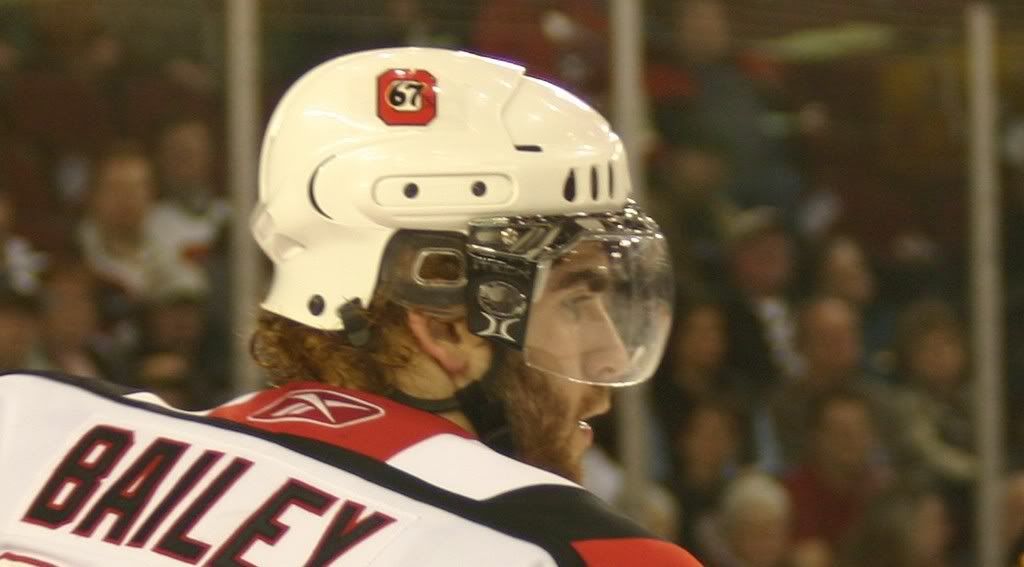 Jason Bailey
Jason joined the team mid-year, leaving Michigan State University for the OHL. In his 35 games he scored 7 goals and was credited with 9 assists. He will likely be back next year. He's an unsigned third round pick of the Anaheim Ducks.
Players We Expect To See Next Year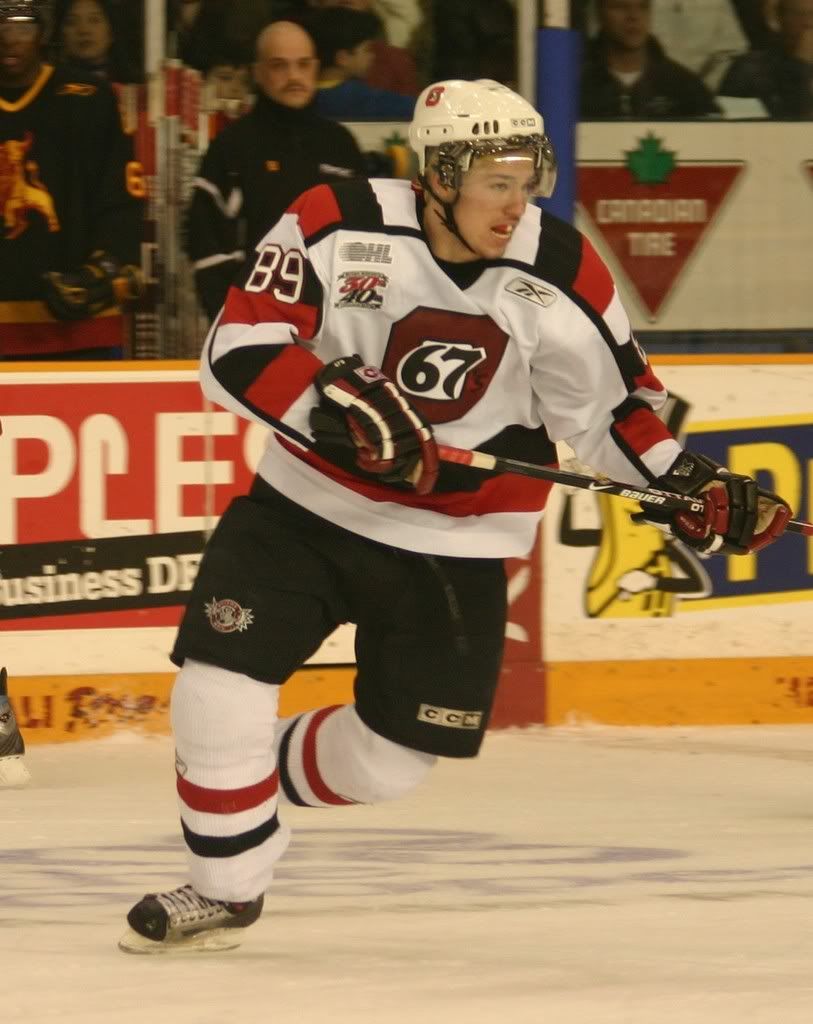 Logan Couture
What a year he had...6 seconds away from joining the U-17 squad but instead ended up spending serious time healing a very bad laceration. Comes back from that just to get dropped by a nasty bout of mono. It took a long time for him to get back to form but once he did, he did really well. He missed 14 games and probably played nearly as many at sub-strength and he still notched 78 points. Logan also played for the winning team in the Prospects Game. A full year of good health will be amazing. He is currently in Finland as a member of the U-18 team.
Good luck and for goodness sake stay healthy!!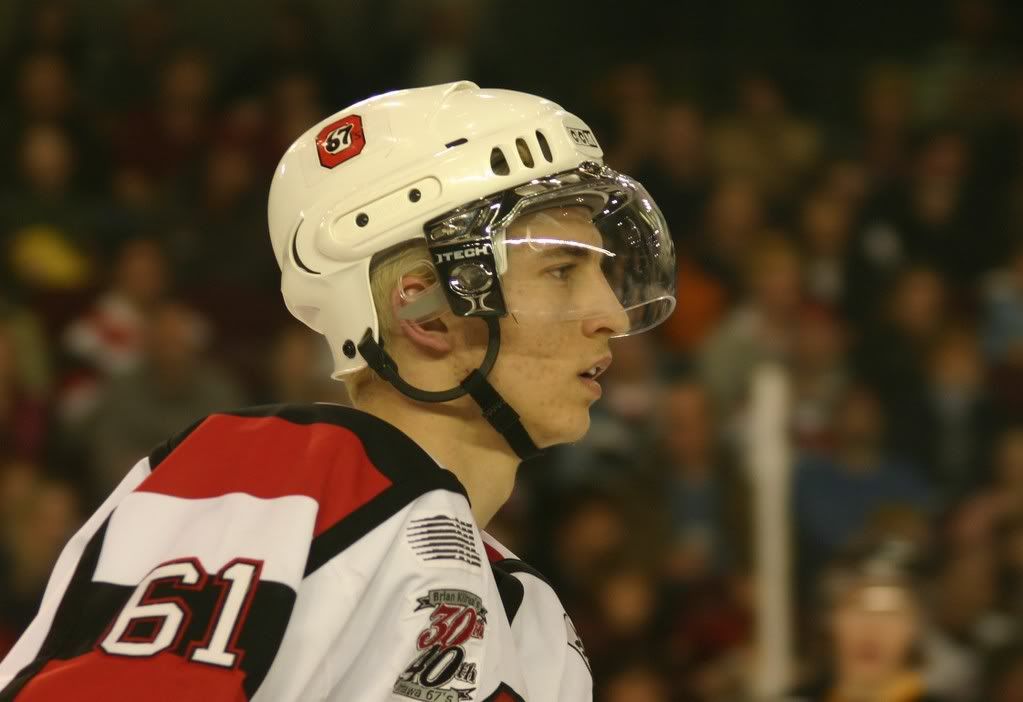 Tyler Cuma
and
Julien Demers
give us lots to look forward to on the blue line. Tyler was a member of the gold medal Ontario Men's Hockey Team at the Canada Winter Games this year. Julien was a mid-season call up that proved he was ready to stay.
Our top scoring rookie, Cody scored 9 goals and had 18 assists and earned pretty decent ice time this year. He was also a member of the gold medal Ontario Men's Hockey Team at the Canada Winter Games.










To the remaining 67s:
Sean Ryan, Thomas Kiriakou, Matt Lahey, Matt Ribeiro, Matthieu Methot, Scott Cowie, Thomas Nesbitt and Julien Cimadamore, sorry, I didn't get decent pictures to publish. Of course we all look forward to seeing you next year and celebrating your contributions to the team.
That's it - that's a wrap on the season. I will now get my playoff fix from the Senators - have all my playoff tickets already in hand.
Hope everyone has a great off season - hope to see you all next season.
Go 67s Go!!