No time for an in-depth pre-game set up. Kingston came into the game 9th place in the Eastern Conference with 15 points (4 points behind Peterborough) in 22 games. Their GF was 66 and GA – a whopping 118! Their P10 was 5-5-0-0. In the last week Kingston was shut out by Sarnia (6-0), beat Guelph (5-3) and lost to Brampton big time (5-9) giving up 4 PP goals.

Ottawa was in 7th place in the Eastern Conference with 22 points in 23 games.

Ottawa lineup news:
Matt Lahey sat out with a concussion suffered at the shoulder (or elbow depending who you ask) of Niagara's Scott Fletcher on Friday. Jason Bailey continued his recovery from mono (however he caught it, I sure hope it was worth it!!). Adam Courchaine got the call again.

Kingston lineup news:
They were without Ben Shutron and Kevin Mole both out with injuries. Not-quite-17-year old Anthony Peters was in the net.

Ottawa Lines:
JMcGinn, Couture, Nesbitt
Methot, Lindsay, Latta
TMcGinn, Kiriakou, Zamec
Cowie, Martindale, Carnevale

Defensive pairings:
Demers/Paryzek
Cuma/Ostrcil
Ryan/ McCullough

First Period
At just 1:04 into the period, Ottawa found itself on the PK on a very questionable call against Demers for kneeing. The best play of the 2:00 minutes was when Cody Lindsay broke away on nice feed from Thomas Kiriakou for a short-handed chance only for Peters to make a great save. Kingston, with the worst PP in the league, managed 1 shot on goal.

Neither team was generating a lot of scoring chances and just before the half-way mark, the shots on goal were only 4 – 1 for Ottawa.

But at the halfway mark Logan Couture beat Peters through the wickets to put Ottawa on the board. Thomas Nesbitt and Jamie McGinn got the assists.


Having only a one-goal lead, Ottawa was not playing very well and to my untrained eye it seemed that their outlet passes were way too sloppy, missing their intended targets way too much. For their part, Kingston was doing a pretty good job cycling the puck in the Ottawa zone and keeping the 67s pinned.
At the end of twenty minutes, Ottawa had the lone goal and the shots were only 6 – 6.
Second Period
We were expecting to see a slightly more lively 67s squad in the second period as they certainly could not have been too tired after the first.
The whistle-happy refs got the parade going early in the period, first calling Michael Latta for hooking. Then 27 seconds later Kingston's Cory Emmerton was called for high-sticking so it was back to 4-on-4. Forty-one seconds after that, Paryzek was called for hooking. With 6 seconds left in his penalty, Kingston's Kevin Christmas was called for interference. In all this up-a-man, down-a-man, 4-on-4 play, no one scored but Logan Couture had a great short-handed opportunity.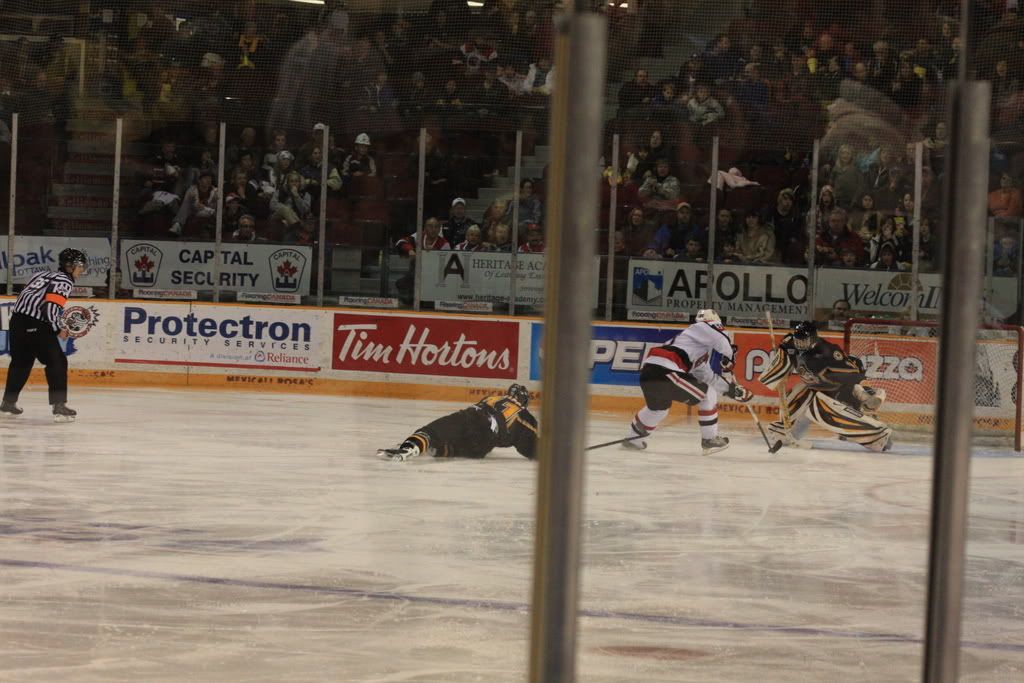 Finally, play resumed at 5-on-5 with 13 minutes and change left in the period. But it would not last long as the 67s continued to attract the attention of the referees.
With Cody Lindsay in the box for hooking, Kingston finally got on the board. Matthew Kang was credited with a goal on a puck that appeared to hit an Ottawa skate and get redirected past Courchaine. Big guy Justin Wallingford and Jonathan Sciacca got the assists. Time of the goal: 12:14.
But before the official announcement could be finished, Ottawa got it back when Thomas Nesbitt was able to poke a rolling puck past Anthony Peters to restore the lead. Logan Couture and Jamie McGinn got the assists. Time of that goal: 12:32. Sorry, I was at the other end and could not get a picture.

But the refs were not at all done with their whistles (think they were on commission). First Scott Cowie was called for tripping and then 28 seconds later Captain McGinn was called for goaltender interference when he fell into Peters. The 67s did a stellar job of defending the Kingston advantage for both the 5-on-4 and 5-on-4 play.

It was 2 – 1 for Ottawa after 2 periods and Ottawa held a slight lead in shots: 18 – 16.

Third Period
Ottawa jumped to a two-goal lead just 56 seconds into the period when Thomas Nesbitt scored his second of the afternoon when he beat Anthony Peters short side. Logan Couture and Jamie McGinn got the assists.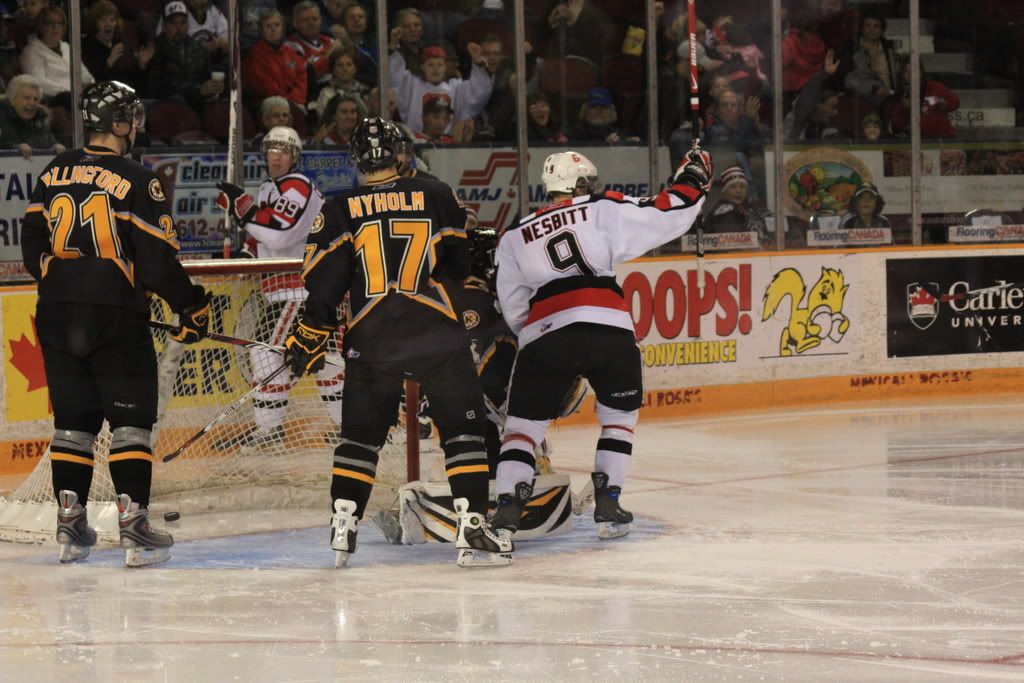 And then, just 1:24 into the third frame, all sorts of stuff happened. It was at the other end of the rink so I didn't see what precipitated it all but from what Schreibs was saying (the Team1200 game caller), some of the calls by the refs were questionable. Matthew Kang interfered on Adam Courchaine. Tyler Cuma took exception and took it up with Kang (Tyler clearly won the tilt). Somehow Peter Stevens got involved too. In the final analysis, Kang got 2 for goaltender interference and 5 for fighting, Stevens got 2 for roughing, Courchaine got 2 for diving (!) and a 10-minute misconduct (I think it was served by Carnevale) and Cuma got 2 for slashing (1) and 5 for fighting. He's getting to be real feisty these days.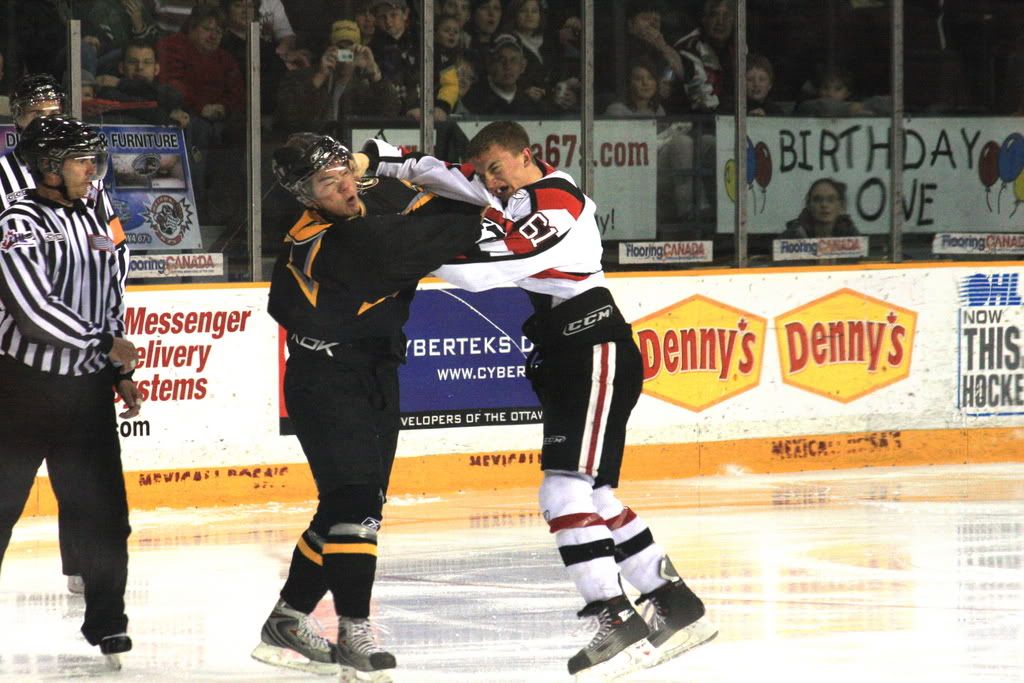 In the ensuing PP, Cory Emmerton wired a shot for the top shelf but the goal post made the save!

Kingston was coming on strong with the fore check and did a good job of keeping Ottawa pinned. But they cut their chances short when Josh Brittain was called for a high-stick on Cuma. Since it drew blood, he got a 4-minute time out. 37-seconds into that PP, Kingston took another penalty when Justin Wallingford was called for slashing Jamie McGinn. So with 7 minutes left in the game, Ottawa had a great chance to snuff any idea of a comeback by Kingston with a 2-minute 5-on-3 followed by a few more seconds of 5-on-4. Time to go for the throat!........not!

Ottawa had a few chances but simply could not get organized against the worst PK in the league. Give Peters credit for making a few good saves too. But Ottawa simply could not deliver the final blow to Kingston's ambitions.

With 1:20 left in the period and the face off going to be in the Ottawa end, Kingston called a timeout. When it was over, Peters was on the bench for the extra attacker.

Ottawa had a couple of great chances to score on the open net but were unable to (McGinn had his stick lifted on one) but Kingston could not do any damage either.

So, the final result was Ottawa 3 and Kingston 1. Shots were 27 to 22 in Ottawa's favour.
Three stars – a top line sweep:
1. Thomas Nesbitt (2 goals and an assist)
2. Logan Couture (goal and 2 assists)
3. Jamie McGinn (3 assists)

Team 1200 hardest working 67s: Tyler Cuma

Blitzen's rate the anthem singer: 7 – 10. Too slow, waay too slow. But otherwise not bad

Random Thoughts:
Couture, Cuma and Emmerton (the only Kingston player) head up to Sudbury for the ADT Canada Russia Challenge – game two tomorrow night. I wonder how they will get there.

The 67s played just hard enough to win against Kingston. The result would have been quite different against pretty much any other team in the league. Some moments of really good play interspersed with too many moments of slumpyness.

Nesbitt may have found a new home on the top line.

Cuma had an outstanding afternoon – one of his stronger games.

Doesn't look like Jamie lost any teeth. Not sure what the damage was from his facial encounter with the puck on Friday but whatever it is, it isn't visible from the outside.
Some other pictures for your (hopeful) enjoyment. I took over 300 pictures – I'm gonna torture someone with a few of them!! I didn't have time for any editing so they are what they are. I'm still figuring this camera out.


I like this one just because of the Oops on the boards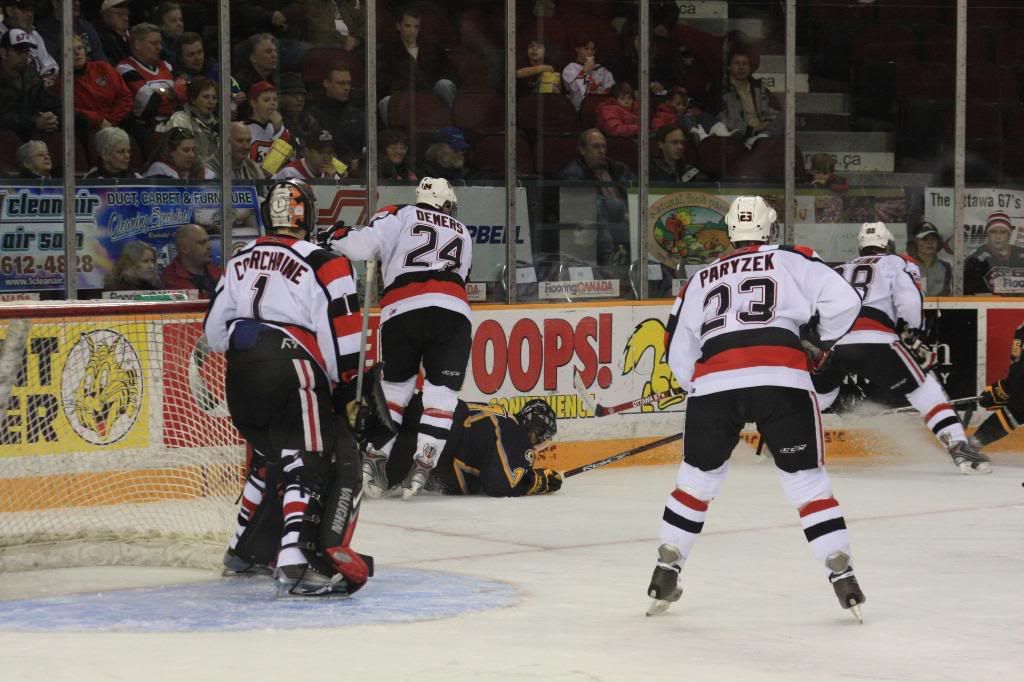 Go 67s Go!