This is the second time these two teams met this season. London had a decisive 8 – 2 win over Ottawa in London back in October. This was London's third game in three days as they completed their swing through the Eastern Conference. London lost 4 – 6 to Kingston on Friday and pulled out a 4 – 3 overtime in Belleville yesterday. In the last 5 years, London has beaten Ottawa 9 out of 11 meetings.
Game Day Set-Up

| Ottawa 67s | | London Knights |
| --- | --- | --- |
| 25-25-2-3 | Record | 32-19-3-2 |
| 55 | Points | 69 |
| East – 5th | Conference – Rank | West – 4th |
| 176 | GF | 203 |
| 199 | GA | 186 |
| 3-6-0-1 | P10 | 6-3-1-0 |
| 14th - .0181 | PP – Rank and % | 6th – 0.208 |
| 8th – 0.827 | PK – Rank and % | 15th – 0.787 |
Top Guns - Ottawa

| Player | Position | GP | G | A | PTS | +/- |
| --- | --- | --- | --- | --- | --- | --- |
| Jamie McGinn | LW | 45 | 26 | 26 | 52 | +12 |
| Logan Couture | C | 38 | 19 | 31 | 50 | +15 |
| Thomas Kiriakou | C | 55 | 14 | 23 | 37 | -8 |
Additional Ottawa Player Notes:
Tyler Cuma was back in the lineup but Ottawa was still missing the usual suspects: Jason Bailey (hip flexor), Jon Carnevale (mono) and Matt Lahey (shoulder). Chris Perugini (aka J.T. Petit) was in the nets.
Top Guns - London

| Player | Position | GP | G | A | PTS | +/- |
| --- | --- | --- | --- | --- | --- | --- |
| Patrick Maroon | LW | 52 | 32 | 48 | 80 | +19 |
| Akim Aliu | RW | 53 | 23 | 29 | 52 | +7 |
| Phil Varone | C | 55 | 10 | 38 | 48 | +15 |
Additional London Player Notes:
missing in action were D-Scott Aarssen (what you call a fire set by a pirate – aarssen!), D- Steven Tarasuk, F-Jadran Beljo, D-Matt Clark, F-Cody Smith, and F-Jordan Shine.
Game Summary
For a team playing with a short bench and for the third day on the road, they sure had a lot of jump. And troubled child Akim Aliu started it with a quick goal just 26 seconds into the game picking up a rebound and going top shelf on Chris. Daniel Erlich got the assist. I was sitting by some London fans and they mentioned one nickname for this diminutive hockey player (5'6" and 150 lbs) is Timbits. He may be small but his hockey skills seem concentrated.
Back to the game.
Ottawa responded quite well despite the early goal, killing an early penalty, getting physical and checking aggressively. In their first penalty kill, Ottawa actually had the better scoring chance when they put one off the mask of Jason Guy. The delay to fix his mask and the faceoff in the London zone gave the Ottawa defenders time to rest. And right off that face-off, Justin Taylor tripped Couture to end the London power play.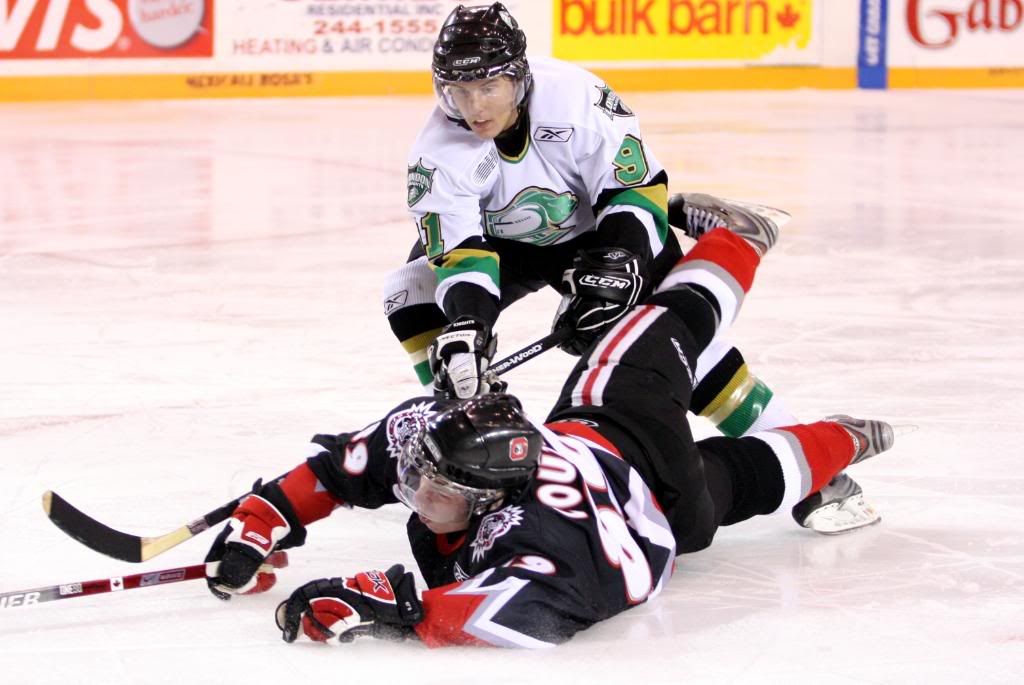 With the Ottawa penalty expired and the 67s on the PP
Logan Couture
tipped a
Michael Latta
shot into the back of the net.
Julien Demers
got the second assist. So, just four minutes gone in the game the score was tied at one a-piece.
Ottawa had a number of scoring chances but they just couldn't finish. I lost count how many times one of the players just could not find the puck with an open net yawning in front of him. It was a fast-paced, up and down 20-minutes with lots of ooh-ahh moments. You sure couldn't tell that London was playing its third road game. After 20 minutes Ottawa had out-shot London 15 – 5 and had pretty much dominated.
Thomas Nesbitt
got things going early in the second period when the London Knights turned over the puck and he took a shot at Jason Guy. Jason made the first save but
Matthieu
gave Ottawa the lead just 2 minutes into the second period he swatted the rebound while sprawled on the ice.
Thomas Kiriakou
got the second assist. This was followed up a few minutes later when that line struck again with
Thomas Nesbitt
setting up
Thomas Kiriakou
with a pass from intercepting a London clearing attempt. Kiriakou beat Guy with his shot from the face off circle and put Ottawa up by 2.
For some reason, it was London that got all fired up after the goals and they turned up the pressure. But Ottawa was still working hard. At the end where I was sitting, there was a lot of body pounding along the boards including one series where Tyler Cuma was shoving London players hard on the boards to gain possession. But slowly and surely London was gaining more control of the play as Jason Guy made good saves, the Knights cleared the front of the net and completely shut down Ottawa's only penalty of the period.
London's overager Sean O'Connor got London back within one at 13:05 minutes in with the assistance of Tony Romano and Kevin Montgomery. Perugini made the first save but was unable to corral the rebound. Tyler Cuma was clearing a London player and the puck bounced past him and a sprawled Chris Perugini.
But with just under 2 minutes left in the period,
Matthieu Methot
scored his second of the game and 22nd of the year when
Thomas Nesbitt
made a perfect pass from the boards right to the stick of Matthieu who finished for the goal.
Thomas Kiriakou
had the other assist.
But that would be it for Ottawa goals for the game.
The period ended with Ottawa up by two (4 – 2) and the shot count at 28 – 19 for Ottawa. Both teams had put a lot of pucks on the opposing goalies that period (13 for Ottawa and 15 for London).
One might have forgiven London if they would have been tired in the third but it appears they didn't get that memo. London took the play to Ottawa and severely limited any chance for Ottawa to set up any sustained offence. And their reward was four unanswered goals. You could just sense that Ottawa was going to get this one get away as the period unfolded.
Just like he started the first period, Akim Aliu scored relatively early in the period. Nineteen year-old rookie (!) Patrick Maroon got the assist. Then it was followed up with goals by Kevin Montgomery (Andrew Wilkins), Sean O'Connor (Patrick Maroon and Akim Aliu), and finally Sean O'Connor with the EN (Patrick Maroon with the assist). Chris Perugini made some great saves to keep the game as close as it was.
Unlike the game on Friday where Belleville was clearly the better team, this was a game that Ottawa could have and should have won. Despite the first shift, Ottawa played quite strongly for the better part of two periods but for some reason could not close the deal with a strong third period. Plus, they just couldn't finish on the many chances that they had.
They looked more than PO'd with themselves at the end of the game and they should have been. The game ended with London winning 6 – 4 and shots 38 – 31 for Ottawa.
But, having been at the Senators – Devils game the night before, I must say that this game was by far more entertaining. (the first period last night was dead booooring not the least bit helped by Ottawa not bothering to show up)
Rather than the usual player in profile, for the first intermission they had London trainer Don Brankley in profile. He's been with the club for close to 40 years and has decided to pull the plug at the end of this season. Brian Patafie got his start in this field after a chance encounter with Don a long time ago here in Ottawa with an offer to be a stick-boy. He's almost 60 years old and had decided to go while he was still enjoying it. His interview included several shots at Windsor just to reminisce about the rivalry. Trash talking, even by the bench, is clearly part of the game, done in good spirit. As Buzz gave Don the names of a few players, Don had good things to say about each of them. A guy leaving the game with a lot of memories and having made quite the impression on many – some of them a bit irritating.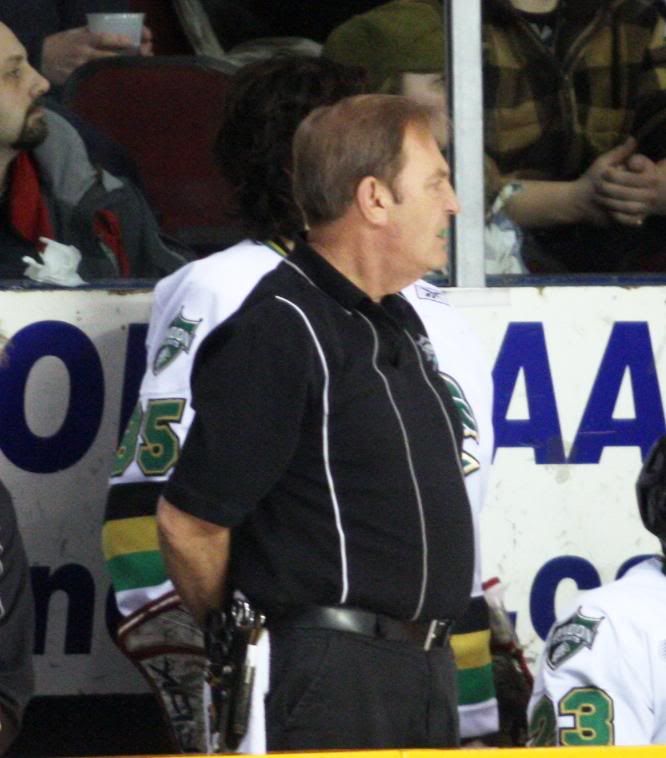 Talk about getting scoring from the secondary – three of four Ottawa goals came from the line of Methot, Kiriakou and Nesbitt. Nice work gentlemen. Unfortunately the top six forwards were also on the ice for pretty much all of the London goals.

So with this loss and Mississauga's win, Ottawa drops to 6th in the Conference with another long road trip coming up with games against Guelph, Erie and Brampton next weekend. Hopefully they will have Jason Bailey back and they can figure out how to play strong for 60 minutes.

The Game's Three Stars as Selected by the Team1200

| 1st Star | 2nd Star | 3rd Star |
| --- | --- | --- |
| Akim Aliu | Matthieu Methot | Sean O'Connor |
| | | no show |
Team1200 Hardest Working 67s:
Thomas Nesbitt
click on any picture to see a larger image

| | | | |
| --- | --- | --- | --- |
| | | | |
Go 67s Go!
---