This was the final of the 4 scheduled matches between these two teams with Ottawa having won all previous matches. The last one, on February 10th was a big win: 6 – 1. It was also their last win on home ice. Chris Perugini was in goal for all three of those wins against Barrie. Ottawa came into today's game in 8th place and on a 5-game losing streak; 4 of which were against teams above them in the conference rankings. Barrie rode into town after beating the Sudbury Wolves who have the honour of holding down the last spot in the league.
Game Day Set-Up

| Ottawa 67s | | Barrie Colts |
| --- | --- | --- |
| 26-32-2-3 | Record | 28-30-3-3 |
| 57 | Points | 62 |
| East – 8th | Conference – Rank | East – 5th |
| 189 | GF | 181 |
| 226 | GA | 208 |
| 2-8-0-0 | P10 | 6-4-0-0 |
| 15th - 65 - 0.174 | PP – Rank, GF and % | 17th - 61 - 0.165 |
| 11th - 61 - 0.818 | PK – Rank, GA and % | 6th – 62 - 0.830 |
Top Guns - Ottawa

| Player | Position | GP | G | A | PTS | +/- |
| --- | --- | --- | --- | --- | --- | --- |
| Jamie McGinn | LW | 50 | 27 | 28 | 55 | +10 |
| Logan Couture | C | 46 | 20 | 34 | 54 | +10 |
| Matthieu Methot | LW | 63 | 22 | 18 | 40 | -15 |


Additional Ottawa Player Notes: Scratches for the game continue were Jamie McGinn (shoulder) and Michael Latta (second of a 3-game suspension for a hit to the head of Jessie Messier last week in Mississauga. You can check out the video here:






Top Guns - Barrie

| Player | Position | GP | G | A | PTS | +/- |
| --- | --- | --- | --- | --- | --- | --- |
| Alex Hutchings | C | 64 | 29 | 23 | 52 | +7 |
| Tomas Marcinko | C | 44 | 19 | 24 | 43 | -4 |
| Cory McGillis | LW | 45 | 18 | 21 | 39 | even |


Additional Barrie Colt Player Notes:Missing in action were D-Brett Halstead, C-Marcus Pepe, D-Adam Payerl, and D-Brian Lashoff. Peter Di Salvo got the start.

Game Summary
Jason Bailey started his return with a bang. He laid a pretty solid hit on Ryan Gottschalk on his first shift in and it clearly stung Ryan. From the picture it doesn't look like much but it sounded pretty strong and Ryan was pretty much out of it yet still on his feet as the play continued. He just sort of stood around the net for a few seconds, made an attempt to get back into the play and then skated off to the bench. No lingering affects though as he was a force to be reckoned with for the rest of the game.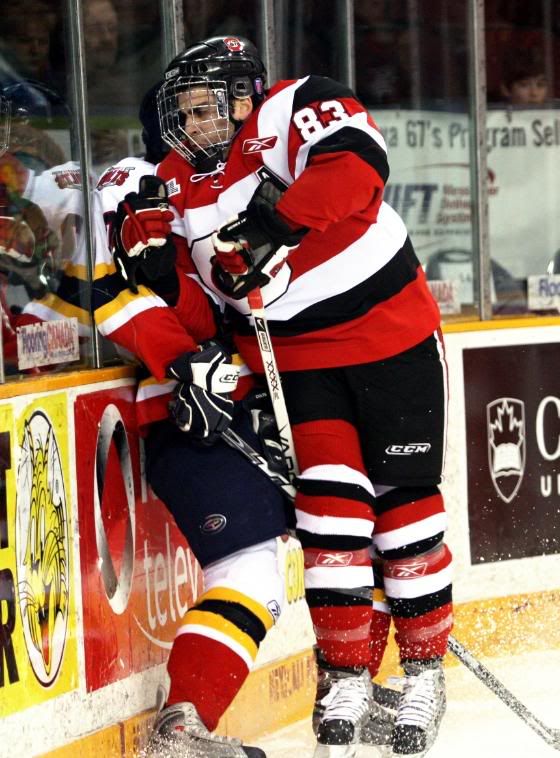 For the first 5 minute or so Barrie played a bit stronger than the 67s – managing to have more puck control although they didn't get many shots on goal for their efforts. But Ottawa slowly gained the upper hand.

With 13:19 left in the period, Julian Demers was assessed his first of 4 penalties for the night. The PK units were very effective in keeping the Colts from getting any scoring chances. Thomas Kiriakou managed to steal the puck and create some trouble for Barrie. But neither team scored.

It was the fourth line of Cowie, Lindsay and Valiquette that combined for Ottawa's first goal of the game. Brett Valiquette scored his 7th of the year when he knocked in a centering pass from Chris Cowie. Ya think Lindsay was happpy?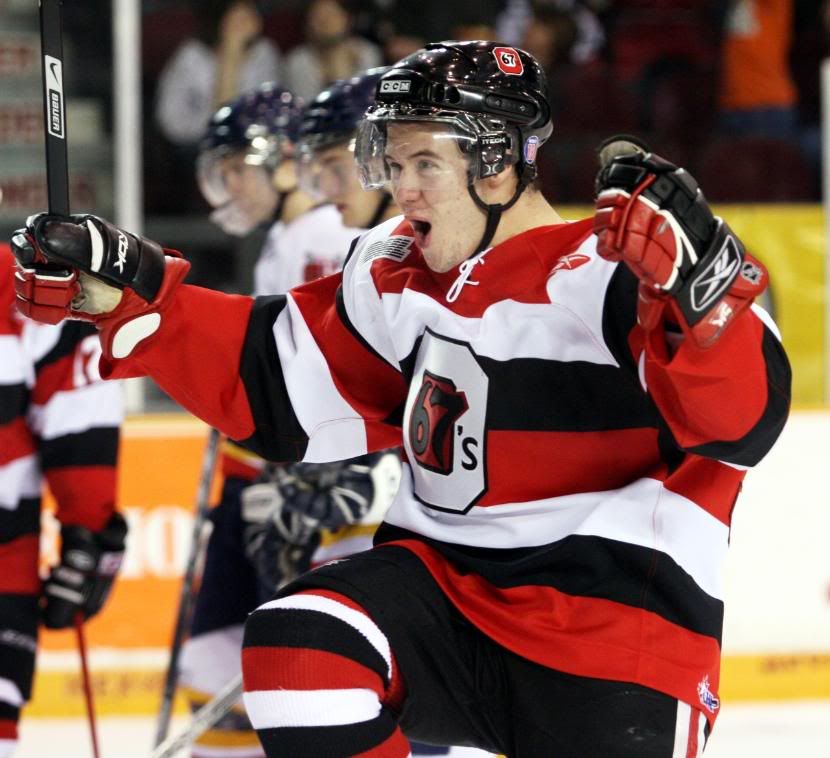 With Julien Demers back in the hoosegow, this time for slashing, Ottawa wasn't as successful on the PK. With about 36 seconds left in the penalty, former Ottawa 67s Tyson Aitcheson's shot from the blue line found its way past a screened Adam Courchaine and with 3:31 left in the opening period, the game was tied which is how the first period ended. Shots were 8 – 7 for Ottawa.

Ottawa really controlled the second period, racking up 11 shots on Di Salvo while Adam only had to deal with 4. But Ottawa just could not find a way to score, even with two power plays.

For the third period, I thought that Barrie had the bigger jump for the start of it. They just seemed to control the puck more in their offensive zone and Ottawa could not sustain anything going the other way. On Ottawa's first power play of the period, Hutchings got around the Ottawa defenseman and had a good chance at a short handed goal but he sent the puck wide of the net. But Ottawa got the final laugh. On a play that started with Thomas Kiriakou keeping the puck in play and getting it to Thomas Nesbitt who in turn fed it to Adam Zamec for his 17th goal of the year and the Ottawa lead.

Barrie pressed hard for the tying goal and Ottawa kept denying them. The blue liners stood players up at the blue line, the forwards worked for the pucks and Adam Courchaine made two particular great saves from point-blank shots with just over 7 minutes left in the game. With 53 seconds left in the game, Barrie had enough control to pull the goalie for the extra attacker. Ottawa had two chances to score into the empty net but both went wide (I think the last one might have hit the side of the net). That one lead to an icing call against Ottawa with just 12.4 seconds left. Barrie called a timeout and when play resumed, Killer put Kiriakou into the faceoff circle for this crucial faceoff. And like the successful faceoff guy that he is, he won this one too. Ottawa cleared the puck but with about a second left in the game, Barrie shot the puck right on Courchaine – which he stopped.

I didn't see exactly what happened but there was a post-buzzer scrum that had the refs yelling and gesticulating all over the place. The score sheet notes that Stefan Della Rovere and Julien Demers each got 2 minutes for roughing and Julien got an additional 10-minute misconduct.

So they finally broke the winless streak and won a one-goal game rather than losing it. This win combined with the Peterborough loss to Sudbury puts Ottawa back into 7th place with just 5 points separating 5th from 8th.


The Game's Three Stars as Selected by the Team1200

| 1st Star | 2nd Star | 3rd Star |
| --- | --- | --- |
| Adam Courchaine | Thomas Kiriakou | Peter DiSalvo |
| | | |


Team1200 Hardest Working 67s:Sean Ryan

Random Thoughts

Random Thoughts are back by popular demand (ok – just my sister-in-law but her vote goes a looong way – she feeds us alot and she has a pool – always marry up)

Chris Yzerman of the Ottawa Citizen was kind enough to gently point out that neither the OHL officials or I can count – the 67s did not clinch a playoff berth until last night when Peterborough beat Kingston. NOW they are assured of at least 4 playoff games.

Speaking of the Ottawa Citizen (it's probably also in The Sun) I actually had time to read the paper this morning and came across this creative advertisement by the 67s. I've seen it before but still get a kick out of it when I see it. It was in the entertainment section.




Through the lens it looked like there was an attempt by the team to grow rally beards – with the expected range from baby-smooth-skin smooth to pretty scruffy. That and my sister in law rubbing Buddha's belly seems to have done the trick – they won.

Schreibs kept going on about this being Di Salvo's first game against Ottawa. I have photographic evidence and a game sheet that says Di Salvo played the last time the Colts were here (February 10th). He went in when Hutchinson was pulled in the second period. I'm getting worried about The Voice.

Speaking of The Voice, he was very complimentary of the defensive play tonight and said that many players could have been chosen as the Hardest Working 67s but they chose to give it to Sean Ryan. He then went on to speak very highly of Sean's play tonight and his improvement in the last half of the season. It was really good to hear as there are a few folks who post rather regularly on the Ottawa 67s Fan Forum who have been very vocal on their opinion about Sean. It's funny (and not in a ha-ha sort of way) how there's one player each year that some fans just get a hate-on for and don't keep it to themselves. In these peoples' eyes, the poor kid can do no right. It gets tiresome. Congrats Sean for another game where your contribution was officially recognized.

Nasty weather out there tonight. Here's hoping that all travelers arrive safe at their destinations. Barrie plays in Belleville tomorrow night; an overnight stay in Ottawa might be a good idea and then travel in the morning. I have no idea what they actually did.

Daylight savings time starts this weekend – remember to set your clocks ahead when you go to bed on Saturday.



More pictures – click on any picture in the blog to see a larger image

| | | |
| --- | --- | --- |
| | | |