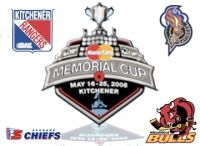 Well, we are taking to the road to Kitchener to partake in the Memorial Cup and play a little golf (that's was the deal to get the spousal unit to agree to the trip). We will be staying at the
Fordleigh Farm B&B
in the Cambridge area which we discovered during our golf and wine tour vacation last summer.  Larry is a Kitchener Ranger season ticket holder and a serious Detroit Red Wing fan, including a Steve Yzerman shrine in his house.  Guess Larry will have the bragging rights this year as both my teams are out of the playoffs.
I'll be wearing my Ottawa 67s jerseys but cheering for the Gatineau Olympiques - gotta cheer for the hockey country representative.
I hope to post a few updates from "down south" to share my experiences with you.  It will all depend on getting an internet connection.  
If you're watching on TV, look for the Battochio third jersy from 2005 (black).  That will likely be me.  Looking foward to seeing some great hockey.