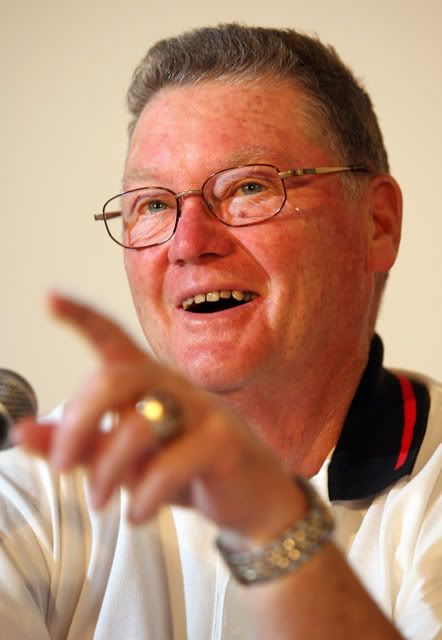 So, the decision has finally been made. Brian Kilrea, the winningist coach in major junior hockey is calling it career as head coach at the end of this season. Bert O'Brien will also be retiring at the end of the season and Brian is looking forward to spending more time with his buddy scouting. Chris Byrne will take over as the coach and will always enjoy the support of Brian and Bert. Brian will remain as the GM.

The team also announced their leaders:

Logan Couture is the new captain with Thomas Kirakou, Julien Demers and Tyler Cuma as the official Assistant Captains and Corey Cowick as an unofficial assistant captain (given that there are only so many letters to go around). Brian went on to compliment Corey for what he has already brought to the team and will continue to bring to the team.

Brian is really looking forward to this year and is really pleased with how the draftees from last year and this year are already contributing and will contribute in the future. He noted both their ability and their attitude.

Logan mentioned that he was honoured to be chosen as for the last year of Killer being behind the bench.

Killer's considerations for making this decision and announcing it now included finally ending the on-going questions he gets all the time about when, letting current players and prospects know that there will be a new and younger coach next year, and, perhaps more importantly, letting Chris know what is in store for him. Chris will likely be taking more and more responsibility behind the bench as part of the transition over this season.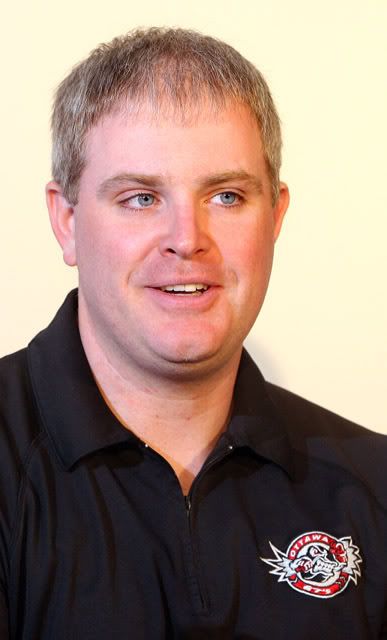 Killer noted that Chris is already respected by the players and he expects the transition to head coach will go well. Chris mentioned that it was his dream to become a major junior coach and to do so in Ottawa (home town for him and his wife) for this team and this club is pretty darn awesome (my words). It has been great learning from Brian and Bert and looks forward to learning more moving ahead. He is also high on the team so far and the players who have been selected as leaders.

Brian's hopes for the year is that the year concludes with the team still being respected and that everyone leaves knowing that they did the best that they could.

He also wished Logan, Tyler and Corey best of luck at their upcoming NHL camps (San Jose, Minnesota and Pittsburgh respectively). The club will be very proud if they land jobs in the big league but will also be very strong should any or all of them return.

And so begins (another) farewell tour for Brian Kilrea. It should be some year both on the road and at home – especially as the year winds down – however it winds down. I expect (and hope) that the players do their best to make it an outstanding year for him. It sounds like all he wants is for the players to work as hard as possible to be the best team and players they possibly can be.

There certainly will be more news in the days, weeks and months ahead. I will do my best to keep you all posted.



Photos courtesy of Mike Carroccetto (613-266-8505)



Links to articles:
From the Ottawa Sun site.
From the Ottawa 67s site.
From TSN.ca
From the Ontario Hockey League site.

Cheers!