Well, wasn't this an interesting display of sportsmanship from St. Mikes - top to bottom. Their credo must be "if you can't beat them....well then just then beat on them". I used to expect thuggery from the likes of the Petes and Sudbury but it seems that Eugene Melnyk's St. Mikes Majors aren't so Saintly but are certainly Major losers. I think a trip to the confessional is in order here. Forgive me Father for I have sinned....
Forward combos:
Cowick, Kiriakou, Nesbitt
Martindale, Couture, Toffoli
Blunden, Lindsay, Carnevale
Hanes, Anderson, Schinkelshoek
D-pairs:
Paryzek, Cuma
Demers, Ryan
Hartwick, Zanetti
Goal:
Perugini
Scratches:
Sonnenburg, Zamec (groin), Latta (charlie horse), Birkhoff

You would not have thought that Carrozzi shut out Ottawa just a few days ago and that the Ottawa PP had gone cold if you watched the first 3 minutes of this game. Right from the get-go Ottawa got a quick succession of shots on Carrozzi very early in the game.

Game sheet is here.

Then, less than 2 minutes into the game,

Cody Lindsay

scored his 3rd goal of the season when he beat the previously unbeatable Carrozzi with a backhand over the the shoulder. This was Ottawa's 5th shot of the game.

Jon Carnevale

and

Derik Hartwick

got the assists.

Less than 2 minutes later,

Thomas Kiriakou

stood on Carrozzi's doorstep and redirected a rebound from Corey Cowick to put the 67s up by two.

Thomas Nesbitt

got the other assist.

At this point, St. Mikes had barely left their zone much less register a shot on goal.

And so the table was set.

Despite some flags in Ottawa's play over the remaining game (it was a 1-goal game in the second period for a bit), they dominated on the scoresheet and came away with the win. There were long stretches where St. Mikes kept the 67s pinned in their own end but they were completely unable to make any hay from those opportunities. If the time spent in your opposition's end was how the game was decided, this would have been Missy's game. But that's not how it's decided and they lost.



Stephen Blunden

scored his first goal as an Ottawa 67s (

Cody Lindsay

assisted),

Jon Carnevale

scored his third of the season with assists going to

Hartwick

and

Martindale

, and

Martin Paryzek

scored twice with bullets from the point to round out the scoring.

Sean Ryan,

Logan Couture

and

Thomas Kiriakou

earned assist on his two goals.

Chris Perugini made 22 saves.

Random thoughts:

Kyle Neuber is one serious head-case. He started chirping in the tunnel after the warm-up and continued in the game. During one stoppage late in the game, he made a point of staying at the blue line chirping the 67s that were on the ice. The officials escorted him to the boards but he returned. Then one of his team mates (perhaps Jordan Mayer) came out and coaxed him back to the bench. In the final minutes of the third period, when the outcome was clear, he floated around itching for a fight. Instead he got a two-minute time-out. I don't know the guy's rep but from this performance I would guess it's not that good.

Which leads me to their coach. Dave Cameron didn't leave the ice without vocalizing his opinions. I don't read lips but I could tell that he wasn't offering genteel congratulations to anyone. As goes the leadership, so goes the team.

And let's pause a moment on one Zac Rinaldo as another fine example of good sportsmanship. Don't know who put the itching powder in his underwear but his ambush of Tyler Cuma was something to behold. It was one thing to see it live, it was another thing to see it on replay when we got home. There's some great tape - hope the league takes a look at it. Cheap shots is all I can say. If you want a fight - then do it like a man. Here's some video:




This article from the Ottawa Sun has Tyler's take on it.


We haven't seen this side of Kiriakou but when Corey Cowick was driven into the boards late in the game, Thomas wasted no time to stand up for his team mate. By this time the refs and linesmen were stepping in pretty quickly so it was a short-lived skirmish but good on Thomas.

It might have been the ice, or perhaps the skates, but there were a few players who took otherwise un-induced spills (especially Zanetti - I mean I know clumsy but that was an entirely different level).

I didn't watch all of the game against the Pete's but from what I saw, it seemed like Ottawa wasn't prepare to work for the space in the good scoring places. Well, with the Majors, it certainly seemed like they were ready to battle for the best spots.

Tyler Cuma did not return for the third period. Let's hope that his injuries are not serious.

Three Stars as selected by the Team1200
Hardest working Ottawa 67s as selected by the Team1200: Derek Hartwick (sorry - no good photo from the game).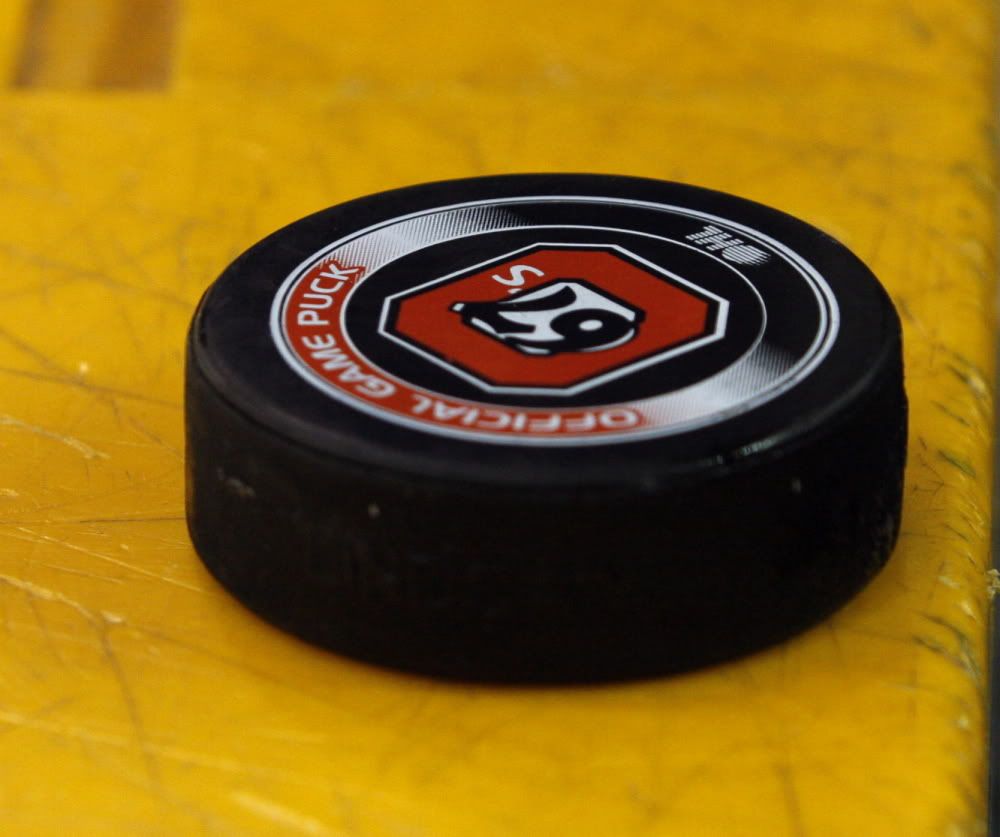 Martin Paryzek's souvenir from his first two-goal game.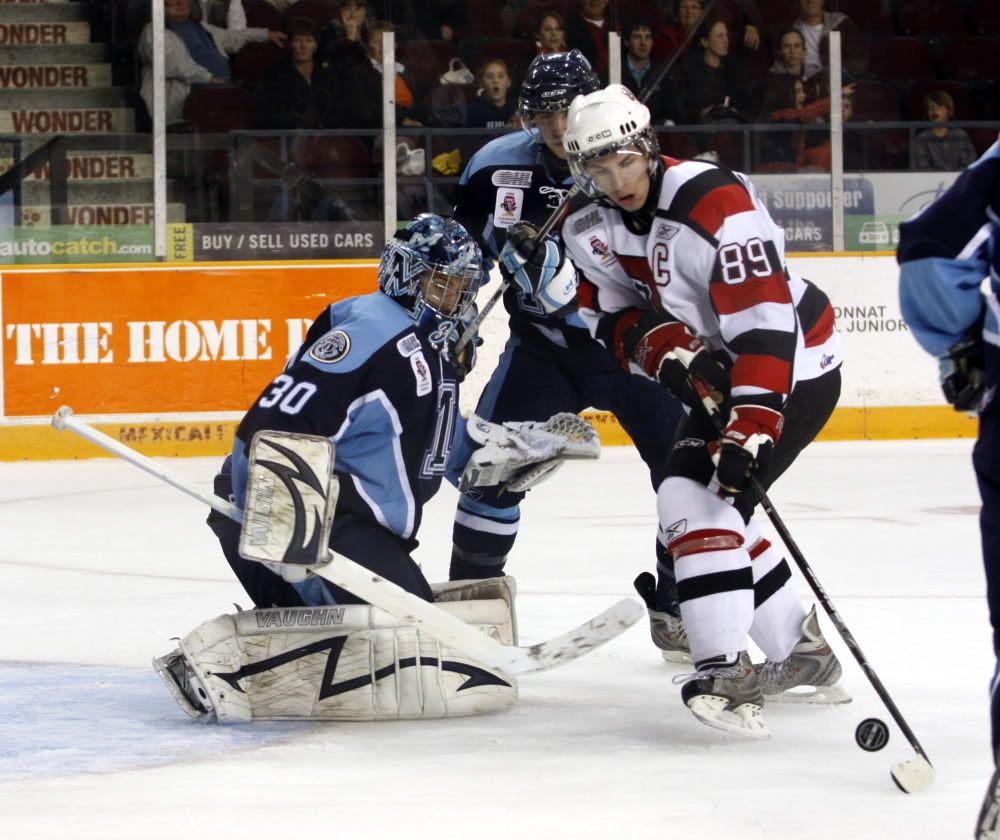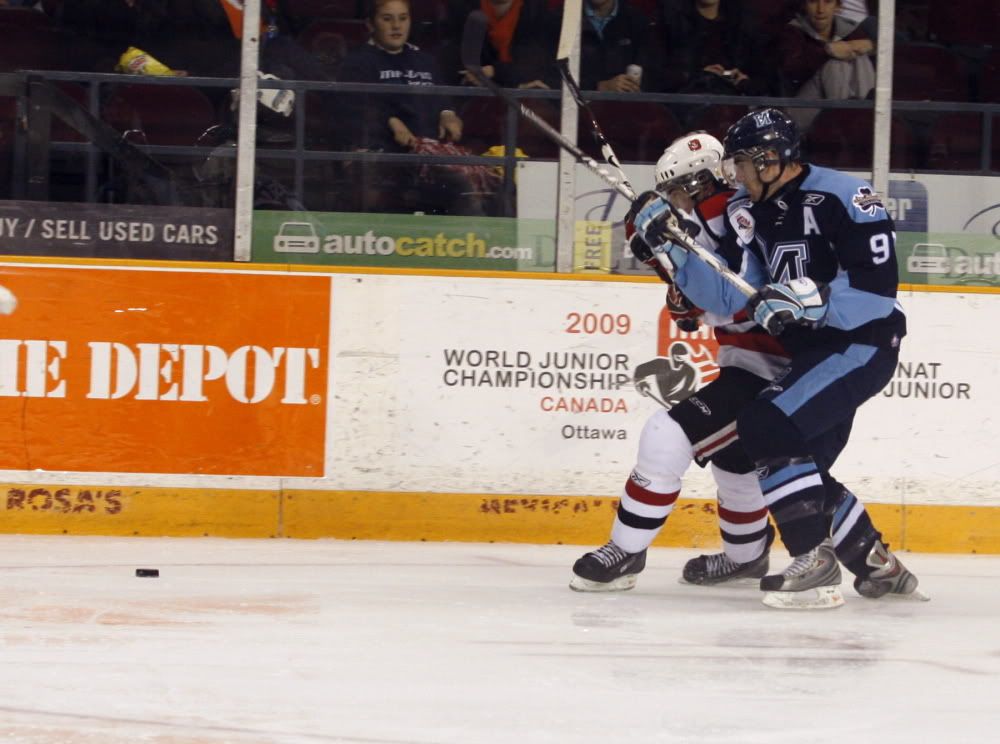 Stephen Blunden's first goal as on Ottawa 67s