Well, wasn't that a great game! Who says only the high-scoring games are fun to watch? This may have been the best game we have seen this year so far (I know, I said that before).
It was fast, momentum shifted between the the two teams, there were great scoring chances and great saves and the iron got into the action as well. Full value for our entertainment dollar last night.
Forward combos:
Cowick, Couture, Nesbitt
Martindale, Latta, Toffoli
Blunden, Kiriakou, Carnevale
Sonnenburg, Lindsay, a double-shifter
D-pairs:
Paryzek, Cuma
Demers, Ryan
Hartwick, Zanetti
Hanes,
Goal:
Perugini
Scratches:
Schinkelshoek, Birkhof, Anderson

Ottawa jumped into the game right from the first face-off getting a couple of quick shots on Murphy and keeping the Bulls penned for the first couple of minutes.

Then the Bulls broke out and had Ottawa on their heels for a while but Ottawa rounded up the steers and regained control. With only 5 minutes left in the opening period, Ottawa had outshot the Bulls 9 - 3 but were unable to score on the two powerplays that they had including the penalty that Mike Murphy was assessed for tripping Jon Carnevale.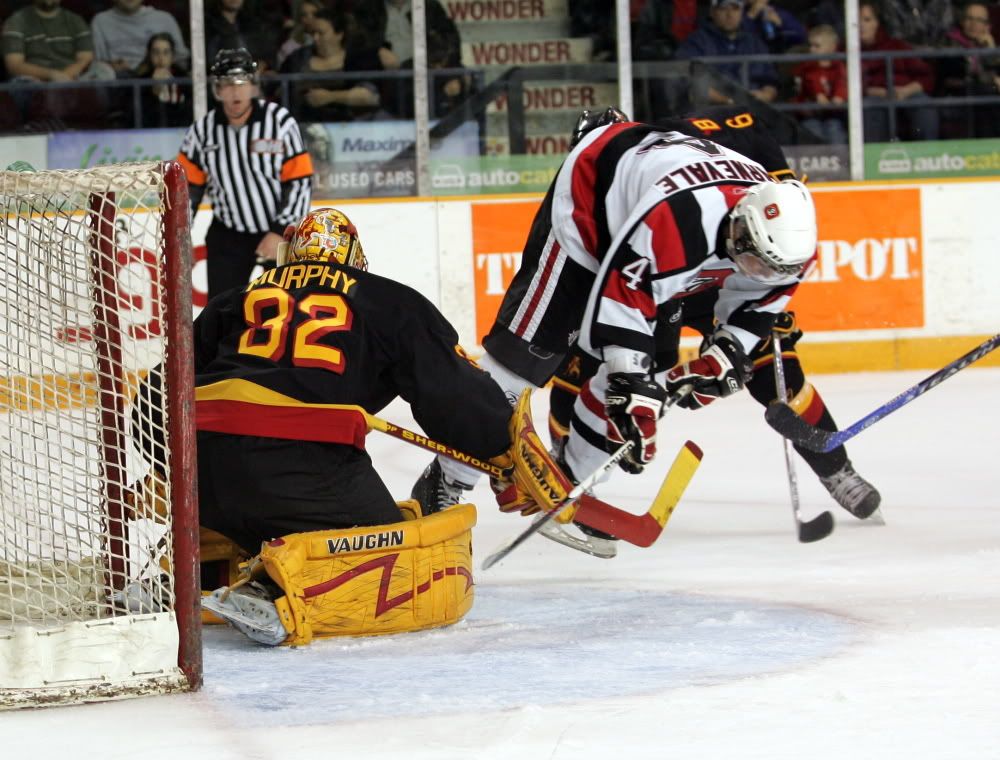 Both regulation goals came within 36 seconds of each other in the second period. But not before some great scoring chances and a terrific penalty kill by Ottawa. First it was Nesbitt going off for slashing and then Sean Ryan getting called for hooking creating a 5-on-3 for 57 seconds. Belleville only managed a total of 3 shots on Perugini for the entire stretch.

The Bulls were starting to maitain momentum and finally with just over 5 minutes left in the period, Ottawa native and frequent-scorer-on-Ottawa Shawn Lalonde was gifted an open-net goal when Stephen Johnston's cross ice pass found him all alone at the corner. Andy Bathgate got the other assist.

But before the announcer was finished with that one, Thomas Kiriakou tied it up with his 11th goal of the year when he took a feed from the corner to beat Murphy. Stephen Blunden and Ryan Hanes got the assists. That's Blunden's first point against his former team.

Late in the period Derek Hartwick was drilled into the boards by Spencer Anderson. Anderson was kept to short shifts in the third which didn't leave the 67s much of a chance to settle it up. We'll see what happens in the return engagement.

Both teams kept the pace up in the third looking for that go-ahead goal. But the goalies were also doing their bit to keep the puck out. Corey Cowick was called for diving and earned himself a 10-minute misconduct mid-way in the third. Cuma was hit by a puck and laboured at end of the period. Logan also got stung. And Paryzek was called for trippng late in the period. But the team prevailed and the game went into overtime.

Overtime did not end the game despite Ottawa's powerplay when Subban called for holding Toffoli.

So it went to a shoot-out. Belleville went first.

Bryan Cameron X
Logan Couture GOAL!! He got Murphy moving and beat him with a back-hand.
Stephen Johnston X
Corey Cowick GOAL!! it looked like Murphy had it initially but...NOT!

And Ottawa takes the 5th meeting of these two teams in a shoot-out. Here's the game sheet.




Three Stars as selected by the Team1200


Hardest working 67s as selected by Team1200: Julien Demers


Random Thoughts:

Thank you, thank you, thank you. After that craptastic display of hockey by the Senators on Thursday, I was really looking forward to seeing some good hockey. I think Hartsy needs to bring the big boys to the Civic Centre to see what working hard and playing with heart looks like. That was brutal!

It was Alyn McCauley night at the game. He played before I was a 67s fan but it was clear that he was a fan favorite. He's now coaching at Queen's where former 67s Brady Morrison is tending goal.


Photo courtesy of Mike Carroccetto (613-266-8505)



Toffoli sure doesn't appear to be intimidated by anyone. Subban was in his face frequently and the two of them were jawing at each other. Tyler was right up into the Subbinator's face.

And speaking of Tyler Toffoli, watching him skate reminds me of Dany Heatley.

Well attended game and the crowd was into it.

Adam Zamec has moved on to play in Penticton.

Cudos to the Team1200 team for giving Murphy the first star. You don't often see the losing goalie getting a first star much less a visiting losing goalie but he was outstanding and the reason this game was so close with 50 saves.

Tyler Cuma and Logan Couture have been named to Team Ontario for the ADTCanada-Russia challenge.

Tyler Toffoli has been named to the Team Ontario for the Men's U-17 2009 World Hockey Challenge that will take place in Port Alberni, British Columbia from December 29th, 2008 through January 4th, 2009.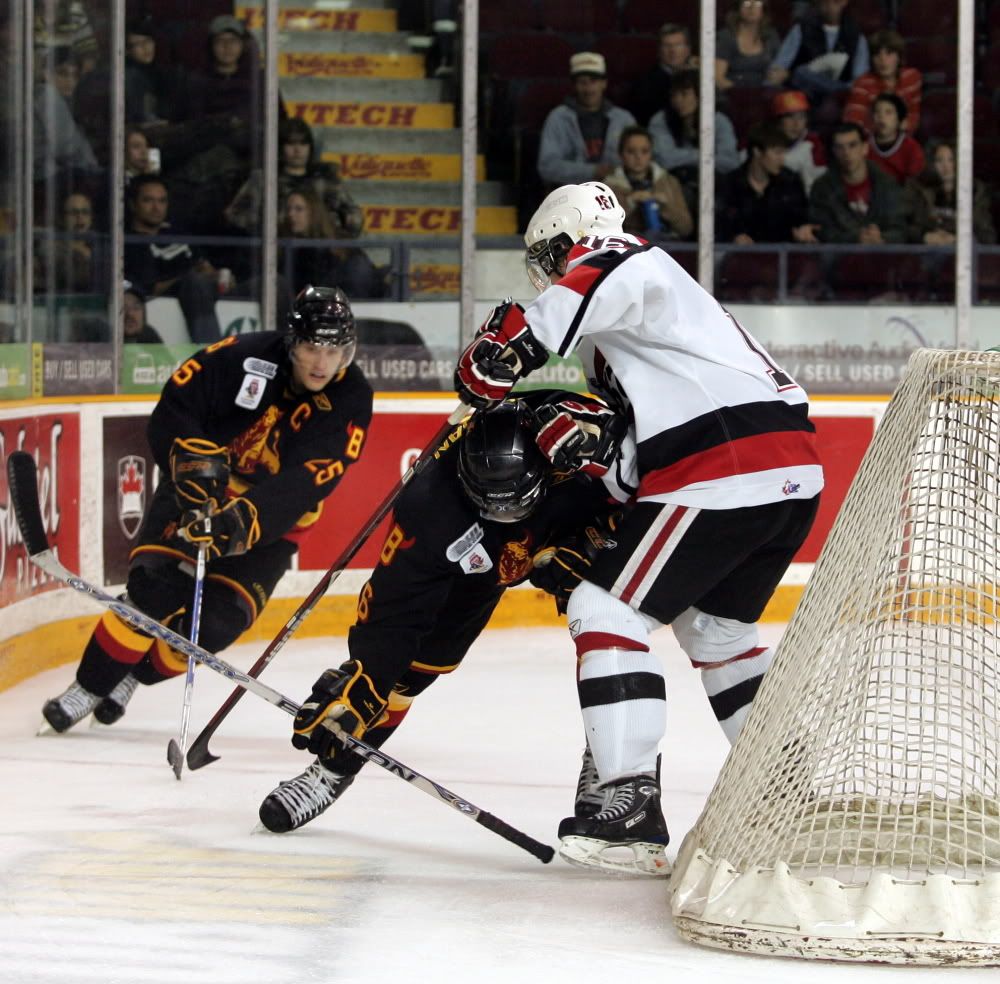 Toffoli and Subban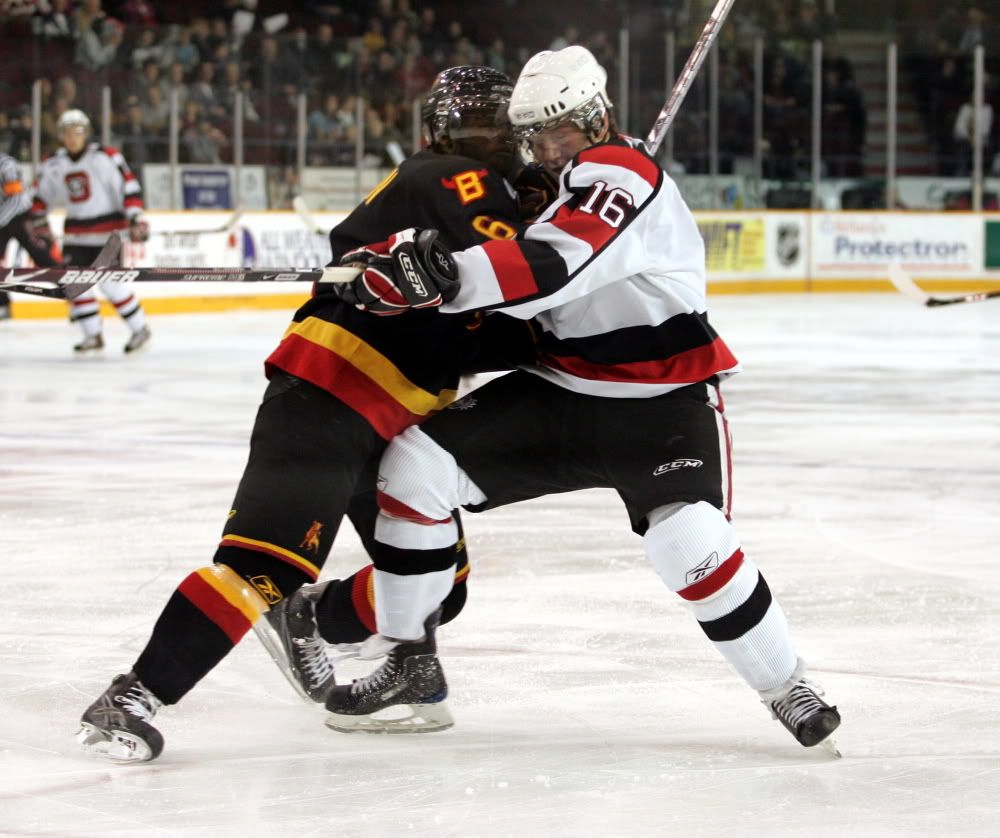 Toffoli and Subban


One of Murphy's great saves - no stick!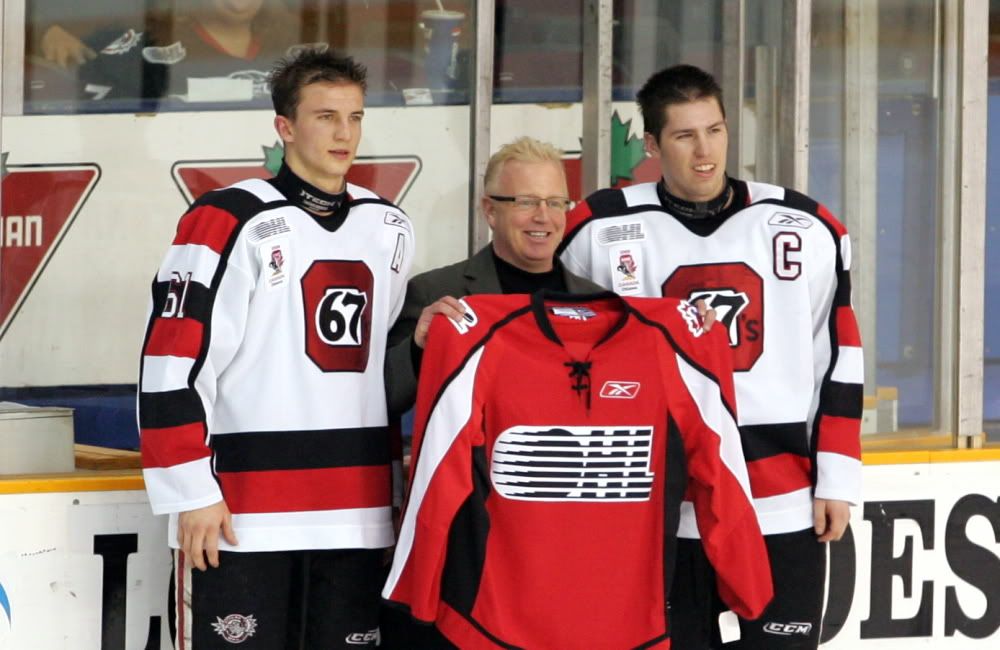 Jeff Hunt presenting the OHL jerseys to Logan Couture and Tyler Cuma


For you Riley Sonnenburg fans out west - yes I know you are out there.