This will be the only development camp event I can see. Here's a really quick summary of the game. First, the lineups:
Team Red:
Tyler Ennis, Eric O'Dell, Jamie Benn
Colten Gillies, Brandon Sutter, Chris Didomenico
Nazem Kadri, Cody Hodgson, Riley Nash
Maxime Suave, Chris Terry, Corey Trivino
Alex Grant, Luke Schenn
PK Subban, Travis Hamonic
Yann Sauve, Jared Spurgeon
Mark Katic, Tyler Myers
Jake Allen
Dustin Tokarski
Team White:
Louis Caporusso, Kyle Turris, John Tavares
Dana Tyrell, Josh Bailey, Jordan Eberle
Nicholas Deschamps, Logan Couture, Greg Nemisz
Paul Byron, Patrice Cormier, Kelsey Tessier
Tyler Cuma, Drew Doughty
Brendan Smith, Colten Teubert
Kevin Marshall, Nick Ross
Keith Aulie, Alex Pietrangelo
Chet Pickard
Tyson Sexsmith
Here's the
game summary
from Hockey Canada.
It was pretty much as I had expected. Clearly these are skilled players but they haven't played together so their timing was way off and their positioning a tad scrambled at times. The first period was pretty much all Team White as Team Red couldn't get anything much going. But for all that Team White came out with only one goal – on a penalty shot. Instead of serving penalties, the "offended" player gets the puck at the blue line and everyone else lines up behind the red line. When the whistle blows, everyone can go for it. Team White had 4 chances in the first but only scored on the first one.
The play was pretty even in the second period. Logan had a terrible shift where he was on his butt at least twice and was then called for looking. The hooking call led to the game winning goal (although it isn't noted as a penalty shot on the score sheet).
I would give the third period to Team Red. They found some rhythm as a team and popped in a couple of goals to make it 4 – 1. Logan prevented the 5th goal with a great backcheck.
The play was pretty speedy for the most part although it flagged now and again. There were some hits and some shoving – the guys showing some intensity but perhaps also mindful that no one wants to get hurt.
A reasonably sized crowd. I heard that the maximum tickets available were 814. I would guess that there were close to 500 people there.
I can't tell who was playing well and who wasn't; my knowledge of the game isn't good enough. It all looked pretty disorganized to me. I concentrated on Team White as Logan and Tyler were on that team. Will they make the squad? It's hard to say. There are many good players in camp.
Hope the rest of camp is good for them.
Some pictures (taken from my seat and through the glass - sorry for the quality):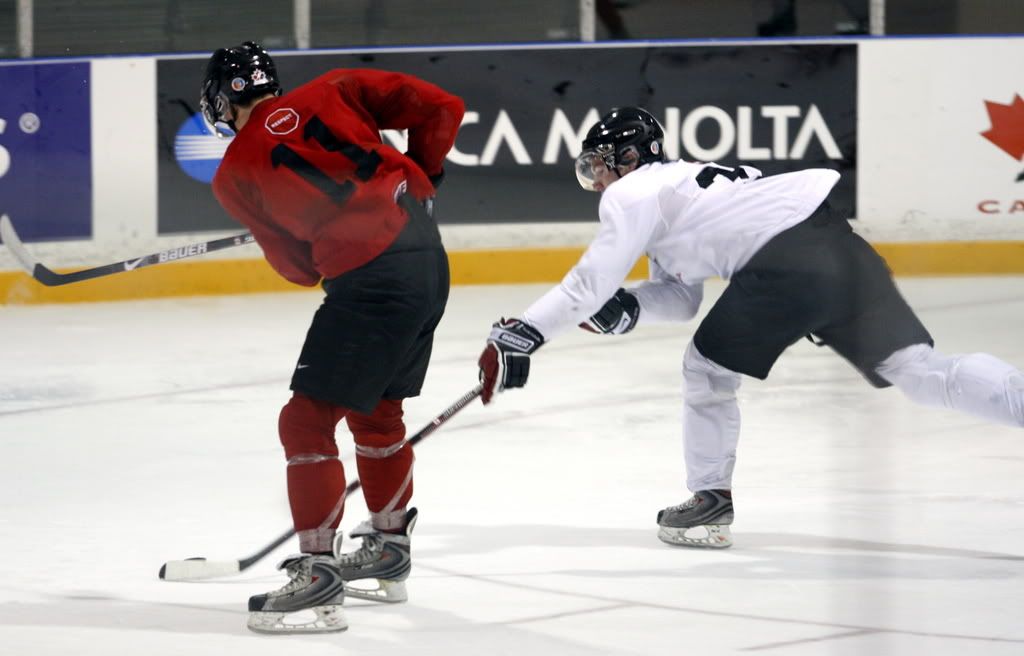 The goal that Logan prevented.





Tyler pasted up against the glass.