Cory Tanaka and PK Subban teamed up with just 45 seconds left in the OT period to give Belleville the win for the night and the regular season series.
It was Belleville's second road game in as many nights with the Bulls winning 6 - 3 in Peterborough on Thursday. The win stretched their winning streak to 8 games. Belleville's scratches were rookies Cody Alcock and Andy Bathgate. Phillipp Grubauer started in net.
Forward Combos:
Cowick, Couture, Nigro,
Blunden, Martindale, Nesbitt
Lindsay, Kiriakou, Carnevale
Sonnenburg, Anderson, Schinkelshoek
D-Pairs:
Demers, Gibbons,
Birkhoff, Paryzek
Hartwick, Zanetti
Goal:
Perugini
Scratches:
Toffoli, Hanes, Cuma (all injured)

The Belleville Bulls scored quickly on their first shot on goal which came on a power play with Julien Demers in the hoosegow for checking Bryan Cameron from behind. Eric Tangradi's shot deflected in off the skate of Martin Paryzek and just 1:09 into the game Belleville was on the scoreboard.

Less than 5 minutes later Belleville went up by two when Nick Palmieri slid an easy one past Chris Perugini. Shots on goal at this point were 2 - 5 for Belleville.

It didn't look good. Belleville came out hard and strong and had Ottawa was not responding in kind. Ottawa was unable to do anything with their two power plays up to this point having managed only 2 shots on goal for the two man advantages and Belleville having more than a couple of good short handed chances.

But it all changed in the blink of an eye when the top line struck twice in 11 seconds. Anthony Nigro scored his 19th goal of the season when he scored from the slot on a play that started with a PK turnover. Logan Couture and Travis Gibbons were the helpers. 11 seconds later it was Logan Couture getting his 19th goal of the season with a goal mouth goal to tie up the game. Corey Cowick and Anthony Nigro got the assists.

And then the game picked up. By the time the period ended, Ottawa had outshot Belleville 16 - 10.

The Bulls came out crabby, especially Subban. They were a much chippier team than I seem to recall and they got away with a lot of stick work including Bryan Cameron's little stick throwing tantrum when he was down in the Ottawa goal crease. No penalty for that per se - it's just an indication of their behaviour. The two refs were satisfied with their ice-level viewing vantage points and less inclined to use their whistles.

The second period was not a great display of goal tending as 5 goals were scored by the two teams including one scored on a penalty shot by Shawn Lalonde.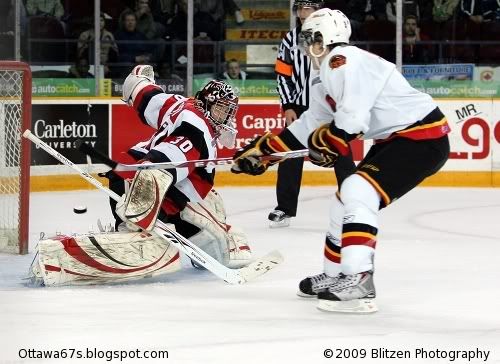 Ottawa came out of that period on top with two goals from Ryan Martindale and a power play goal from former Belleville Bull Stephen Blunden. Assists went to Ryan Martindale, Stephen Blunden and Thomas Nesbitt (2).

Shawn Lalonde got the other Bellville goal in the second period on the power play. Another puck that deflected in off Julien Demers.

George Burnett wasn't taking any chances in this close game and he put Mike Murphy in net to start the third. Guess he lost confidence in Grubauer. Having their star goalie in net and starting the period on the power play gave the Bulls confidence that they rode hard all period. They had Ottawa on their heels pretty much the entire time so wasn't a surprize when Cory Tanaka tied the game.

The game went to OT. Ottawa started with the power play but were unable to score on their chances. Cory Tanaka finished the game with his second goal of the game beating Perugini short side with just 45 seconds left.

Belleville takes the regular season series 5 - 3 with 3 games going to overtime.

Three Stars as selected by the Team1200:
1st Star - Ryan Martindale
2nd Star - Shawn Lalonde
3rd Star - Cory Tanaka
(I didn't get good in-game photos of all the stars)


Hardest Working 67s as selected by the Team1200: Logan Couture
Random Thoughts:
Subban could be a soccer player with all that on-ice drama. A bit embarrassing really. Glad he didn't pull any of that during the World Juniors (although I'm sure that Quinn would have made short shrift of any over acting).

Ottawa's power play seems to have short-circuited lately. Just 1 power play goal in 5 chances tonight.

Speaking of penalties, it seems that Ottawa has been getting more penalties lately.

Ottawa had its chances tonight - just couldn't bury them.

Belleville is strong, fast and skilled. And they play with a lot of confidence. A lot of confidence.

Ottawa gets a day to think about this loss and prepare for the London Knights who handed them their first OT loss (Ottawa has yet to win a game in OT). London and Belleville play today (Saturday). Ottawa will need to start with speed and determination and play that way for the entire 60 minutes.

See you Sunday!

More Pictures: