The playoff schedule had to be modified because of the darn Home and Garden Show. For all their hard work to get the home ice advantage, it turns out the schedule is 2 games in Ottawa, 3 games in Niagara and 2 games back in Ottawa (if the series goes to 7 games). So the loss on Friday was really a loss of home ice advantage.
This was pretty much a must win.
Forward Combos:
Cowick, Couture, Nigro,
Lindsay, Kiriakou, Toffoli
Blunden, Martindale, Nesbitt
Hanes, Smith, Carnevale
D-Pairs:
Demers, Gibbons,
Birkhoff, Paryzek,
Hartwick, Zanetti
Goal:
Perugini
Scratches:
Schinkelshoek, Sonnenburg, Anderson, Cuma (knee)

I was nervous about this game and it didn't get any better when, like Friday's game, Niagara scored first early in the game. Zanetti lost the puck pretty much beside his own net and Dylan MacEachern picked up his own rebound and tucked it by Perugini.

And like Friday night, Ottawa came back quickly to tie it up. Just 6 seconds into their second PP (Agonzzino off for roughing), Corey Cowick scored with a quick shot off a nice feed from Logan Couture from behind the net. Anthony Nigro got the other assist.

Tyler Toffoli's blistering shot from the face off circle gave Ottawa the lead that they wouldn't give up this time. That of course was his first OHL play off goal.

Like Friday, Ottawa had a good first period. Unlike Friday, they also had a good second period, with 2 goals from Anthony Nigro (including the GWG) and a blistering short handed goal from Corey Cowick.

The IceDogs played a physical and sometimes undisciplined game, taking 9 penalties, including a couple of 5-on-3s. While Ottawa didn't convert on either of the 2-man advantages, one for 1:41, they scored two powerplay goals. But the best specialty team play was Corey Cowick's short handed goal in the second period just 7 seconds into the penalty. It started when the puck went through DeSousa' feet. Cowick picked it up, skated up the left side and let one fly from the face off circle. It must have been a change-up as it fooled Smith and went in the net.

Niagara got their second goal, and only PP goal, when Thomas Nesbitt was called for charging Dylan MacEachern into the boards. It was a nasty hit and you could see that it fired up the IceDogs.

Cody Lindsay scored his first OHL playoff goal halfway through the third period. Tyler Toffoli got the better of Alex Pietrangelo and fed Lindsay who was all alone in front of the net. Thomas Kiriakou got the other assist. That is a great line that saw a lot of ice time today.

Here's the game sheet.



Three Stars as selected by the Team1200




Hardest Working 67 as selected by the Team1200: Chris Perugini
Random Thoughts:
The ice must have been in bad shape from the Great Big Sea concert last night. Weird bounces all game, especially in the end where Ottawa defended twice.

No playoff hairdo this year but the first round mark under the left eye is there and apparently the boys are growing playoff beards. Some better than others. Some needed to start in January.

The top line accounted for 10 of Ottawa's 17 points; the second line: 4; the D 3. Nice way to spread it around.

Much better defensive zone coverage by the 67s this game.

As the game wound down and it was out of reach for the Dogs, they started hitting just for the sake of hitting. Softening them up for the game on Tuesday.

Both goalies made a number of great saves.

The Gibbons - Nigro trade for Latta still looks like a fantastic trade. Both players have really contributed. Nigro on the scoreboard and Gibbons with some solid solid defensive work including a few goal saving moves. And there's a pick too.

Head games: Drew Schiestel (I'm sure they have an appropriate nickname for him) tripped Tyler Toffoli behind the net long long after the whistle and with Tyler not expecting anything; well after another whistle, instead of sliding the puck to the linesman for the next face off, Jeremy Smith sent it down the ice towards the empty Ottawa net as Perugini did a little skate-about (as all goalies do). Pietrangelo did the same thing on Friday. A couple of vets thinking they can rattle the young goalie in his first two playoff starts. NOT!

Also part of their MO must be to get on top of Perugini as much as possible. And I mean on top. He took more hits than some of the forwards.

Expect the game to be really scrappy on Tuesday. The Dogs will want to take charge in their own barn and will still be stinging from today's loss. Expect Friesen, Shiestel, and Steckley to be the ringleaders.
More Pictures: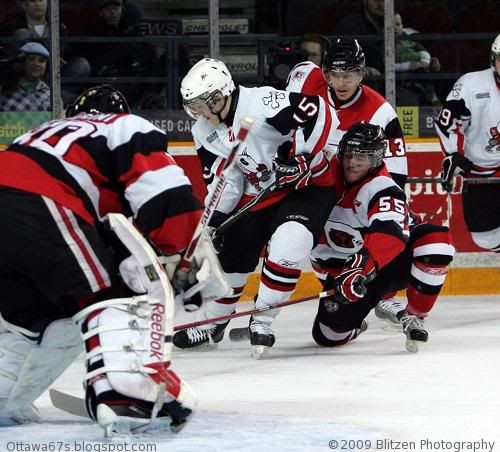 Gibbons keeps Andrew Shaw from getting a good shot.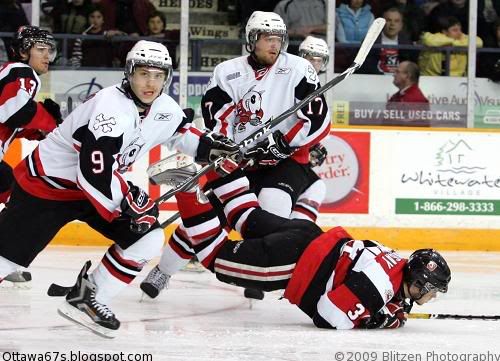 Lindsay goes for a spill.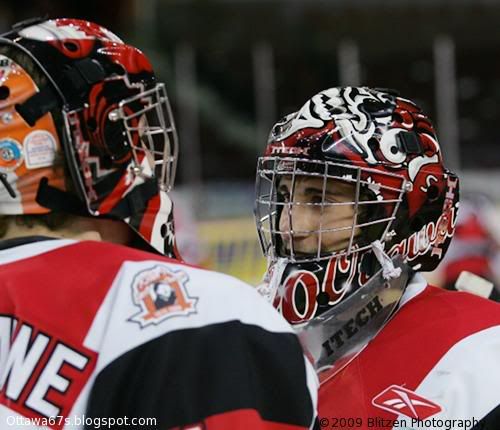 Perugini and Courchaine chat before the game.
Harry, an Ottawa 67s fan and fellow volunteer
at the Parkdale United Church winter soup kitchen.