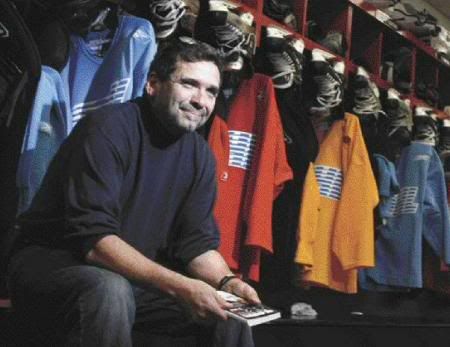 Photo credit: Jean Levac of the Ottawa Citizen
If you came here from the Ottawa 67s site, you already know the news - Brian Patafie has decided to move on. This caps a number of moves this year: Brian Kilrea and Bert O'Brien calling it a career behind the bench, Chris Byrne is named as the new coach, Chris Byrne names Mark Grady as his new assistant coach and now Brian Patafie is moving on. A replacement was not named in the announcement.
I am not part of the inner circle and so have limited insights to Brian and his contributions. But from our very few conversations and from reading his book it is easy to appreciate his knowledge and love of the game and his devotion to the players. Kilrea mentioned Brian's loyalties to the players.
He was good to me - he answered my stupid questions without making me feel like an idiot. That's my measure of the man. Being a nice person goes a long way with me.
Knowing when to move on is a very difficult personal decision - lots goes into it. Brian has made many of these in his career so it's easy to respect his decision. That doesn't mean that it's not upsetting. But it is what it is.
Brian, all the best in your new endeavors - where ever they take you. I have a sneaking suspicion that you will be leaving Ottawa. Hopefully it's not too soon - the offer of a round of golf still holds - call me. I'm not a good golfer but the spousal unit is pretty good.