The recently re-branded Urbandale Centre (UC) has not been a really lucky place for the 67s thus far. With their 3-1 loss to Kingston on Friday, their home record is 1-3 and they sit in last place in the Eastern Conference with a record of 2-4-2-1 for 7 points. Also with 7 points in this young season: Niagara, Belleville, Sudbury and Brampton so there's plenty of time and room to move up.
| Ottawa 67's | Head to Head | Kingston Frontenacs |
| --- | --- | --- |
| 2-3-2-1 7 points | Record | 4-4-0-0 8 points |
| 7th Eastern | Conference - Rank | 4th Eastern |
| 25 | GF | 24 |
| 29 | GA | 26 |
| 2-3-2-1 | P10 | 4-4-0-0 |
| (4/40) 10.0 | PP% | (7/50) 14.0 |
| (14/46) 69.6 | PK% | (6/44) 86.4 |
Top Guns

| Ottawa 67's | Kingston Frontenacs |
| --- | --- |
| Lindsay (5-5-10) | Farrell (5-5-10) |
| Martindale (3-7-10) | Harnden (3-3-6) |
| Nesbitt (4-4-8) | Werek (3-2-5) |
| Smith (5-1-6) | Moon (1-4-5) |
| Sointu (2-3-5) | Gudbranson (0-5-5) |
Forward Combos:
Lindsay, Martindale, Toffoli (starters)
Smith, Merrett, Nesbitt
Sointu, Graovac, Stevens
Janes, Anderson, Schinkelshoek
D-pairs
Birkhoff, Cuma
Zanetti, Gibbons (starters)
Hartwick, Ceci
Goal:
Perugini
Scratches:
Carnevale (mono), Nigro (mono), Demers (knee - going under the knife), Cowick (shoulder), Hanes

Cody Lindsay started the game off in the right direction when he took a cross-ice from Ryan Martindale to beat a moving Tyler Beskorowany just 21 seconds into the game.

But it didn't last long.

In a communication failure between Hartwick and Perugini, Kingston's Derek Froats was able to tuck the puck under Perugini in a wrap around just 1:14 later to tie up the game and on the very next shot on goal 45 seconds later off a face off, Kingston went up by one on Ethan Werek's goal. Three goals between the two teams just 2:20 into the game.

Ottawa had a few good shifts and managed to pull even with Kingston for shots but I would venture to say that Kingston played a better first period. They kept more of the play in Ottawa's end.

In the second period, it was the other way around. Ottawa kept most of the play in Kingston's end and got a lot of shots through to Beskorowany, including about 8 shots in the 3 PP opportunities they had, but he's such a big guy, unless you get him moving, pretty much everything hits him in the crest and he didn't give out too many rebounds.

Despite working hard for most of the period, Ottawa's undoing was undisciplined penalties. Chris Perugini was screened on Brian Lashoff's shot from the mid-point early in the first 5-on-3 that Ottawa gave Kingston. Ottawa killed the rest of the penalties but the damage was done and Ottawa was unable to capitalize on any of their 5 PP opportunities.

With the man advantage for the last 46 seconds of the game, Byrne pulled Perugini for the 6th player but Ottawa was unable to score.

So, with this loss to a Divisional rival, Ottawa falls to last place in the Conference. These teams meet again on Sunday in Kingston. I plan to be at the game. Hopefully we will see a better result.

Here's the game sheet.



Three Stars as selected by the Team1200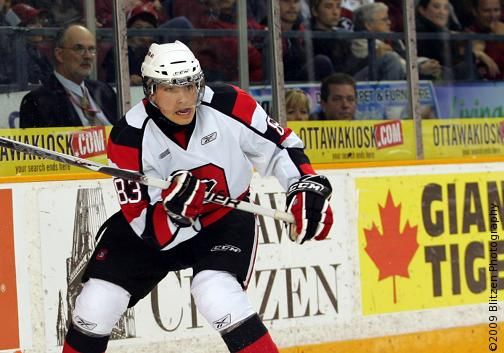 Hardest Working 67 as selected by the Team1200: Cody Ceci
Random Thoughts:
Cody Lindsay has been on a tear lately and is the team's top scorer with 6 goals and 11 points so far.

Chris Byrne might not want to cut the team any slack about the key players out of the line-up but you gotta admit that missing Nigro and Cowick up front is not great. Between the two of them last year, they had 129 points with Nigro being a point-a-game guy. But as the coach said, this is an opportunity for the other guys to step up and show what they are all about. Tyler Toffoli is having a slow start.

As for the D, there's only one rookie back there, Cody Ceci, and he seems to be doing very well as a rookie. Gibbons had his struggles on the point last night.

In looking at how old the teams are that were iced last night, Kingston put an 'older' team in play with 6 18 year olds, 6 19 year olds and 2 20 year olds in comparison with Ottawa's 5, 5, and 2. Ottawa had 3 16 year olds which includes Ceci who is does not turn 16 until December 21 (the youngest player in the OHL this year).

I shot from between the benches in the first period and overheard the friendly exchanges between Kingston backup goalie Cullen and former Front and recently acquired Peter Stevens. Likely to spend a lot of time on the bench backing up Beskorowany this year, I suppose Cullen has to amuse himself somehow.

More Pictures:
Newly acquired Chester NY native Peter Stevens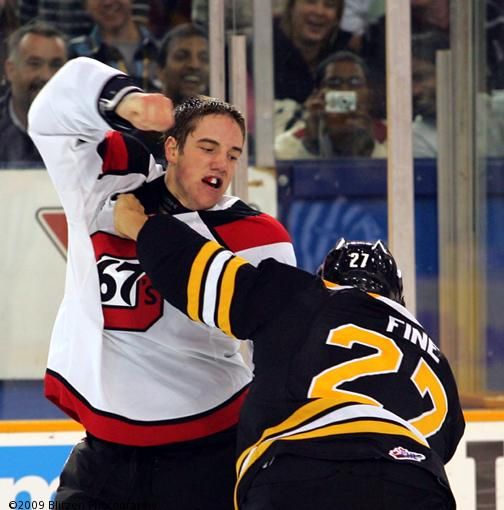 Michael Fine apparently took umbrage with Smith's hit on Gudbranson. Smith responded.
Smith tangled up with a Kingston player
Chris Perugini pouncing on the puck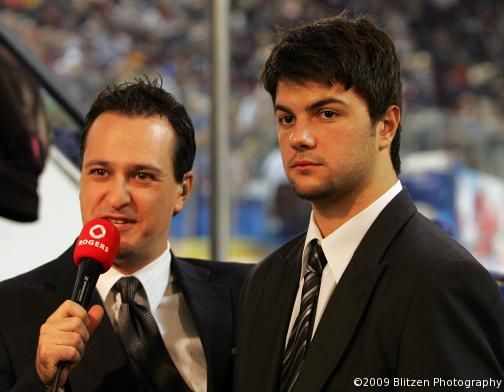 Nigro must be on the way to recovery - allowed to be around the team
Cuma and Fine going for the air-borne puck
A summit discussion between Nesbitt and Beskorowany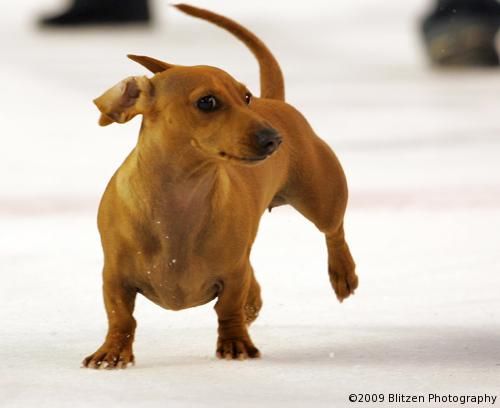 One of the many contestants in the annual Wiener Dog Race.