The OHL trade deadline was at noon today and there were a few moves involving current or former Ottawa 67's: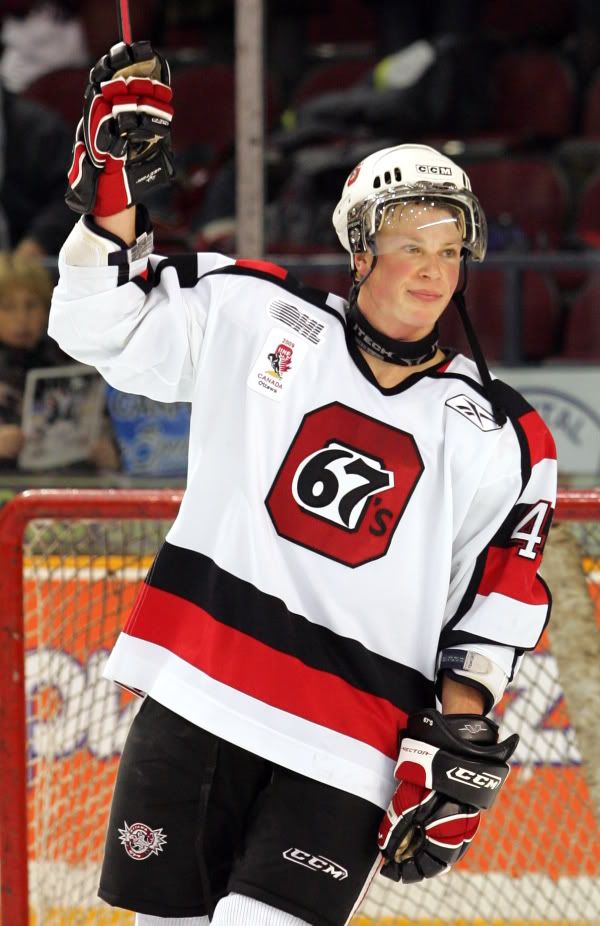 Brian Birkhoff was traded to the Peterborough Petes for their 5th draft pick. It will be a quick turnaround for Brian as the Petes are in town Friday night for a game. It will be weird seeing him in another jersey and I'm sure it will feel weird for him to sit on the other bench and go to the visitor's locker room.
Ironically, this picture is from December 2008 versus the Peterborough Petes where Brian was the third star.
I incorrectly posted that overager Peter Stevens was released by the club. He has been traded to the Sarnia Sting in exchange for Belleville's 14th round draft pick.
Thanks Brian and Peter and all the best (except when you play against Ottawa).
Former Ottawa 67's goalie Adam Courchaine was traded to Erie.
The
Central Scouting Mid-Season Rankings
are out and we have some Ottawa 67's in the mix for North American skaters:

Tyler Toffoli clocks-in at 22nd

Ryan Martindale follows close in the 24th spot

Dalton Smith registers at 66th

And for North American goalies we find Petr Mrazek (!) in the 26th spot.
And finally, I was at the game in Kingston. I am pretty busy with other stuff so I don't have the time to post pictures or a decent summary but I will note that Beskorowany is a monster! The 67's didn't lose for lack of trying. There were moments that they threw everything at him and he just managed to get some part of his 6'5" body and related parts in the way. He's the main reason that Kingston was in the game at all. The 67's could do with fewer penalties and their PP could use some work.
I won't be at the games this weekend...a business trip (and I will have to spend the weekend in Brussels - I know, you feel real bad for me).
See you in a couple of weeks.