Today's game is the third for Owen Sound on their swing through the Eastern Conference. They started the road trip well, winning 5 – 1 on Friday over a Kingston team that is really struggling on many fronts (no pun intended) this season. Then they had a complete reversal of fortune in Belleville where they were shut-out 6 – 0 by the Bulls. They currently sit in 9th spot in their conference with 26 points, behind Saginaw and Guelph that also have 26 points but have games in hand. Their record is 12-17-2-0, GF 95 and GA 122. Their big guns are Chris MacKinnon with 30 points (12 goals), Matt Carter with 26 points (17 goals) and David Kolomatis with 25 points (5 goals). They only have 3 players on the plus side of the +/- and the highest among them is +2.
As for Ottawa, coming into this afternoon's game they still sit 7th in the conference with 29 points in 29 games and a record of 15-13-1-2, GF 100, GF 108. They trail Mississauga by 2 points and are ahead of Peterborough by 4. Our big guns are Logan Couture with 39 points (14 goals), Jamie McGinn with 29 points (13 goals) and rookie defenseman Martin Paryzek with 20 points (1 goal). They have 6 players on the right side of the +/- stat and the best is +11 (but the worst is -16).
Ottawa lineup news:

Scratches for the night: Matt Lahey still out with his shoulder and Martin Paryzek is back in the Czech Republic having been invited to try out for their WJHC team. It was Chris Perugini's turn to keep the pucks out of the net.
Owen Sound lineup news:

Scratches: Brad Humberstone, Ondrej Pekarik, Grant McGee, Peter Mrksic and Scott Stajcer. Tyler Beskorowany got the call between the pipes.
Ottawa Lines
(for the most part – a bit of tinkering in the third):
JMcGinn, Couture, Latta
Bailey, Kiriakou, Methot
Zamec, Lindsay, Nesbitt
TMcGinn, Martindale, Carnevale
Defensive pairings:

Cuma/Demers
Ostrcil/McCullough
Cowie/Ryan
The Game
How to summarize a 1-0 game? I can't go through a period-by-period summary. From a hockey perspective, Ottawa did not play well. For a team that was well rested, they didn't play like it. They have a habit of dropping their effort to match their opponents. Too many turn-overs, too many icings, no finish. But, from an entertainment perspective, it was fun to watch if you like up and down play, scoring chances, and great saves.
Unlike the game on Friday, this one started with shots on net early – especially Owen Sound. Ottawa took its first of 5 penalties early in the game with Bailey getting sent off for high sticking at 4:25 in the period. Owen Sound couldn't even get out of their zone for the first minute of the penalty and managed only one shot on Perugini while Ottawa had two on Beskorowany. The first period was relatively quick with few whistles. With 2:21 left in the period, it looked like the Attack had scored on a dribbler but a video review revealed that the puck had not actually crossed the line when the whistle was blown.
There were quite a few scoring chances by both teams but the goalies made the big saves. Ottawa iced the puck a lot in the second period – a combination of just whacking it out of their zone and missing long lead passes. Chris Perugini had Chris MacKinnon's number all afternoon including this great pad save on a breakaway in the dying seconds of the second period.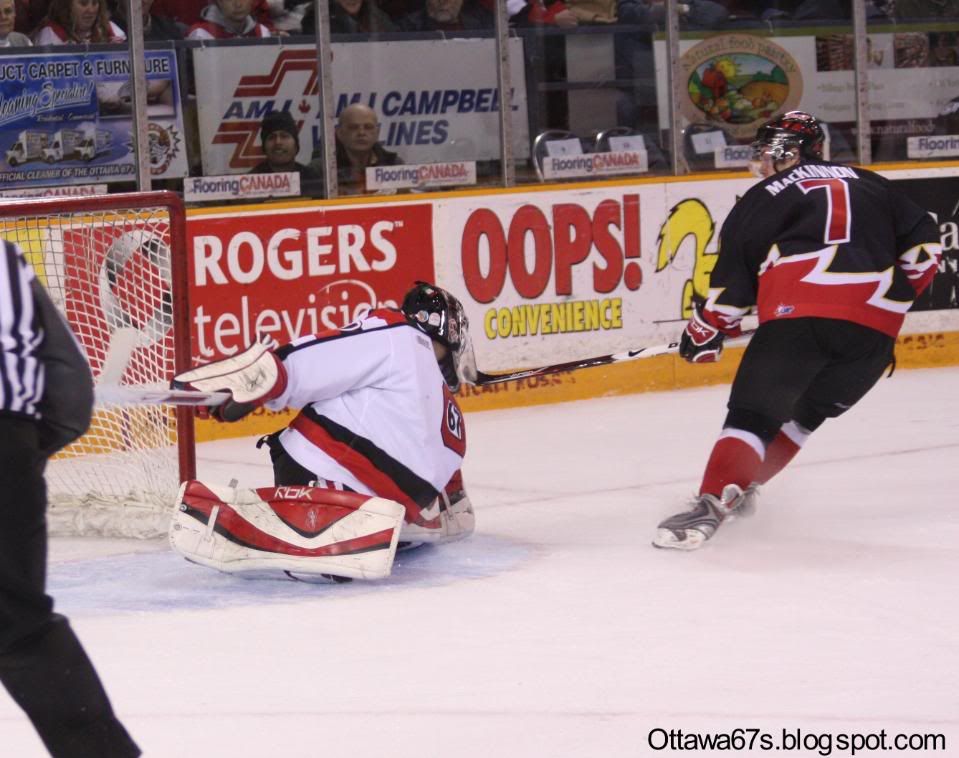 The bad turnovers continued in the third period and the great saves by Chris continued to save the team's collective bacon. Meanwhile, Owen Sound was doing a pretty good job of keeping Ottawa to the outside so that their shots on goal were not all that threatening.

With 2:21 left in the game, still tied at 0, Owen Sound called a time out. Not sure what the coach was trying to accomplish.

With play in Ottawa's end, Tyler Cuma gained possession, passed to McGinn who fed Couture skating up the left side. At about the face off circle, here's what Logan saw: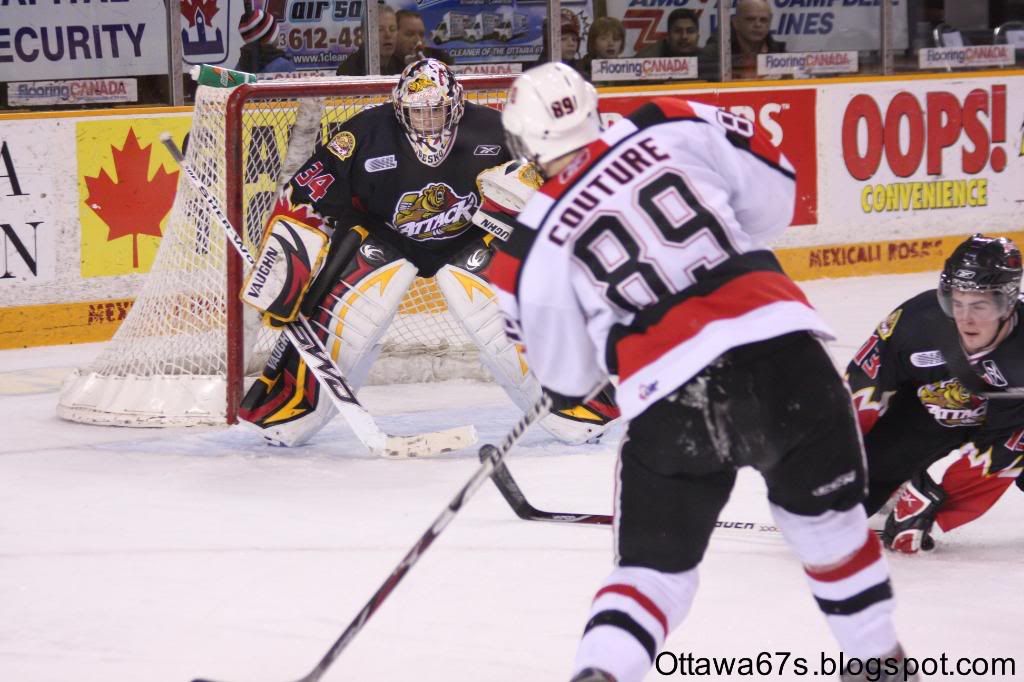 Somehow he threaded the needle and beat the Big Beskorowany short side: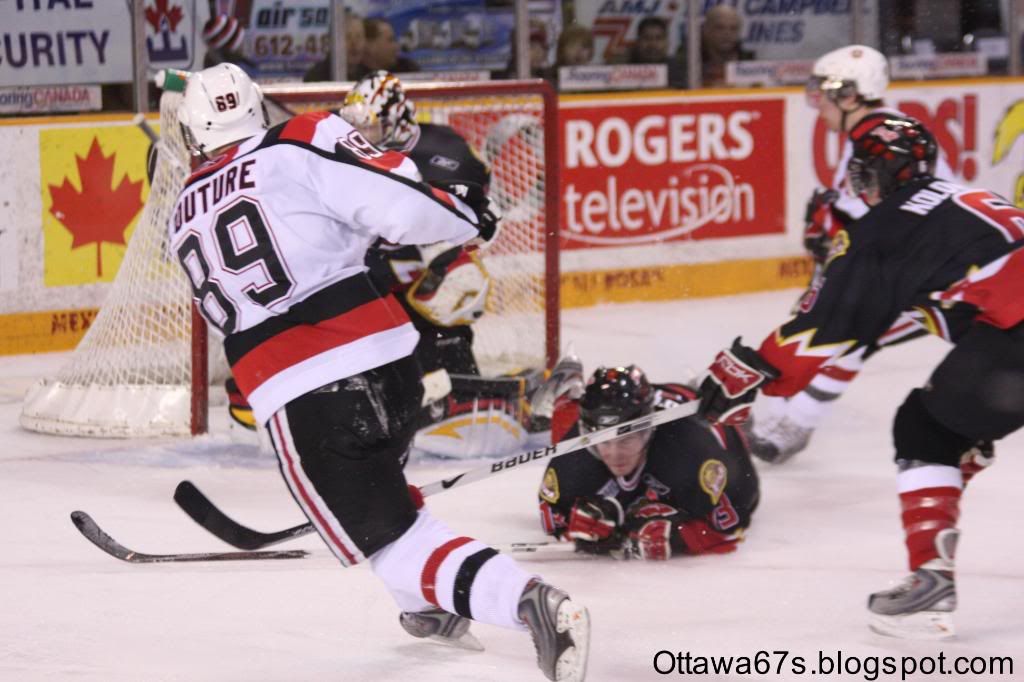 Time of the goal: 18:45

Owen Sound pulled their goalie for the extra attacker but Ottawa kept them at bay.

Ottawa won the goaltender's battle 1 – 0. Chris Perugini saved all 41 shots for his second straight win and I think his first shut-out in the OHL. Final shots on goal were 29 – 41 for Owen Sound.

Three stars
1. Chris Perugini (for obvious reasons!!)


2. Tyler Beskorowany (28 of a possible 29 saves) Thanks for coming out to acknowledge your selection Tyler.


3. Logan Couture (the game winning (and only) goal)

Team 1200 hardest working 67s: Julien Demers

Blitzen's rate the anthem singer: We've seen her before too – I'll call her the yodeler. She has a lovely voice but should sing the anthem straight up. She gets a 3.

Random Thoughts:
You could not tell that Owen Sound was playing its third game in as many days.
Conversely, you couldn't tell that Ottawa had been resting since their home game on Friday night. Ottawa has a problem with their energy levels on Sundays.

All the lines got ice time; none of them distinguished themselves.

Logan notched his 4th GWG of the season.

Couture made some great defensive plays including a goal-line save in the third.

Battle of the goalies: Beskorowany: 6'5", 197 lbs, 17 and a half years old; Perugini: 5'9" (ya – right, maybe with his skates on), 140 lbs, a year younger. All Beskorowany had to do was get in the way; Chris had to actually work!
Ottawa takes 3 of a possible 4 points this weekend. Even though they lost, I liked the way they played on Friday better than today.
See you next week.

Go 67s Go!
Another game stealing save by Chris!