The Belleville Bulls came into the game 3rd place in the conference (they were in second place in points but since the top two spots go to the teams in first place in their respective divisions regardless of their points, Barrie gets second place with 36 points). Record: 17-8-2-1, GF 107, GA 78 (fewest in the conference), P10 6-3-1-0. Their big guns are: Shawn Matthias with 53 points (17 goals), Detroit's 2006 second round pick; Matt Beleskey with 39 points (19 goals), Anaheim's 2006 4th round pick; and Eric Tangradi with 36 points (15 goals), Anaheim's 2007 second round pick. Shawn Matthias and D P.K. Subban have been invited to the Canadian WJHC training camp.
Ottawa came into the game on a two-game losing streak after posting two impressive back-to-back wins against Oshawa last weekend. They took too long to get their legs under them in the game in Niagara last Sunday (it WAS their third game in less than 48 hours including riding the bus from Ottawa to Oshawa to Niagara). Last night they lost 2-3 in Peterborough. In the pre-game show chat with Buzz Kilpatrick, Coach Kilrea said that the best player on Thursday was Adam Courchaine and that the team did not play well in front of him. When they take too many penalties, it's too hard on their penalty killers. As for the WJHC try-out camp, we have all heard the unhappy news that no Ottawa 67s was invited. Another character building moment. Chin up guys!
Ottawa lineup news:
Scratches for the night: Matt Lahey with a sore shoulder and Radim Ostrcil with sore ribs from a cross-check in the Petes game. Once again, Adam Courchaine got the call.
Belleville lineup news:

Scratches were Shawn Lalonde and Stephan Johnston. Mike Murphy started in net.
Ottawa Lines
(for the most part - there were a couple of temporary changes):
JMcGinn, Couture, Nesbitt
Methot, Kiriakou, Bailey
Zamec, Lindsay, Latta (I may be wrong on who centred that line)
TMcGinn, Martindale, Carnevale
Defensive pairings:
Demers/Paryzek
Cuma/ McCullough
Ryan/ Cowie
First Period
It started with both teams taking their time organizing any scoring chances. After the first 5 minutes, the shots on goal were only 2 – 1 for Ottawa but finally, just over the halfway mark, Jason Bailey notched his second of the season (having just returned to the ice last weekend) when he buried a cross-ice pass from Matthieu Methot. Zach McCullough got the second assist. And it rained teddy bears! Quite a few teddy bears! It took a while to clear them up.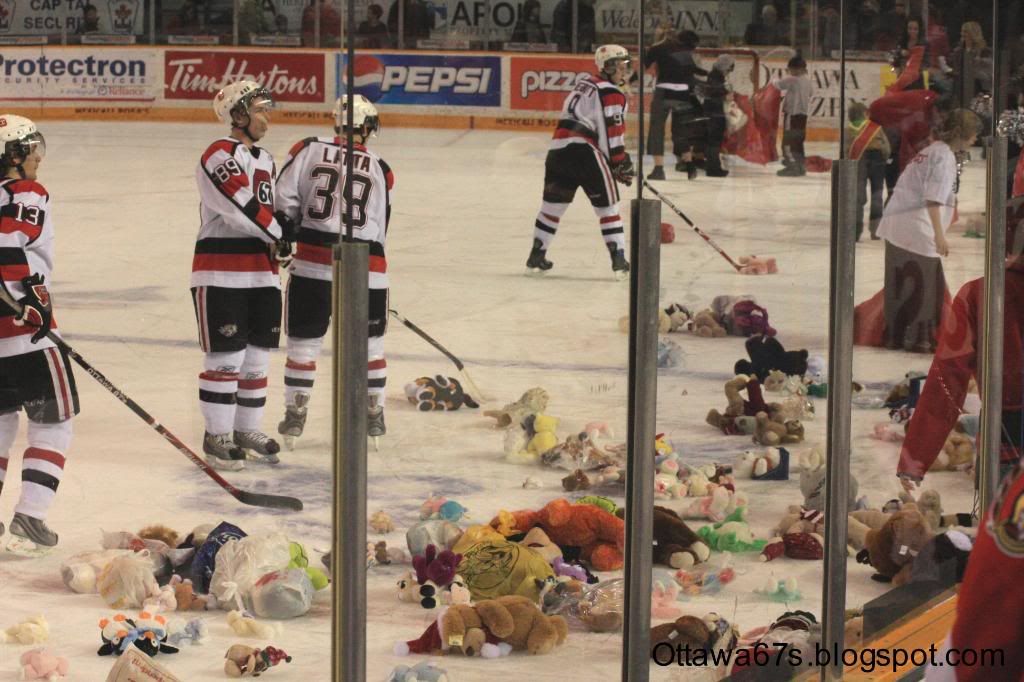 Kudos to the Ottawa fans for their generosity.
Here's a record breaking teddy bear toss at the home of the Portland Winter Hawks:
Now that's a whole lotta teddy bears!
Three minutes later, Thomas Nesbitt surprised the Belleville goalie when his pass from the corner hit the post and ended up under Murphy. They went for a review - decision was no goal. They shoulda asked me (looks like a goal to me):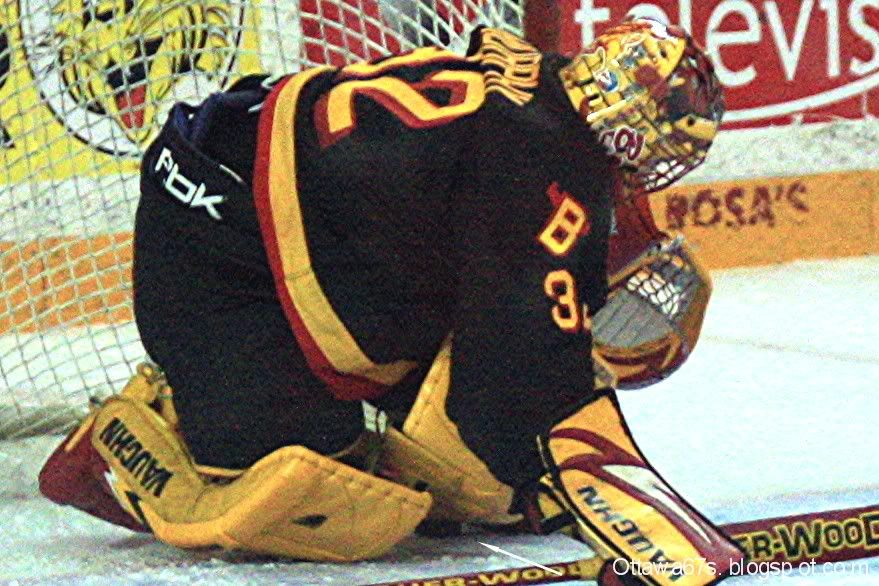 Both teams started playing a bit sloppily, then Nesbitt and Subban were sent off for offsetting slashing penalties (slashing and roughing respectively) and the ensuing 4-on-4 play didn't change anything although Ottawa had a couple of great scoring chances at the very end.

The period ended with the only goal coming from Ottawa and shots on goal 12 – 2 for Ottawa.

Second Period
Lots of scoring in the second period. It all started when Matt Beleskey was sent off for charging Paryzek. Ottawa really wasn't getting anything organized and as the seconds ticked down, I noted that they hadn't had a shot during the man-advantage but at the very last second Jason Bailey beat Murphy down low to notch his third of the season and second of the night. Matthieu Methot and Martin Paryzek got the assists.

Not long after Beleskey was back on the ice, Belleville was back on the PK when Marc Cantin was sent off for kneeing. For all their offensive effectiveness at even strength, they could not get organized at all with the advantage. After two minutes each team had a shot on goal, neither scored.

Then it was Ottawa's turn to get into a bit of penalty trouble against a team with a good power play (10th in the league). With back to back penalties to Chris Cowie (interference and cross-checking), Ottawa had its work cut out for them. And they did a very good job. In the first penalty, Belleville didn't get ANY scoring chances which Ottawa had a couple. During the second penalty, Belleville had one shot but didn't score. A great effort by the team.

Unfortunately, their luck ran out. You could sense the momentum shifting to Belleville as they seemed to find their game. At 11:44 of the period, Stephan Blunden notched his first of the year with a nice fake wrap around on Courchaine. Kyle Tront and Nick Pageau got the assists. This goal really energized the Bulls and only 33 seconds later, Matt Beleskey beat Courchaine blocker side to tie the game up. Keaton Turkiewicz and PK Subban got the assists.

Ottawa got that one back and restored their lead less than 2 minutes later when the second line struck again. They kept the pressure on Belleville and it paid off when Matthieu Methot scored his 8th of the year with assistance from Thomas Kiriakou and Tyler Cuma.

But it would not stand. With only 33 seconds left in the game, Matt Beleskey beat Courchaine for his second of the night and tied the game for the second time. PK Subban got an assist.
Third Period

At the end of two periods, Belleville had fought back from two one-goal deficits to tie the game at 3 with Ottawa outshooting Belleville 26 – 11!

Third Period
Belleville came out strong and managed to keep Ottawa in their own end for a good portion of the period. Both goalies made some great saves including this glove save on Tye MGinn.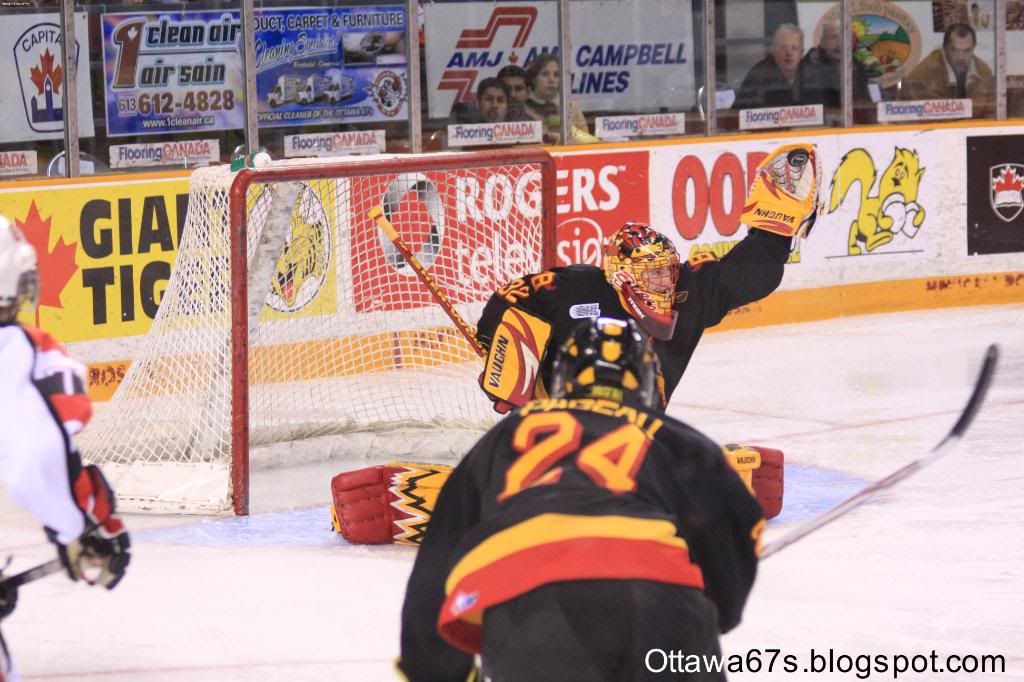 Lots of transition, lots of scoring chances on both sides but at the end of regulation, the game was still tied with shots 37 – 23 for Belleville.
OT
The game opens up quite a bit with 4-on-4 hockey and these two teams put on a good demonstration. I don't think there was a whistle during the whole time the OT was underway. Play moved up and down the ice but neither team got real scoring chances until the one that ended the game. With 1:08 left in the game, Matt Beleskey got his hat natural hat trick to end the game. Shawn Matthias and Goeff Killing got the assists.
Ottawa gets a point but loses in OT to Belleville: 3 – 4, final shots were 38 to 24.
Three stars
Some confusion here – the announcement in the arena matches the game sheet but does not jive with the post-game discussion by Buzz and John from Team1200. So, according to the boys on the radio, the 3 stars are:
1. Matt Beleskey (natural hat trick which were two tying goals and the game winner)
2. Jason Bailey (2 goals and high energy)
3. Matthieu (2 assists)
According to the score sheet and the arena announcement:
1. Jason Bailey
2. Matt Beleskey
3. Matthieu
I personally think that the first order is the correct order – a natural hat trick that includes the GWG has to rate the first star.
Team 1200 hardest working 67s:
Tyler Cuma (hmmm – not sure I agree with this one. I didn't think this was one of Tyler's better games. I thought he got caught out of position or out skated more than I would expect from him. But what the heck do I know??)
Blitzen's rate the anthem singer:
We've seen this lass before. I'll give her a 7.
Random Thoughts:
It was a good game to watch. Lots of energy, lots of transition, scoring chances, good saves and equal amounts of ooh ahh moments. Too bad Ottawa lost. They could do a better job of picking up players who park themselves in front of the net but all in all, a good effort on the ice.
The Bailey, Kiriakou, Methot line was on fire and Killer was doing his best to keep them on the ice.

There are a couple of players that are just not fast enough. Cowie got turned inside out more than once.

Loud Belleville contingent.
Did Subban play for like, 60 minutes? Seemed like he was always on the ice. Guess the coach wants to clock his minutes before he leaves for camp.

See you on Sunday.



Go 67s Go!



Chris Perugini as the scholar of the month.