This is the first of two scheduled games between these two teams. The next one is on February 23rd when the 67s go on a long road trip to play Guelph, Erie and Brampton.
About Erie:
They're not having what one might call a stellar season so far. With only 19 points and 8 wins they are at the bottom of the very strong Western Conference and second from the bottom in the entire league. Today will be their last stop in this long swing through the Eastern Conference. They lost 6-3 in Kingston on Friday and 6-2 in Belleville last night. Their GF of 102 is second lowest in the league and GF of 183 is the highest. Their second top scorer, rookie Ryan O'Reilly is playing with Team Ontario at the Under-17 Hockey Challenge. Erie was also missing Josh Kidd and Mitch Gaulton. Jaroslav Janus was in net.
About Ottawa:
Well, Ottawa didn't have a good night last night in Peterborough. In fact, if the score is any indication, they pretty much got their butts handed to them in a 7 – 1 loss. The only goal was by Jon Carnevale in the first period. I didn't hear the game (was at the Senators game watching them get THEIR butts handed to them by Alexander Ovechkin!!) so I can't comment on what went down. But it does not look pretty when looking at the game sheet. Guess this would be what one would call a character-builder for young Chris Perugini. During the game broadcast Buzz Kilpatrick mentioned his post-game conversation with Chris during which he asked what Killer said to him during the timeout (called after a few quick goals). Chris, who was clearly shell-shocked, said that he caught a couple of words but not more than that; he really doesn't know what Killer said other than it was loud.
Anyhoo – the 67s remain without some key players: Defenseman Martin Paryzek (WJHC), Ryan Martindale (Team Ontario at the Under-17 Hockey Challenge), Logan Couture and Matt Lahey (injuries) and latest word is that Michael Latta was sent home from the U-17 tournament with mono. No idea how long this will last. Let's just hope that roomie Ryan didn't pick up the bug. Adam Courchaine was in net again which is how the weekend was planned.
Ottawa Lines:
JMcGinn, Kiriakou, Bailey
Methot, Lindsay, Carnevale
TMcGinn, Cowie, Zamec
Defensive pairings:
Cuma/Demers
Ostrcil/McCullough
Ryan/Zanetti
Game Summary
Erie started with the relatively bigger jump early in the game. In a string of penalties early in the game (6 in the first 10 minutes) mostly against Ottawa, Erie had a 4-on-3 advantage, a 5-on-3 advantage for 36 seconds, another 4-on-3 advantage and then Ottawa had a 1-man advantage. Throughout this entire non-5-on-5 stretch, Erie managed maybe 3 shots on Courchaine which he handled. During the even-strength play, Erie maintained more pressure than Ottawa. Then Erie had another 5-on-3 advantage for 1:12 and then a 4-on-3 for 49 seconds that they could not convert. By the time the period was past the half-way mark, the shots were 4 – 9 in favour of Erie.
Finally, with 4:07 left in the period, Jason Bailey interrupted Zach Torquato, Tyler Cuma picked up the puck, passed it to Bailey who passed it back to Cuma who then took a shot that Janus saved but did not smother. Cody Lindsay banged in the rebound for the first (and game winning) goal with 4:07 left in the period.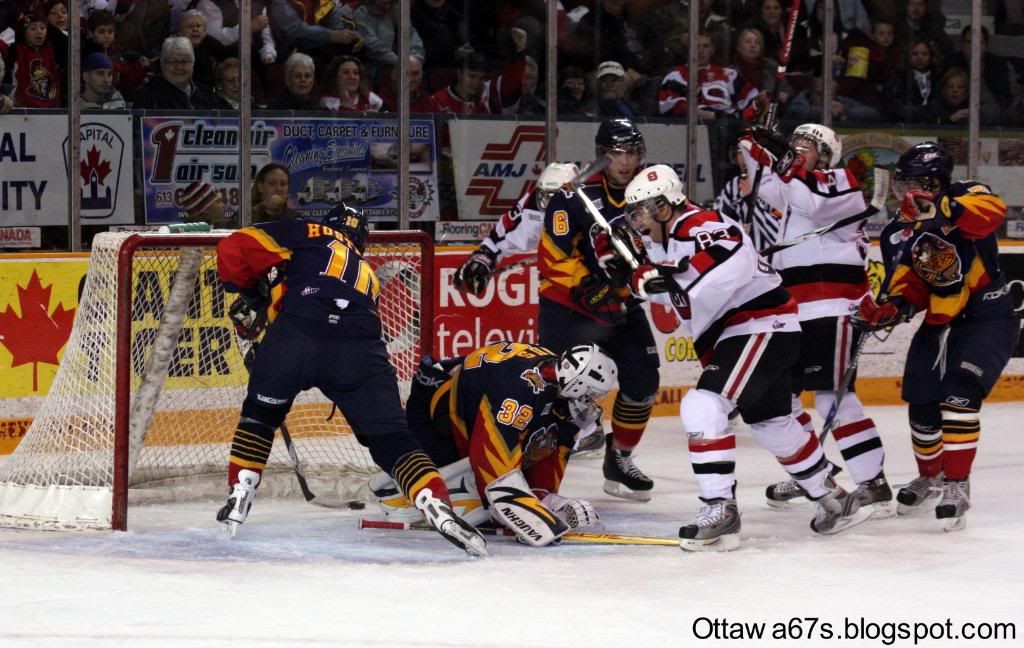 Ottawa was on the PP with one minute left in the period and just 14 seconds into it, Matthieu Methot beat Jaroslav Janus with a wrist shot from the face-off circle. Jamie McGinn and Tyler Cuma got the assists.
It was a period of uninspired hockey with too many penalties and too many turnovers but both goalies kept is relatively close with Adam Courchaine coming out on top which kept the team in the game.
The rest of the scoring happened in the second period. Ottawa started the period a little stronger and the middle of the frame saw some good up and down transition play by both teams but it was Ottawa that came out on top with another powerplay goal as Radim Ostrcil centered the puck for Jamie McGinn and he scored his 20th of the season. Time of the goal: 13:03.
Then Ottawa was back on the PK when Radim Ostrcil was called for tripping. That turned into a third 5-on-3, this time for 53 seconds, when Tyler Cuma put the puck over the glass. The 5-on-3 was easily defended with some hard work by Kiriakou (no shots on Courchaine) and as time was running out the 5-on-4, Kiriakou picked up a rebound from a Courchaine save, carried it up into the Erie zone. His pass didn't get to Methot who was coming up with him but somehow the puck sprung loose and Matthieu Methot got the short-handed goal for his 11th of the season with the assist going to Thomas Kiriakou.
To close out the period Ottawa had a 4:00 man-advantage when Michael Liambas was called for spearing. While the 67s put up some good pressure and got 6 shots on Janus, they just didn't have enough left to bury the puck. They had another PP chance at about the half-way mark but they couldn't convert on that either.
Both teams got a second wind of sorts; Ottawa didn't back off and kept going for the next goal and Erie was playing for pride and tried to bust the shut out. They had some really great chances with open nets just waiting for the puck but they just could not get the puck to the players in time or could not hit the net.
There was a terrific collision behind the Erie net and the ensuing scrum resulted in Zanetti getting shoved a tad at the end and some words of advice from an Otters player. I noticed that he was a bit of a target after that. Nothing too blatant but attempts to send a message nonetheless. He took it well.
Ottawa played well in front of Courchaine, clearing the puck and picking up rebounds to help preserve the shut out and that's how the game ended: Ottawa 4; Erie nuthin'. Shots were 42 – 38 for Ottawa.
Three stars
1. Adam Courchaine (38 saves for the shut out)
2. Matthieu Methot (2 goals)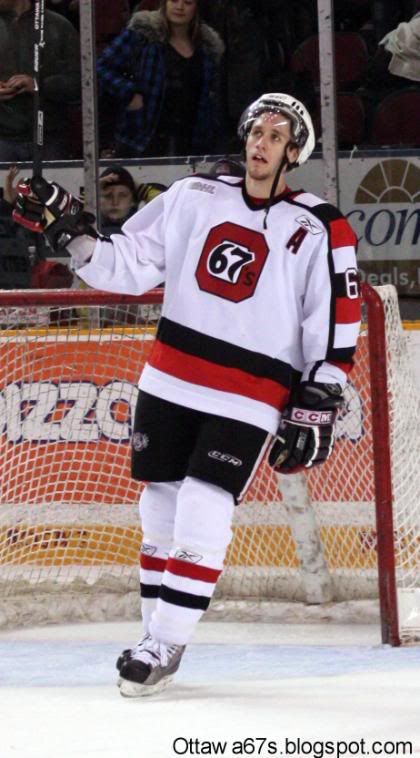 3. Tyler Cuma (2 assists)
Team 1200 hardest working 67s:
Radim Ostrcil
Random Thoughts:
Given that it was a Sunday game against a team that is much lower in the standings some of us were wondering how the game would unfold. This was the third game in as many days for both teams and Ottawa was on the road last night – not getting in until quite late. Earlier this year, their Sunday games have been not so good even against teams that were playing their 3rd games. However, the last few Sundays have been different. Maybe they have turned the corner on this little problem.

Thomas Nesbitt took the warm-up and a couple of shifts early in the game and then wasn't seen again. He did not return to the bench after the first period. Word has it that he suffered a mild shoulder separation. If all goes well he should be ready to play again on Friday against Brampton.

As a result, Killer had only 9 forwards to work with today. According to the Team1200 broadcast team, Jamie McGinn is in a lot of pain with his lower back and had the bench not been so short, he might not have played. I was surprised to see him on the ice for the last few shifts in a game that was already a foregone conclusion. I would have thought that someone might have been double shifted for the last little while.

684km (7 hours) to Erie PA as the google-maps flies. Gonna be a looong ride home.

Erie's starting goalie, Jaroslav Janus started last night's game in goal and was pulled after letting 6 goals on 48 shots (!). In all, Belleville fired 68 shots on the Erie goalies. It takes a lot of character to get back between the pipes less than 24 hours after an experience like that.

With the combination of Ottawa's win and Niagara's loss today, Ottawa now has sole possession of 4th place in the conference with a game in hand over Niagara (with whom they were previously tied in points). This feels like unfamiliar territory.



Go 67s Go!
Some pictures from the game:
One of many saves by Courchaine
One of many faceoffs won by Kiriakou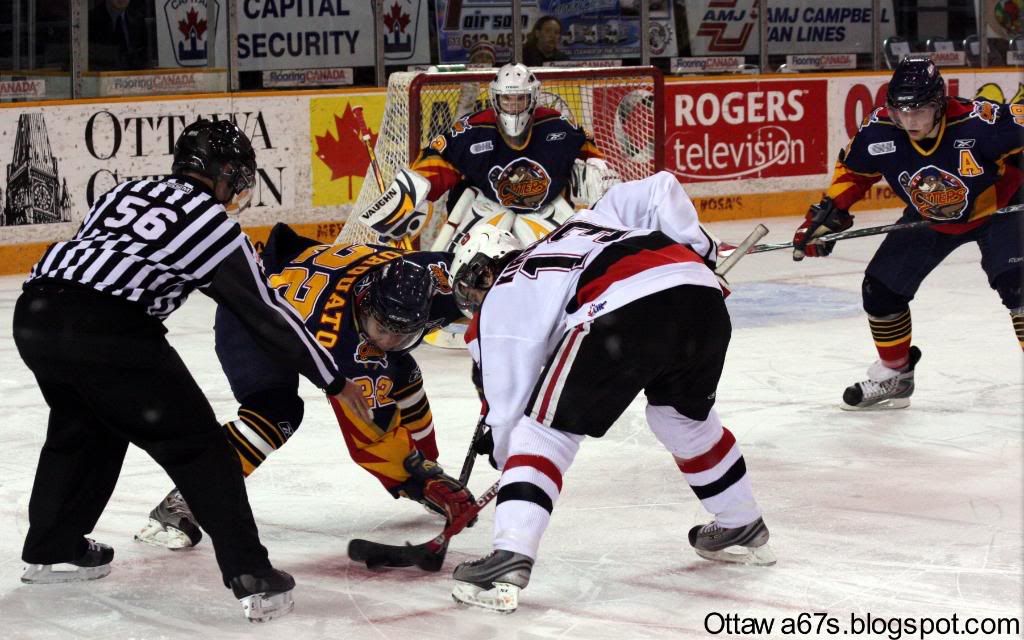 Battling for the puck
What goalies deal with #1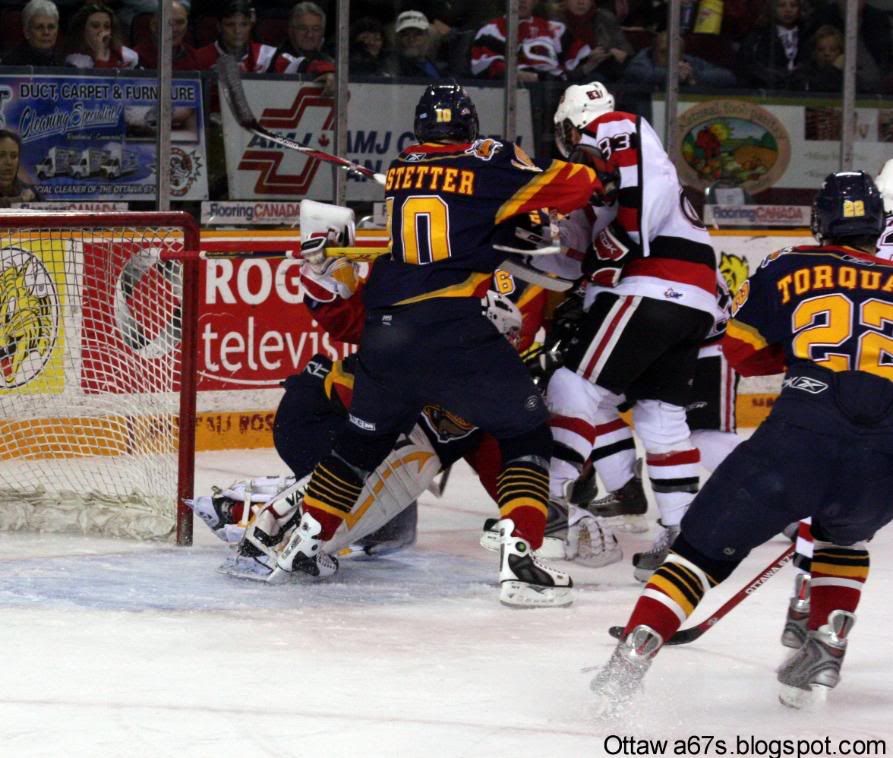 What goalies deal with #2
What goalies deal with #3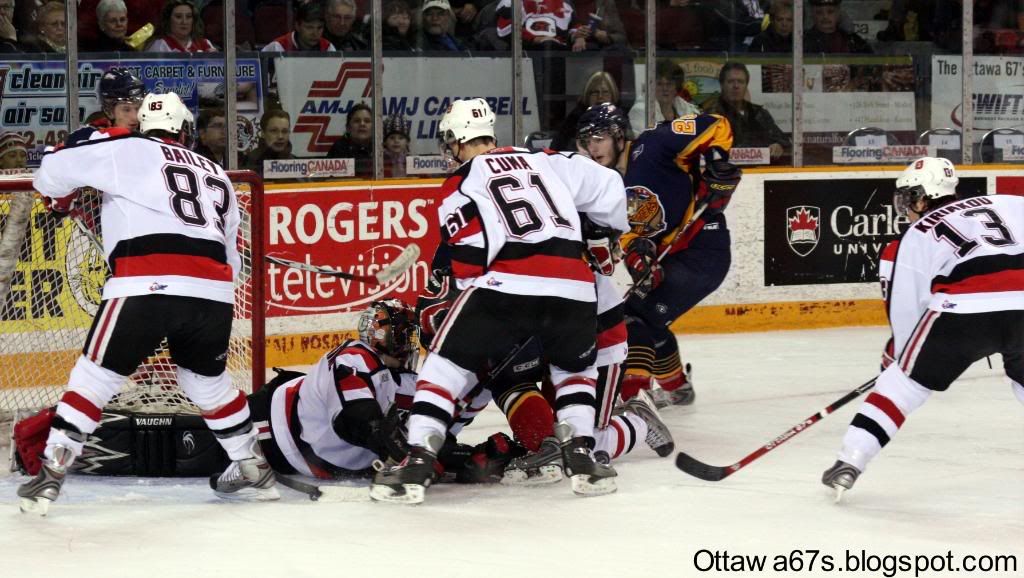 What goalies deal with #4
Is this a legal use of a stick?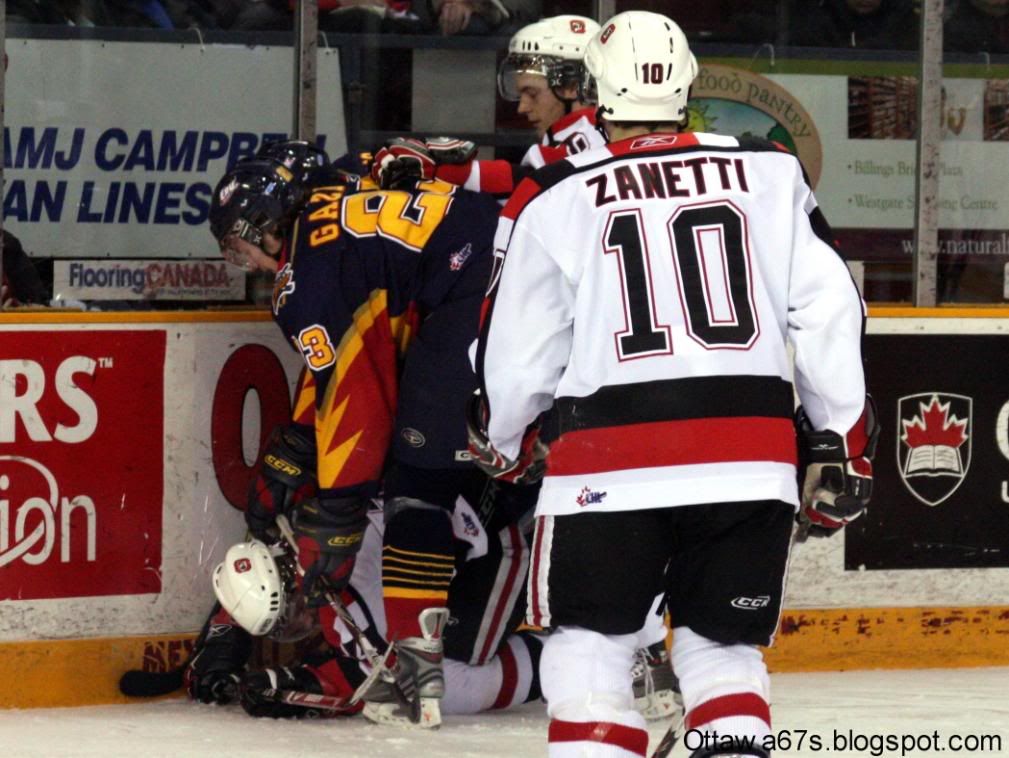 These guys look pooped to me