But it sucks when it happens to be our goalie. sigh!
Tonight sees the third of four scheduled meetings between these two clubs with each team having taken on win.
About Brampton:
They are second in the conference by virtue of leading the central division even though they are two points behind Belleville. They bring a two-game winning streak to the party and an 8-2-0-0 P10 with GF 141 and GA 102. The Battalion are missing a couple of key players due to international tournaments: D Bobby Sanguinetti, 3rd top scorer and +/- of +10 is licking his wounds in the Czech Republic after this afternoon's 4 – 1 loss in the semi-final to Canada (Go Team Canada!!) and rookie Matt Duchene is in London this evening playing for gold in the U-17 Tournament (Go Team Ontario!!). Also missing: Brad Albert, Alexander Eriksson, Josh Shalla, Adam Martin, Cory Emmerton and Luke Vanoerkerke. Carp native Patrick Killeen got the start in net.
Cody Hodgsen and John Hughes are their other big guns with 54 and 49 points respectively.
About Ottawa:
A rather depleted Ottawa team is coming off a shut-out win last Sunday against the Erie Otters. They currently sit in 4th place in the conference with two games in hand over the next place team, the Niagara Ice Dogs. Ottawa has a 1-game winning streak, a P10 of 6-3-1-0, GF of 123 and GA of 124.
The 67s played without some key players: Defenseman Martin Paryzek (WJHC), Ryan Martindale (Team Ontario at the Under-17 Hockey Challenge), Jamie McGinn and Matt Lahey (injuries), Michael Latta (mono), and Julien Demers (flu-like symptoms). Adam Courchaine was in net again which is how the weekend was planned.
Ottawa Lines:
Zamec, Couture, Bailey
Methot, Kiriakou, Nesbitt
TMcGinn, Lindsay, Carnevale
Defensive pairings:
Ostrcil/Cuma
Ryan/McCullough
Zanetti/Cowie
Game Summary
Things that make you go hmmmmm….. Not really sure what to say about this one.
It started badly for Ottawa when, just over 2 minutes into the game, on their first shot on goal, Scott Tanski scored his second of the year. Jason Dale and Luke Lynes got the assists. It seemed like it took a funny rebound off the side of the net and then it was in the net. Two minutes and change after that, Brampton was up by two when a Luke Lynes shot deflected off someone and went over Courchaine's shoulder. Jason Dale and Chris Beauchamp got the assists and Ottawa was in a big hole early having allowed two goals on just 3 shots. Looked like it was gonna be a loooong evening.
I spoke too soon as Ottawa got the two goals back in quick order on a couple of power plays. The first penalty found Kody Musselman sitting in the hoosegow cooling his jets for a slashing infraction.
Adam Zamec
notched his 8th of the year (doesn't that already exceed his total output for last year) when he fired one through the screen and beat Killeen to get the team on the board and back in the game.
Logan Couture
and
Radim Ostrcil
assisted on the goal.
And then, just 5 seconds into the Thomas Stajan penalty for checking from behind, Logan Couture worked hard in the corner and fed the puck to
Adam Zamec
who was firmly planted in Killen's kitchen and badda-bing-badda-bang he had it behind Killen before he knew what happened. Again,
Logan Couture
and
Radim Ostrcil
assisted.
But that would be it for the game.
With just 3:41 left in the period, Brampton went ahead for good when John Hughes was left unattended and he found the back of the net. Graham McNabb and Thomas Stajan got the assists.
At this point, Adam Courchaine was pulled (3 goals on 9 shots) and Chris Perugini came into the game. The period ended with Ottawa down by a goal.
At the start of the second period, Courchaine was back in net. Of the 10 shots that got through to him, the one that scored was again, a stinker. He got turned around and didn't realize that the puck was right behind him and it was poked or nudged into the net. Not sure whether he inadvertently did it or another 67s but no matter – it was the 4th goal for Brampton. John Hughes got credit for the goal with supporting roles going to Thomas Stajan and Graham McNabb.
During their only PK for the period, Ottawa did a great job; didn't allow Brampton to get organized at all and actually had the only scoring opportunity thanks to some hard work by Logan. But it didn't help the score at all: 4 – 2 for Brampton after two.
Adam really didn't have a good night at all (hope he has that all out of his system now). Nothing it seemed was going right. On a play that had absolutely no pressure, it looked like he was going to dump the puck but then maybe changed his mind and pulled it back and maybe scored on himself (?). That was it for Adam, again.
A scoring chance thwarted by Killeen.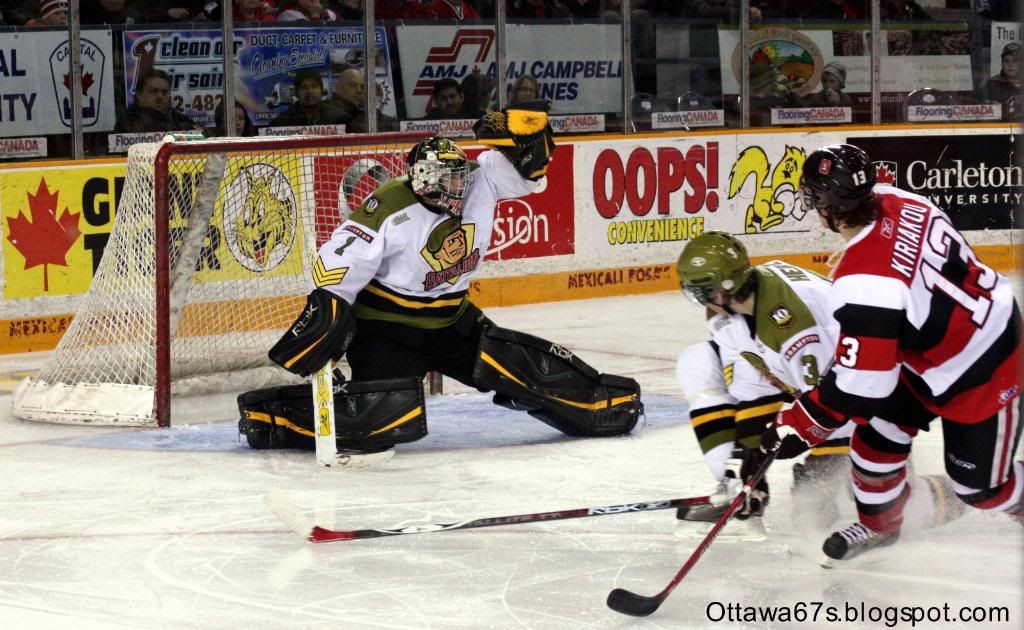 Ottawa tried to get something going but they really couldn't generate a lot of scoring chances despite getting some shots through. During the PP midway through the frame, you could hear Killer screaming from the bench.
The nasty business happened with just over 6 minutes left in the game. Logan Couture was brining the puck up the left wing and was being moved to the outside by John de Gray (?) . After Logan had passed the puck, John felt it necessary to "finish his check" and rub Logan out. Logan's head hit the stanchion post right by the Ottawa bench where the glass starts. He hit the ice hard and it didn't look good. While Patafie quickly attended to Logan, Adam Zamec paid his respects to John de Gray. It wasn't much of a tilt but I'm giving the call to Adam. Good on ya kid! Meanwhile, it did not look good for Logan; he needed assistance getting off the ice. Zamec got 2 for instigating, 5 for fighting and a10 minute misconduct. de Gray only got for fighting.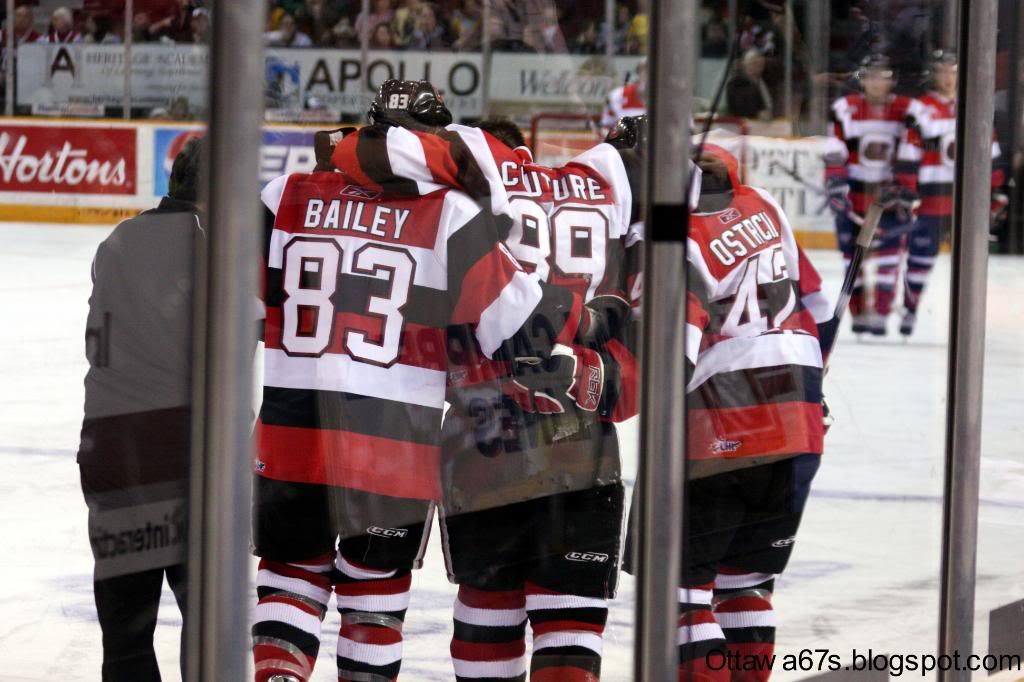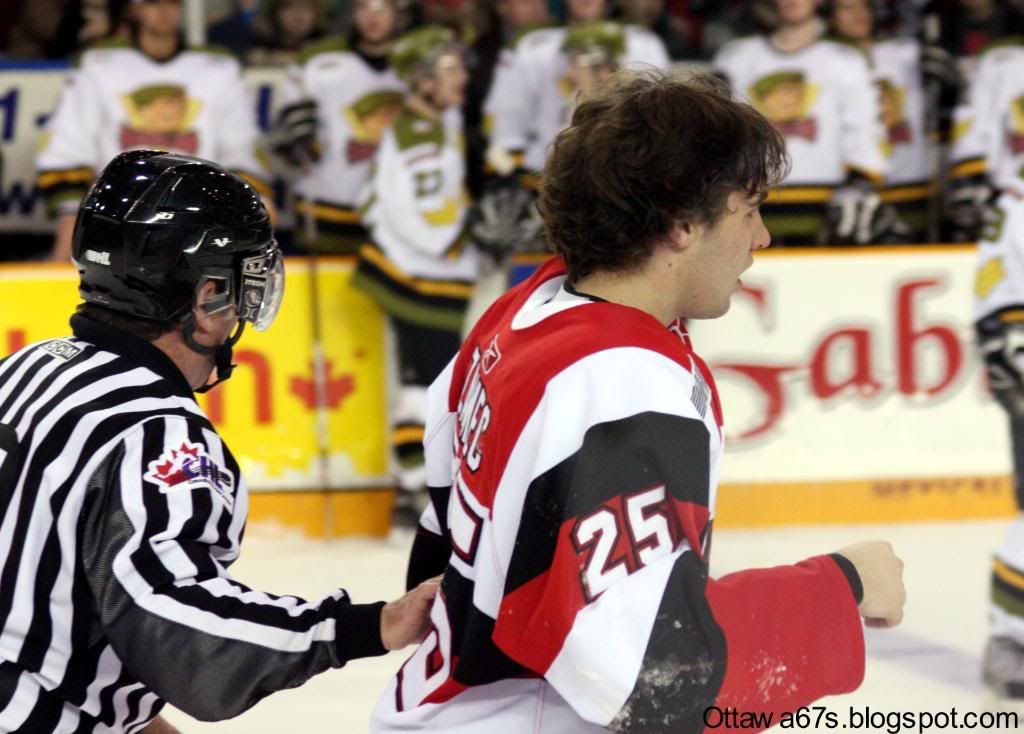 This seemed to light a fire under the team with Jason Bailey starting with a thundering hit on Jaroslav Hertl. The rest of the 67s also took advantage of every opportunity to hit a Brampton player (McCollough and Lindsay).
Bailey looking for more to hit.
Shipley took exception to a hard hit by Lindsay and decided the best reaction was to run Jon Carnevale into the glass. He got 2 for a check to the head. But Ottawa couldn't do anything with the man-advantage.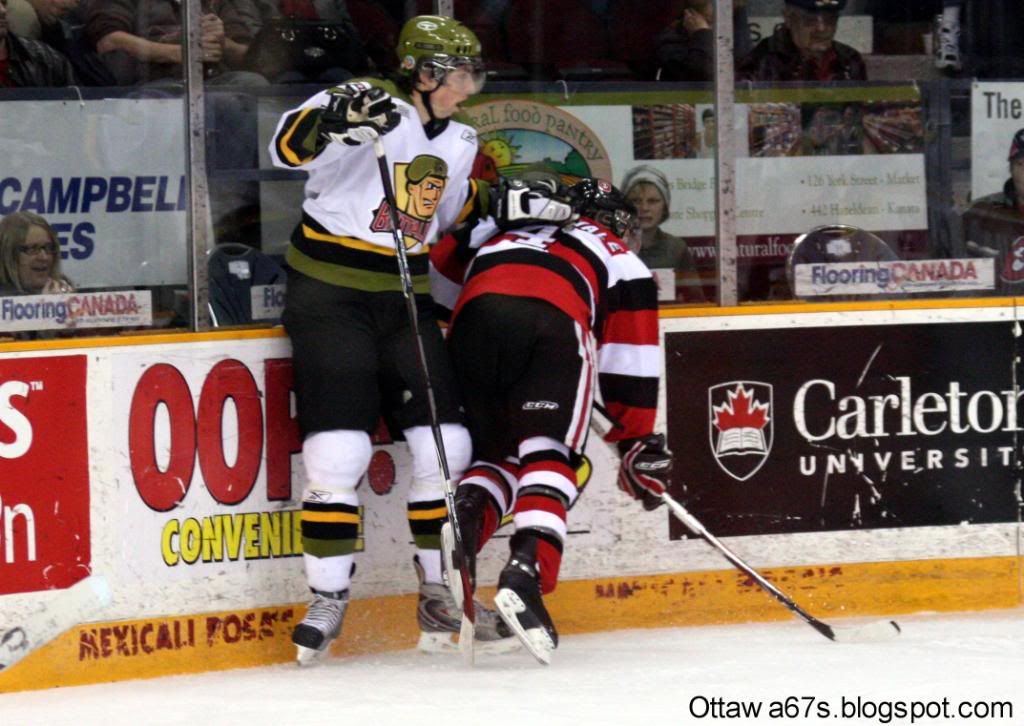 The game ended with Brampton winning 5 – 2 with final shots on goal 26 – 27 for Brampton.
Three stars
1. John Hughes (2 goals, including the game winning goal, and an assist)
2. Luke Lynes (goal and an assist)
3. Adam Zamec (2 goals)
Team 1200 hardest working 67s:
Jon Carnevale
Random Thoughts:


Well, this sucked. Big time. What in sam heck happened out there tonight?

5 goals between the two teams on 20 shots in the first period. Sounds like the Senators – Washington game last week.

Adam Zamec didn't come out to acknowledge his selection as the third star. Most likely 'cause he didn't feel in a starry mood and he was concerned about team mate Couture. And I didn't feel like taking the high road either and that's why there aren't any pictures of the 3 stars. My blog, my pout. Two minutes for unsportsmanlike conduct, feel shame, go free.

The third line took the brunt of the +/-; they were on the ice for 3 of the goals.

The bus ride to Belleville is not likely to be relaxed and fun-filled. I would guess a tension-filled ride with what is not said being as pointed as what is said.

The hockey forecast for the weekend does not look good. I really hope that Jamie McGinn does not try the heroic thing and try to play. I have suffered from back problems (eventually ending up under the knife for a microdiscectomy at L4-L5) and, at his age, he shouldn't play fast and loose with his back 'cause it has to last a lifetime. He has a bigger career picture to consider; he has signed with the San Jose Sharks. The 67s are not going anywhere near the Memorial Cup this year and he should not risk his future over some misguided notion of leadership. I hope that the powers that be in the franchise have cooler heads and consider the bigger picture.

With the bench so depleted and trade deadline looming (next Thursday), will this force Killer's hand to make a trade?

The Brampton uniforms are still ugly. blech, blech, blech! No wonder no one goes to their home games – it's hard to keep food down. (I know - another 2 minutes for unsportsmanlike conduct - I'm such a problem!).

Who ever was running the shot clock took a nap during the first period. There were quite a few shots that were not counted.

Adam in, Adam out, Adam back in, Adam back out. So, what does this do for the confidence of either goalie. WWHD (what would Hartsburg do)? What a crappy way to start the weekend.

Speaking of Hartsburg, Go Canada Go!!! If you love junior hockey and you had the chance, you were watching Team Canada defeat Team USA in today's semi-final game. 4-1 win for Canada in what is clearly their best game of the tourney. Finally! Here's hoping they now have found their collective mojos for the gold medal round tomorrow. Guess there are few folks eating their words regarding Hartsburg's goalie decision.

And also speaking of Canada/US rivalries, Team Ontario defeated Team USA tonight 3-0 in the U-17 tournament in London Ontario tonight. The OHL rocks!!

Best wishes to the team for the rest of this weekend and see you next Friday.

Go 67s Go!

More pictures:


Isn't this a penalty?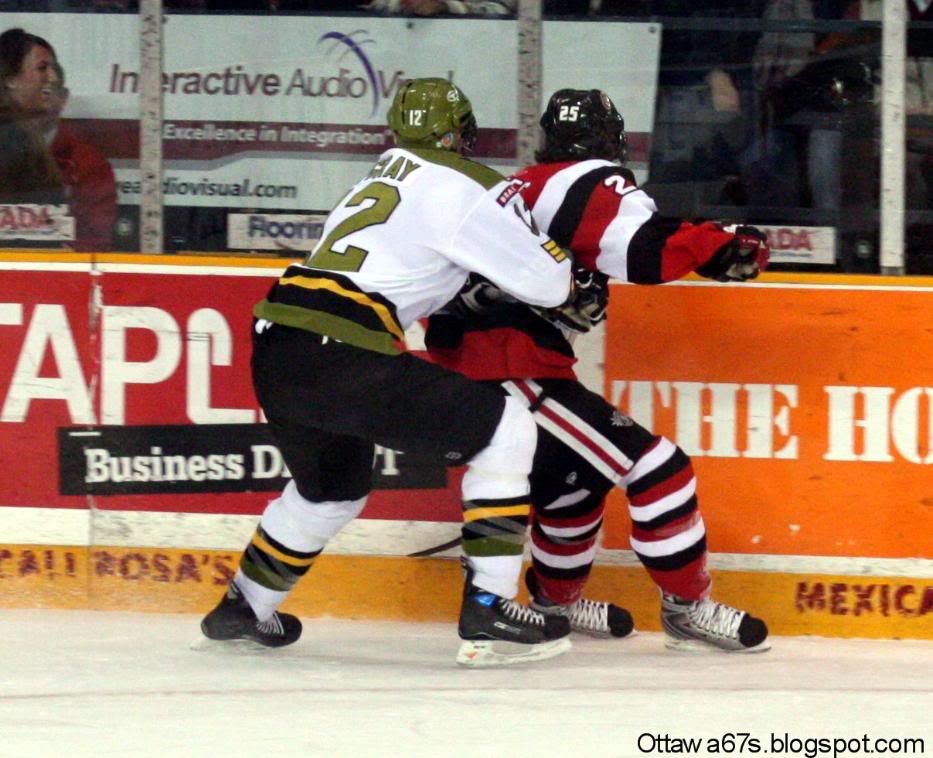 Good effort from Kiriakou
See - some shots were stopped (check the glove)!
I think there's a chance to go 5-hole!
Sometimes you just need to get in the way of the puck (check the shoulder).
Take a good look - this may be the last time we see him for a while.
Airborne
Nesbitt the scholar for the month of December.