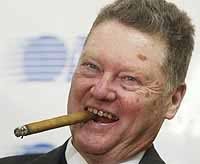 As usual on Monday mornings, 67s Coach Brian Kilrea was a guest on Team 1200's Over The Edge. Buzz Kilpatrick, who had just spent some serious quality time with the team on the bus this weekend, and Jason York were today's hosts.
It was a pretty short interview. Here are some of the comments offered:
Killer was pleased about the back-to-back wins against Oshawa. Everyone contributed. Logan was probably the star but he had some help from others. He was particularly complimentary about the goaltending - especially young Chris Perugini.


About the game on Sunday against Niagara, he felt bad for Adam Courchaine who was essentially hung out to dry by the team. The team wasn't really ready to play and before they knew it they were down 3 - zip.


Sunday notwithstanding, it was a good weekend. Good to get points on the road. Only 8 points out of 1st place.


Bailey's return has made a big difference. Clearly Killer is high on this guy. Good 3 games, good in the locker room, almost like having another assistant coach the way he deals with other players. Bailey indicated he was ready to return last week but the team gave him another week to get ready. Asked how he felt on Saturday, said he felt good and Killer dressed him.


With pretty much a healthy line-up now, players will have to play to stay or sit and wish.


Tyler Cuma was kept out on Sunday due to a wrist strain. It doesn't seem serious - no further follow up necessary. (whew!!)


Regarding the pending annoucement of the players invited to the Team Canada tryouts, Killer mentioned that Hartsberg has a tough job and does a thorough job. Killer hoped and expected all chosen players to do well (very diplomatic - almost seemed like he already knew that Logan was passed over).


When asked about the week ahead and particularly the game against Peterborough in their barn on Thursday, Killer commented that all games will be tough and everyone has to go out and work hard.
All in all he sounded relatively up-beat.
Go 67s Go!