First business at hand – I certainly hope that Kingston Frontenacs players Jonathan Sciacca and Anthony Peters and Assistant Trainer Kurt Pearson, have a speedy recovery from a pedestrian – vehicle accident earlier today in Windsor.
Click here to see the OHL announcement.
On our way to the game, we heard OHL Vice President Ted Baker being interviewed by Buzz Kilpatrick on the Buzz on Junior Hockey pre-game show and Baker started the interview by saying that he would not get into the specifics of the injuries but he did say that they are being treated in Windsor and that their families are with them so the injuries but be serious enough to require hospitalization.
Here's the thread on NOOF.
Sounds like some of the injuries are serious. Best wishes for a speedy recovery to the injured young men and the rest of their team that witnessed the accident.
On to the game, this is the first of a home-and-home series with these two teams. Oshawa came into the game in 3rd place in the conference with 33 points in 25 games. Their record is 15-7-0-3 and their P10 is 6-2-0-2. They have scored a whopping 107 GF and allowed 86 GA. Their big guns are John Tavares, first in the league with 57 points (23 goals) and Brent MacLean wit 50 points (29 goals). The Oshawa Generals have won their last two games.
Ottawa was also riding a two game winning streak, having beat Niagara and Kingston last weekend. They have 24 points in 24 games with a record of 11-11-0-2 for 7th place in the conference. They have 81GF and 89 GA and their big guns are Logan Couture with 32 points (10 goals) and Jamie McGinn with 25 points (11 goals).
Ottawa lineup news:

Tye McGinn and Scott Cowie were healthy scratches. Jason Bailey was back in the line up having missed 17 games due to mono. Matt Lahey was also back after recovering from a concussion received at the elbow or shoulder of Scott Fletcher last weekend. It was Scott's first game back from a previous suspension. He earned another 5-game sit-out from the hit on Lahey. Adam Courchaine got the call again.
Oshawa lineup news:
Scratches were John Quarrie, Tyler Taylor, Andy Andreoff, Kory Nagy, Murray Free and Mark Packwood. Jakub Kovar started in net.
Ottawa Lines:

JMcGinn, Couture, Nesbitt
Zamec, Kiriakou, Bailey
Methot, Lindsay, Lahey
Martindale, Latta, Carnevale
Defensive pairings:
Demers/Paryzek
Cuma/Ostrcil
Ryan/ McCullough
First Period
Ottawa started with a jump….and a very early goal. Oshawa won the opening face off but Ottawa regained control when
Adam Zamec
interrupted a centering attempt by Tavares and got the puck to
Logan Couture
skating up the left side. Logan's shot from the face off circle found its way past Kovar and gave Ottawa the early lead at just 53 seconds into the game.
Adam Courchaine made a couple of good saves from shots in close early in the game as the team continued to build a strong presence on the ice.
At about the halfway mark of the period, Oshawa's first penalty was levied against their captain Eric Regan for holding. For the skeptics in the room, here's the irrefutable evidence:
Ottawa did a good job of controlling the puck and getting a few shots on Kovar and it finally paid off, with 34 seconds left in the man-advantage, when Matthieu Methot picked up the rebound and buried it to put Ottawa up by two. Julien Demers and Cody Lindsay got the assists. (Matthieu is out of focus on this one but the fans in the background are real sharp!! - still learning)



Ottawa was playing really strongly, skating, fast crisp passes, good positional play, great cycling, great fore checking. And what has to be one of the best examples of just plain hard stick-to-it-ness, Thomas Kiriakou toughed it out, getting up quickly after being checked from behind by DeLory (no call), fighting through a hook by Regan (no call), taking a number of hits in the corner as he kept control of the puck, cycling, and finally feeding the puck to Adam Zamek at the face off circle who found the back of the net. Jason Bailey got the second assist and Ottawa was up by 3. Oshawa pulled Kovar in favour of Daryl Borden.

With just under 5 minutes left in the period, Oshawa finally got on the scoreboard when Patrick Asselin got one past Adam Courchaine. Brett MacLean and John Tavares got the assists.

Oshawa, with their best power play stats in the league, got their second chance to put it to work when Julien Demers was called for tripping with 1:31 left in the period. They were unable take advantage of the advantage which was shortened as John Tavares was called for tripping.

Ottawa finished a strong first period ahead 3 – 1 with shots on goal 17 – 10 for Ottawa.

Second Period
The period started with Demers still having to serve 29 seconds for his penalty and 1:36 left in the Tavares penalty.

Once Ottawa had the power play, they were plain old flat – could not get anything going. It was so bad that one of the linesmen called Oshawa for icing – he couldn't believe that Ottawa was actually on the PP judging by their play. He apologized and the teams faced off again to get play underway.

On their next power play, generated because the Oshawa bench was levied an unsportsmanlike penalty, the 67s did not play with the same urgency as they had shown in the first. They didn't get any shots on net but Oshawa did.

Finally, before 9 minutes had expired, Martin Paryzek fired one from the point and Jamie McGinn tipped in what would end up as the game winning goal. Logan Couture got the second assist and Ottawa was again up by three with the score 4 -1!

But you should never count out the opposition and Oshawa was not about to concede the game to the 67s. Just two minutes after Jamie's goal, Oshawa's Dale Mitchell beat Adam Courchaine to cut the lead in half. Brett Parnham and Brett MacLean got the assists.

But Ottawa was not about to give Oshawa much room for hope. Thomas Kiriakou was johnny-on-the-spot when Oshawa's Eric Regan's attempt to clear a rebound ended up on Thomas' stick and he waited just long enough for Borden to commit himself and then went upstairs to restore the three goal lead: 5 – 2 for Ottawa. That was an unassisted goal.

Then Ottawa got itself into a bit of a penalty hole late in the period. First, Martin Paryzek was called for hooking and then Radim Ostrcil was called for cross-checking. Oshawa had the 5-on-3 advantage for the final 57 seconds of the period but was unable to generate a goal.

Ottawa continued to dominate on the scoreboard after 2 periods – leading Oshawa 5 – 2 with shots 25 – 28 for Ottawa.

Third Period
The period started with Ottawa still having to burn 13 seconds on the 5-on-3. Logan Couture won this important face off and put the puck deep into the Oshawa zone to effectively end the 2-man advantage. Nor could they make the 2-man advantage work.

Just 5 minutes into the final frame, Tyler Cuma found the open side with his shot from the right point. I don't think Borden even saw it. Logan Couture and Radim Ostrcil got the assists. Ottawa was now up 6 – 2.

Down by 4 goals with just 15 minutes left to play, one might have thought that the Generals might have seemed a bit beaten. If they were, you sure couldn't tell it. They were doing their best to bring this game back into reach and, at the halfway mark of the period, taking advantage of a rare defensive breakdown in this game, Patrick Asselin was left alone in front and he, again, reduced the lead by half (well, they were still down by three). Brett MacLean and Eric Regan got the assists.

But if we are going to give credit where credit is due in the not quitting department, Ottawa was also determined to keep on playing hard for their next goal. Ottawa had a 35 second 5-on-3 advantage that they were unable to convert but on the 5-on-4 side of the penalty pair, Matthieu Methot put the exclamation point on the night with assists from Tyler Cuma and Radim Ostrcil.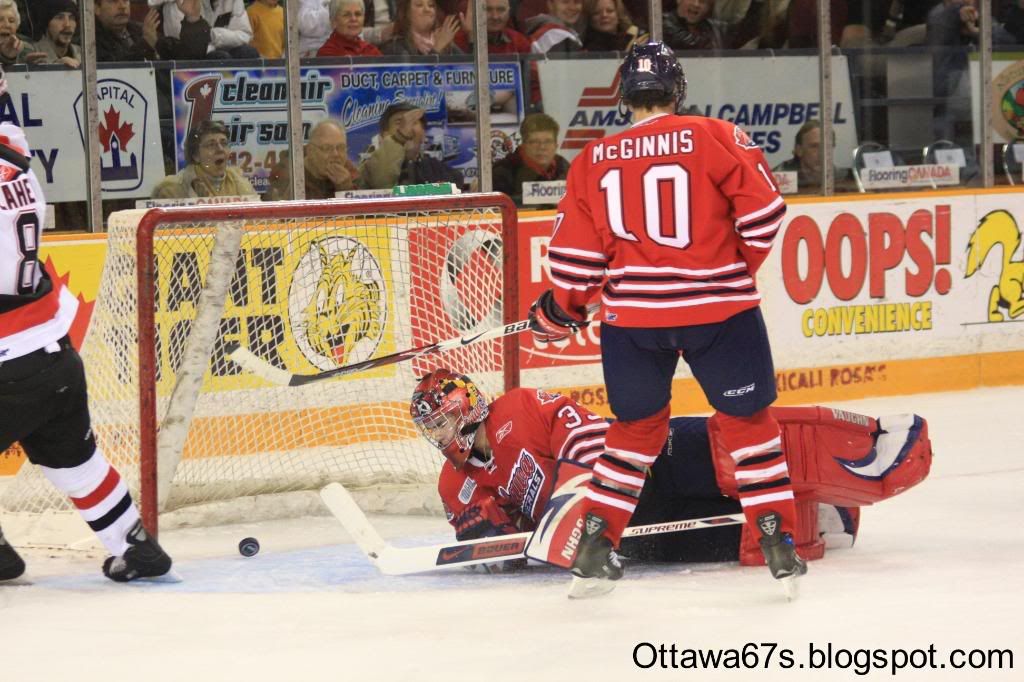 Ottawa finished a seriously strong performance, winning 7 – 3 with shots of 43 – 33.

Three stars
1. Thomas Kiriakou (goal and an assist and some mighty hard work)
2. Logan Couture (goal and 2 assists)
3. Patrick Asselin (Oshawa – 2 goals)


(you think that he could have looked a tad happier about the event)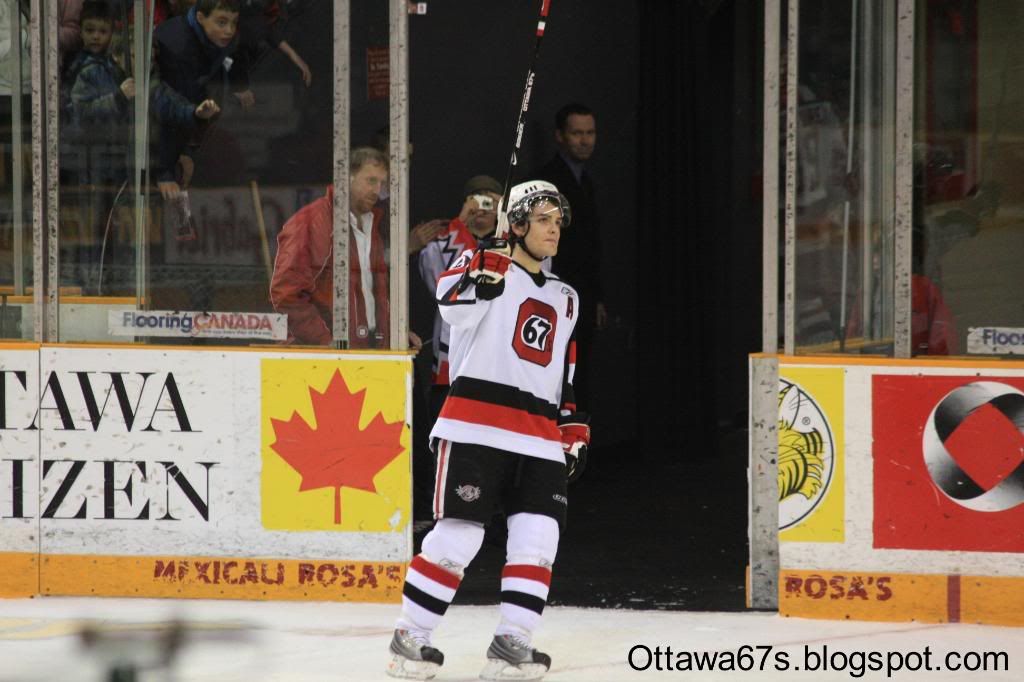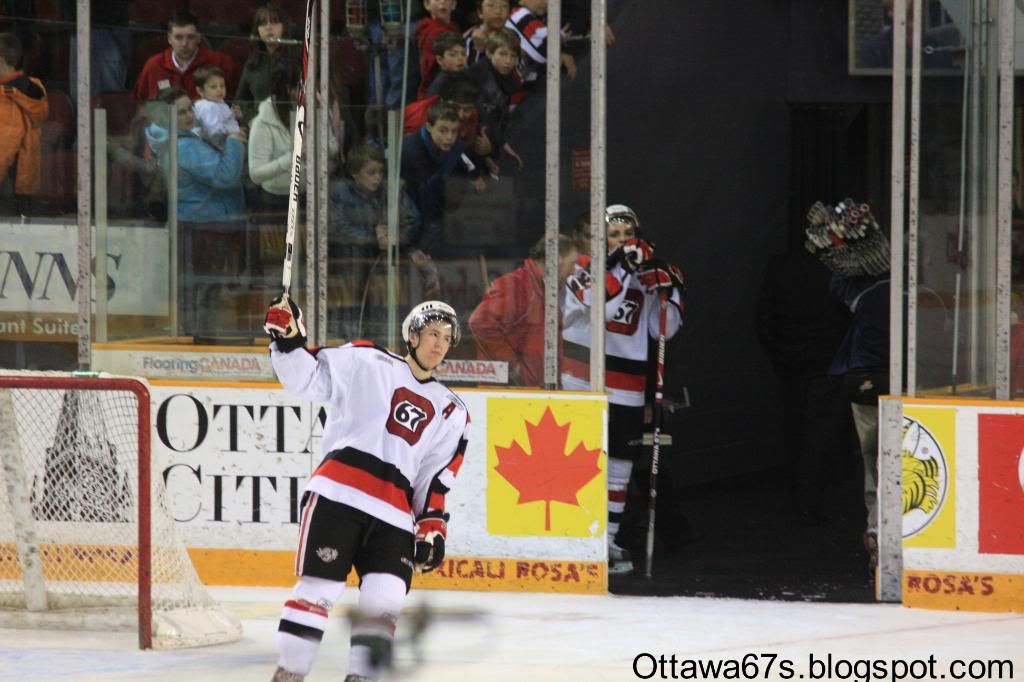 Team 1200 hardest working 67s: Jason Bailey

Blitzen's rate the anthem singer: How can you rate a school band that comes to play the anthem for us? Priceless!

Random Thoughts:
Wow – that was one of the strongest performances we've seen all year. They all came to play. Especially Jason Bailey. His return to the line up was impressive. Hope he left some gas in reserve for the rest of the weekend.

Kiriakou had the best game I've seen all year. He may not score a lot of goals but he sure contributes a ton. The spousal unit finally conceded that Kiriakou is not a floater.

Adam Courchaine also made a number of key saves to solidify Ottawa's domination for this game.

Has anyone noticed how good Latta is (tongue planted firmly in cheek)? There were a couple of puck handling sequences that were simply outstanding. And he's a rookie. And he's ours!

Speaking of rookies, the rookie line did a pretty good job out there and got some decent ice-time for their efforts. They didn't get any goals but they didn't allow any either.

Out of the 18 points earned by the 67s tonight, 6 went to the defense: goal and an assist to Cuma, two assists to Ostrcil, and assists to each of Demers and Paryzek. Gotta like that.

Nesbitt seems to fit in well with Couture and McGinn.

Speaking of McGinn, he doesn't seem 100%. I wonder if his back is still bothering him.
So, Ottawa has its second three-game winning streak of the year – done in an impressive fashion I might add. This was a good effort to watch. Maybe they can drop into a practice at Scotia Bank Place and give the Senators a tip or two (was at the game on Thursday – over $250 spent watching that performance versus $20 for today's. Consumer question of the day – which was better entertainment value?? Ughh!)

Both teams travel down the 401 to Oshawa to play the second half of this series in an afternoon puck drop. It's hard to imagine that the game will be at all like tonight's. Unless Ottawa has found some magic in their conditioning, I am doubtful they could play a second game at the same level in such a short period. And Oshawa doesn't have their record because they are pushovers. This loss will leave a nasty taste in their mouths (and hopefully not because they are not taking proper care of their mouth guards – have you heard how nasty those things can get if not sanitized properly – blech! blech blech! absolute petri dishes).

Again, here's hoping for the best recovery for the injured members of the Kingston team. And hoping for a good effort with the commensurate results for the 67s as they embark on a couple of out of town games.

See you next week.

Go 67s Go!
More pictures from the game: