This was the 6th game of 8 scheduled meetings of these teams this year. Ottawa has won 4 of the 5 previous matches.
About Kingston:
Kingston was in 9th place in the Eastern Conference coming into this game with a record of 12-30-0-1 for 25 points, GF 125, GA 217. Their P10 is 2-8-0-0 and they were on a 3-game losing streak. Kingston lost last night at home against Niagara 6 – 3. Last weekend, a depleted Ottawa team pulled off a gutsy come-from-behind win in Kingston
Big guns: Nathan Moon with 39 points (17 goals), Matthew Kang with 37 points (19 goals) and Robert Mignardi, Big Justin Wallingford (as Schreibs always calls him), and Josh Britain all with 27 points (11, 4, and 15 goals respectively). Big Justin Wallingford also has the honour of having the most PIMs on the team with 82 in 36 games).
Player notes: This was Kevin Christmas' first game back after a 2 game suspension. Anthony Peters (broken leg), Bobby Nyholm (arm), Kevin Mole (wrist), John Murray, Corbin Crawford and Robert Mignardi were all out of Kingston's lineup. Mavric Parks was between the pipes.
About Ottawa:
Ottawa lost some ground with last night's loss to Windsor and slipped into 6th place with 22-21-2-2, GF of 149 and GA of 172. Mississauga gets the 5th spot by virtue of posting one more win than the 67s (both teams have 49 points). The team now has a 4-game losing streak after their loss last night.
Big guns: Not much has changed since I last reported on this (the Windsor game the night before); Logan Couture is still the team's top scorer with 45 points (17 goals), Jamie McGinn has 43 points 20 goals) after last night's two assists, and Thomas Kiriakou notched his 12th goal of the season bringing him to 31 points (12 goals).
Player notes: Matt MacDougall was called up. Couture (concussion), Lahey (shoulder), Latta (mono) and Jason Bailey (broken nose and orbital bone) were out. Adam Courchaine got the call in nets.
Game Summary
My heart's not really into writing much of a game summary for this one. It started promising enough when
Jamie McGinn
scored just 52 seconds into the game.
Thomas Kiriakou
got the assist.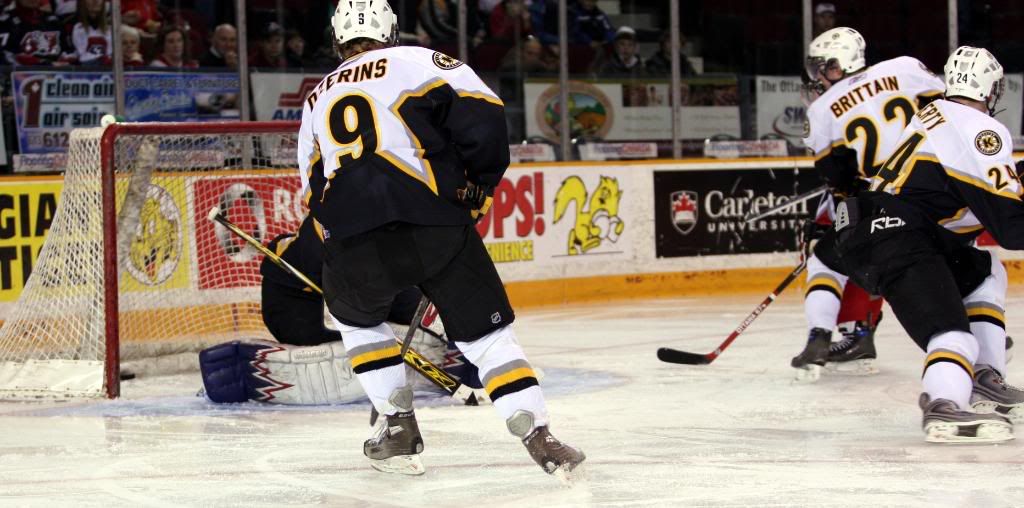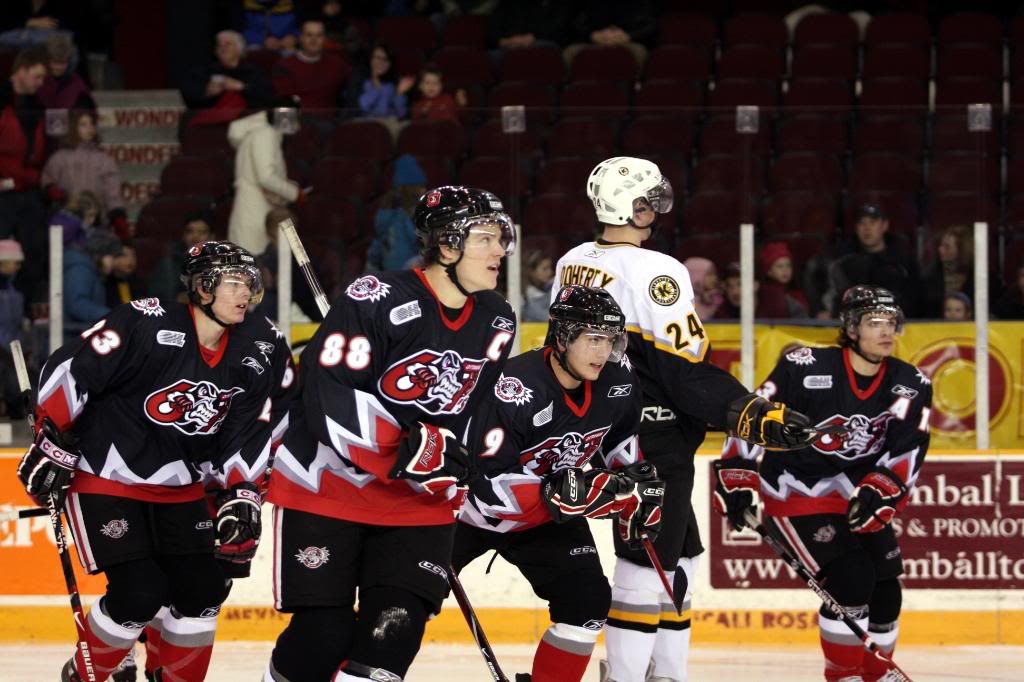 And it was quickly followed up by a solid penalty kill that didn't allow any shots to get through to Courchaine. In fact, it took Kingston almost 5 minutes to register their first scoring chance.
However, Ottawa was unable to do anything with their PP chances, including a 5-on-3 advantage for 1:50 in the first period.
Cross-check on McGinn that lead to the 5-on-3.
Watching the game pretty much through the viewfinder of my camera limits how much I actually see so it's hard to tell whether Parks was that good or Ottawa was not so good. In the last two minutes of the period, the Kingston big guns Matthew Kang, Josh Brittain and Andris Dzerins tied it up on a power play.
The second period started strong again with Ottawa getting two quick early goals to go up by two (the worst lead in hockey according to some). First it was
Jon Carnevale
and
Matthieu Methot
teaming up to break the tie and then just over a minute later,
Thomas Kiriakou, Jamie McGinn
and
Julien Demers
joining for a really nice short handed goal.
But they could not keep Kingston penned (penned – Kingston Pen – get it….never mind). Julien Demers fell down at the Kingston blue line during a PP and Kyle Paige jumped on the puck for a break away. As he was streaking down the ice I kept thinking "it's just a shoot out, it's just a shoot out" hoping that Adam would stop it like a shoot out shot. Nope. 5-hole. Kingston back in the game. Kingston with momentum. Ottawa losing some air.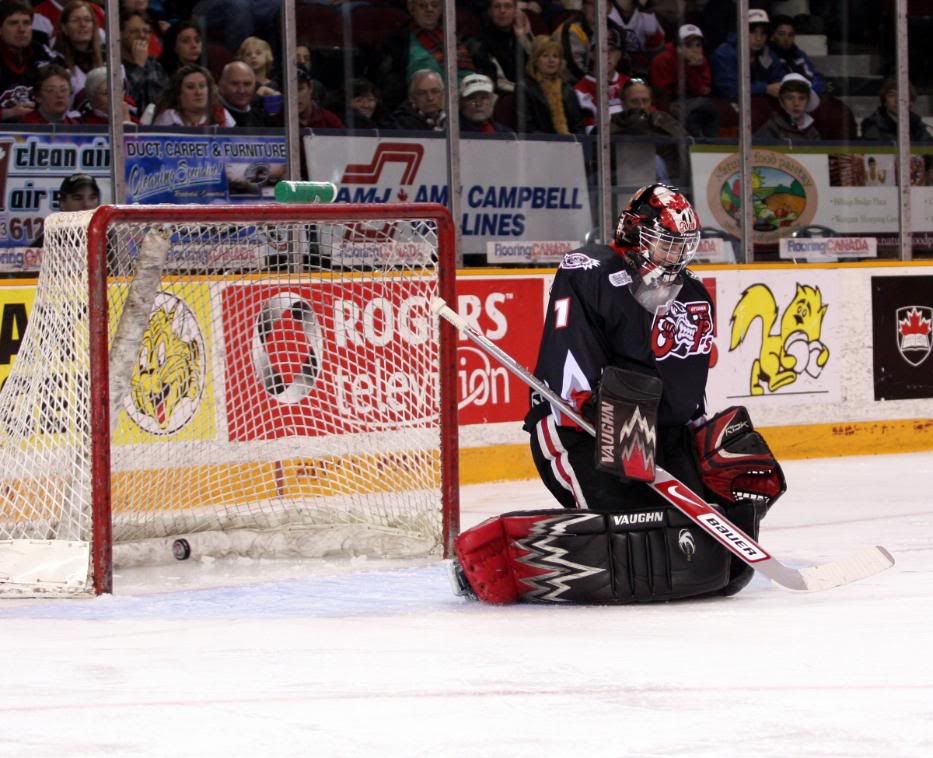 Kingston then got two more unanswered goals in the second to get the lead, one from Andris Dzerins (Kang and Fenwick helping) and one from Josh Brittain (Christmas and Dzerins).
Ottawa was unable to generate any real offense in the third and the game was sealed with the empty net goal in the last second of the game.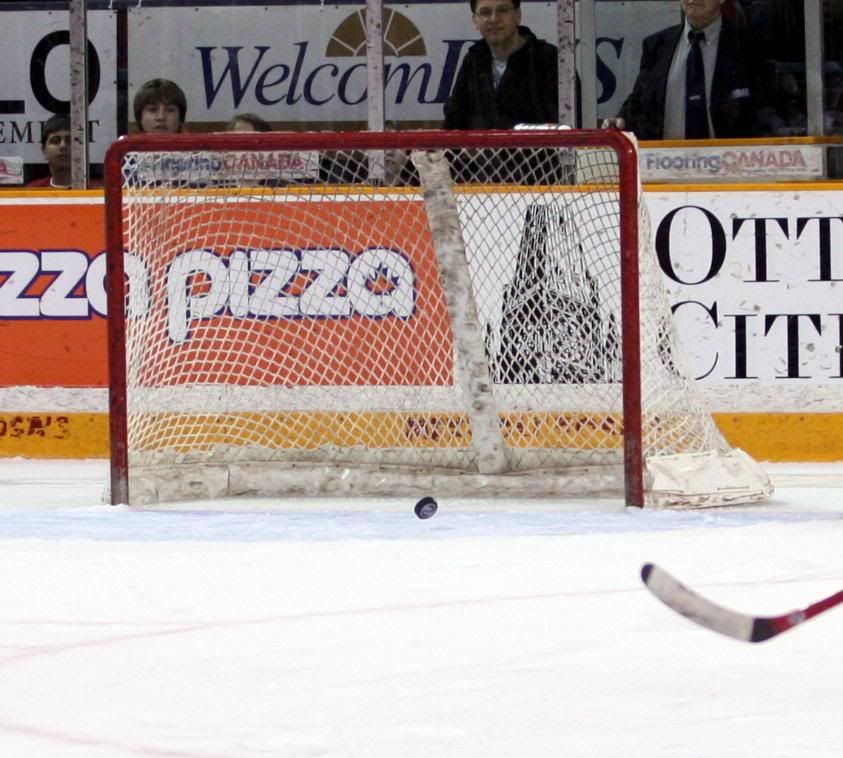 So the final damage was a come-from-behind win by Kingston: 5 – 3 with final shots tied at 32
Three stars
1st Star: Andris Dzerins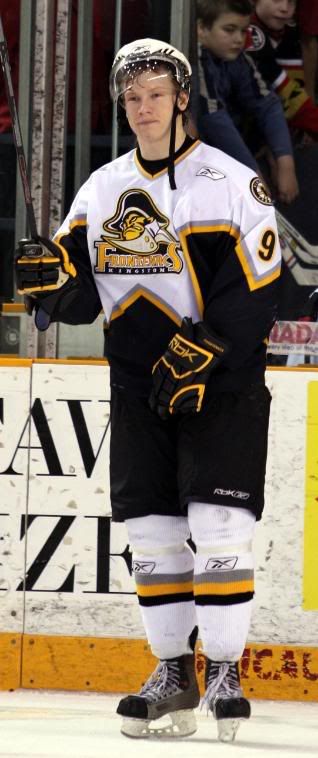 2nd Star: Thomas Kiriakou
3rd Star: Matthew Kang
Team 1200 hardest working 67s
: Jon Carnevale
Random Thoughts:
Is it just my old eyes or does our team always look smaller on the ice that most other teams we meet? Maybe the uniforms make them look smaller.

Jamie McGinn was benched for the last bit of the third period. It was clear from his post-game interview that the team is frustrated and unhappy with the 5-game losing streak. Going from 5 games over .500 to .500 is more than disappointing. They're fading while their competition in the conference is building momentum.

They can't ride the injury excuse anymore. Yes key guys are out and most players have been battling one thing or another but they now have to commit to working with what they have instead of fretting about what they don't have. That doesn't mean I expect them to win necessarily. Just play more solidly. For the whole game.

Maybe their only objective for the next game should be to keep all shots on the goalie to a minimum and to the outside. Forget about scoring goals, just don't let any get scored on them. Wonder if we can create some sort of incentive around that….hmmm…perhaps some sort of reward system based on the SOG count: free game stations of choice to every player if the total SOG at the end of the game is 10 or less; software for 2 games if the final SOG is 11 – 20; nothing if the count is between 21 and 30; permanently burn Anne Murray music into their i-pods for anything else.

during the broadcast Schreibs mentioned that this game and the game on Friday were supposed to have two refs but for each game one ref couldn't make it (the excuse for the guy on Friday was that his wife went into labour – we'll accept that).

Boston Bruins GM Peter Chiarelli was in the house taking a look at Adam Courchaine who was signed last summer.

Had a seat down by the glass today and was close up and personal for some of those hits. I kept my notes on the dasherboard and they were knocked off a few times from the force of the hit on the other side



Go 67s Go!
Bad hit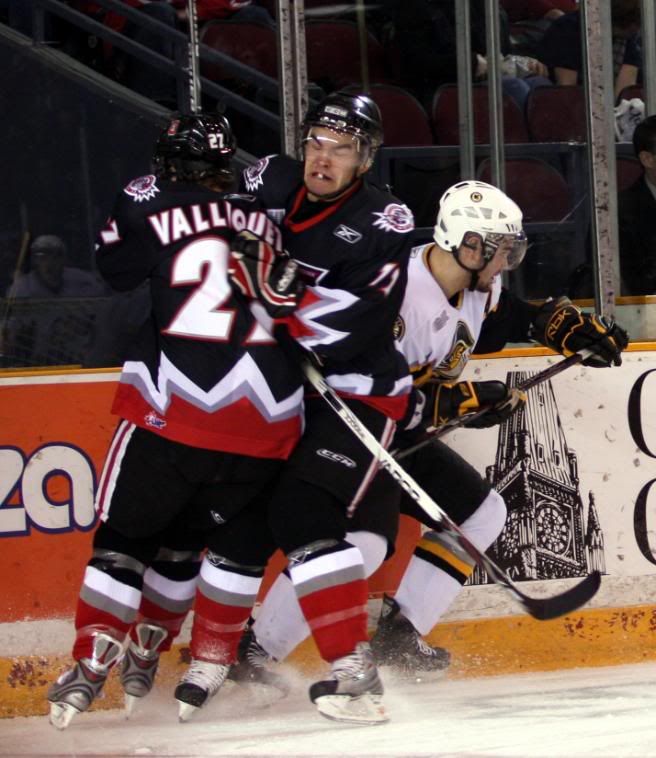 Good hit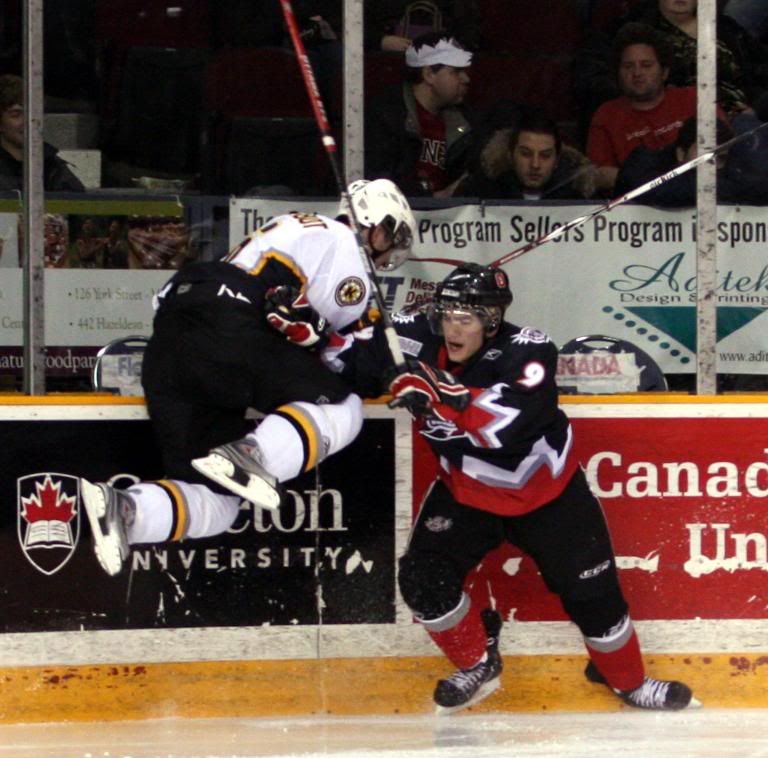 Another hit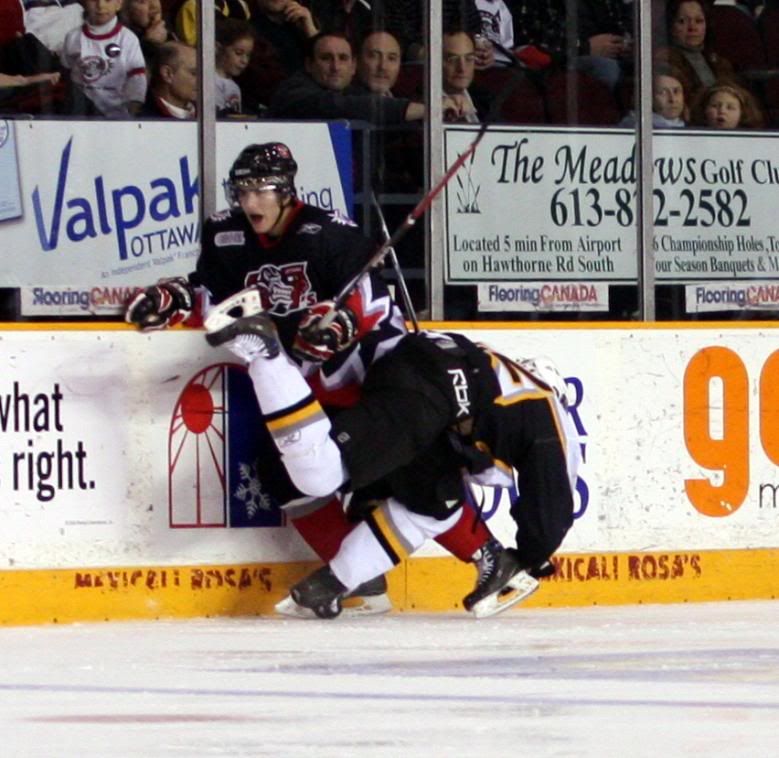 Save on Methot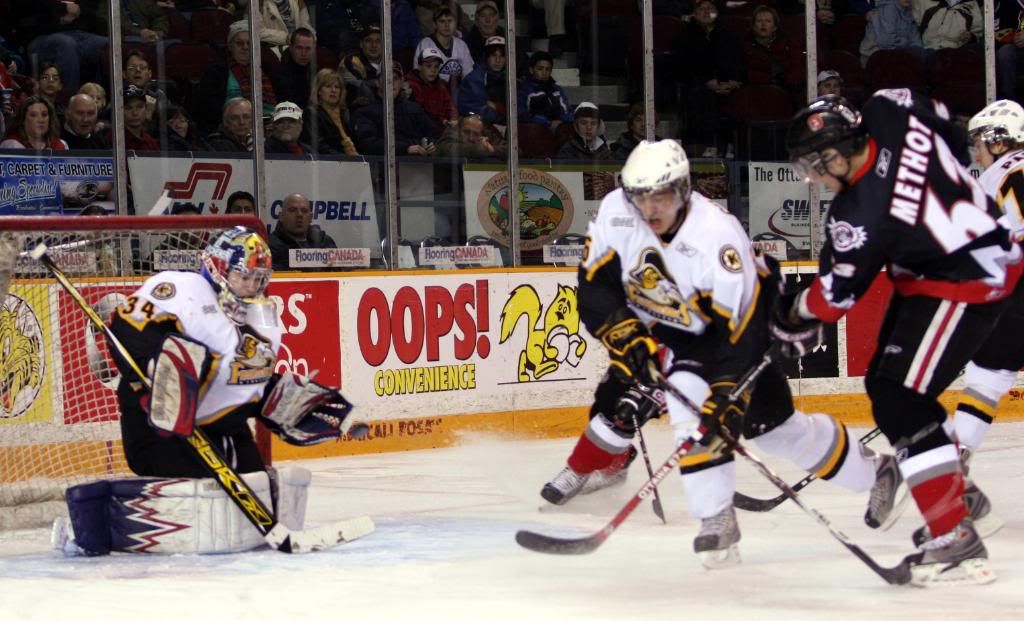 Unhappy Campers