…ground-to-air defense missing in action. It was a bloody affair. Many casualties.
This was the first of 2 scheduled meetings of these teams this year. The next game goes next weekend in Windsor.
About Windsor:
Coming into the game, Windsor sat in 3rd place in the Western Conference with 59 points with a record of 25-12-5-4, GF 188 and GA 141. Their P10 is 3-5-1-1. Their game last Sunday was a resounding 10-2 win over the Plymouth Whalers.
Big guns: Bradley Snetsinger with 65 points (28 goals), Joshua Bailey with 62 points (20 goals) and rookie Taylor Hall with 44 points (23 goals). These three also have impressive +/- numbers at +14, +13 and +25 respectively. Joshua Bailey was the OHL Player of the Week for the week ending Sunday January 20 after scoring five goals and adding three assists for eight points in three games and has been added to the OHL All-Star game to replace injured Matt Halischuk. Certainly a trio that need to be watched.
Player notes: Jordan Nolan and Conor O'Donnell were serving suspensions of 2 and 8 games respectively and whining former co-captain Elgin Reid was out with an injury. Also missing the game were James Woodcroft and Tom Kane. Jakub Kovar got the start in nets.
About Ottawa:
Ottawa came into the game still hanging on to 5th place in the conference on a record of 22-20-2-2, P10 of 3-6-1-0, GF of 147 and GA of 165. The team was riding a 3-game losing streak after a really tough 3-in-3 road trip with many key players out of the game. They managed a come-from-behind win in Kingston on Friday and then went to two shut out losses: 2-0 to Mississauga and 4-0 in Niagara. They also lost last night in Peterborough 4 – 2. Only 7 points separate 4th and 8th place in the conference.
Big guns: Despite missing 12 games, Logan Couture remains the team's top scorer with 45 points (17 goals). Jamie McGinn is the team's second highest scorer with 41 points (20 goals) in 36 games (having missed 10) and moving into third place is Thomas Kiriakou with 30 points (11 goals).
Player notes: Apparently Logan has been headache-free since last Wednesday and has been skating with the team but it looks like he won't be back in the line-up much before the end of February. Jamie McGinn played on Saturday but didn't play the rest of the road trip but was back in the line-up last night in Peterborough. Looks like he's in for good now (knock on wood). Michael Latta is skating again and might be ready for action next weekend but it looks like Matt Lahey's season is done. Jason Bailey tweaked his groin last weekend, was back in the line-up last night but was a late scratch for this game. So, slowly but surely the team is recovering from injuries and bugs. Chris Perugini was in nets.
Ottawa Lines
JMcGinn, Kiriakou, Zamec
Valiquette, Methot, Nesbitt
Cowie, Lindsay, Carnevale
TMcGinn, Martindale, cameo
Defensive pairings:
Paryzek/Cuma
McCullough/Ostrcil
Demers/Ryan
Game Summary
Gonna be a brief one out of mercy and due to lack of time.
I thought the game started ominously enough when, just two minutes into it, Rob Kwiet Windsor rung a shot off the iron. But when the team played
very
penalty kill, including a great short-handed scoring chance by Jamie McGinn, I thought that it might not be so bad. Windsor did not get any shots through to Perugini with the man advantage.
Big save on McGinn - check the right armpit area of the goalie.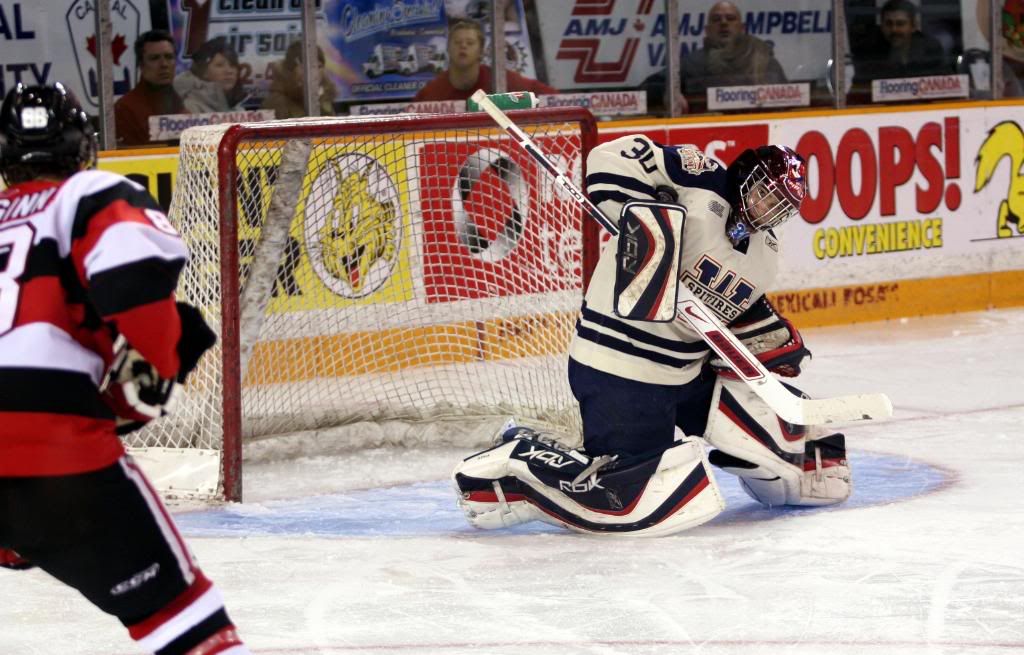 For reasons unknown to this blogger, at about the halfway mark of the period, Julien Demers and Windsor leading bad-boy Richard Greenop dropped the gloves. The stupid official got in the way so I couldn't get any really good shots of the tilt. But if we compare the numbers according to the official rosters, Greenop has two inches and 5 pounds on Demers. Both players managed a couple of good shots, Julien shirted Greenop and got a couple of good ones in before both players hit the ice. We're homers – we're calling it for Demers just because. Both earned 5-for-fighting for their efforts.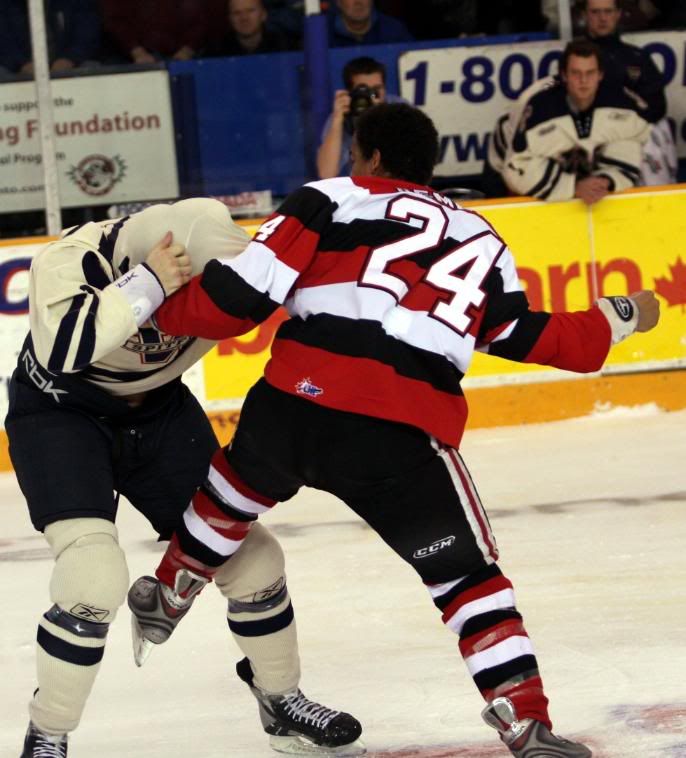 This didn't manage to inspire the 67s as the wheels pretty much started falling off in the back half of the period. Windsor's hard work and strong forecheck kept Ottawa pretty much pinned in their own zone for the period and put three on the scoreboard in the process. Chris Perugini made some solid saves on the big line but it wasn't enough. It started with Ryan Ellis beating Chris Perugini blocker side to get the first goal of the game. Greg Nemisz and Mickey Renaud got the assists. This was followed 90 seconds later with a turnover at the blueline that led to Taylor Hall beating Perugini 5-hole. The assist went to Rob Kwiet. The final insult happened with just 58 seconds left in the period when Brett Snetsinger redirected a Rob Kwiet's point shot to score his 29th of the year.
The first period ended with the score 0 – 3 for Windsor with shots on goal 7 – 17 for Windsor.
The beginning of the second period started with some promise when
Matthieu Methot
opened the scoring just 1:25 into the game when the puck just seemed to squirt under the goalie.
Jamie McGinn
and
Thomas Nesbitt
assisted and Ottawa was back in the game. Which lasted all of 45 seconds when Eric Wellwood (brother of Kyle Wellwood which was repeated so often by Schreibs I began to think it was his name: Eric-Wellwood-Brother- of-Kyle Wellwood) scored his 7th goal of the year with the help of Greg Nemisz and Mickey Renaud.
Then, to put emphasis on it, Hall, Snetsinger and Kwiet teamed up for Windsor's 5th goal of the night and restored the 3-goal lead.
Thomas Kiriakou
got one back 3 minutes later with a backhand shot that beat Kovar.
Jamie McGinn
and
Thomas Nesbitt
got the assists on that one too.
But Ottawa was unable to get much more going. Right after the Kiriakou goal Ottawa went back on the PP but were unable to breach the blue line much less get anything remotely threatening close to Kovar. While they managed a bit more of time in the Windsor zone, they couldn't make anything of it.
And that was the scoring for the second period. Despite keeping Windsor to 8 shots on net, they were up 5 – 2 after 40 minutes. I was surprised that Perugini was still in the net.
They started the third period with 53 seconds on the penalty kill. During the PK, Tyler Cuma took a nasty hit from Josh Bailey behind his own net and went down hard. Patafie went out to deal with it and Cuma skated to the bench with a towel held to his face but I was unable to see what the damage might have been. Meanwhile, Martin Paryzek immediately sprung to Cuma's defense (who knew he was so scrappy?) and tangled with Josh. I couldn't see any of it but will give it to Martin as this is not part of the game in Europe. The down side is that he managed to get himself relegated to the sin-bin for pretty much all of the period as he earned 2-5-and-10 for his loyalty. Josh didn't get anything for the hit that drew blood on Cuma; he got 5-for-fighting Paryzek.
The game was starting to get a tad out of control due to the remarkably awful refereeing by Scott Ferguson. It was a one-ref night and our guy was pretty junior to be on his own; this is only his second season. For example, Jon Carnevale rocked Ryan Ellis with a huge open-ice hit. It may have been a tad late. Ellis was seriously wobbly from the hit (Patafie came out and assisted the Windsor trainer in helping Ellis to the bench on very rubbery legs). Rob Kwiet immediately tackled Carnevale before Jon could set up to defend himself and somehow the ref determined that, in addition to the 5:00M charging penalty, Jon should be nailed with 5-for-fighting. 5-for-fighting? Shouldn't he have had a chance to actually fight to get hit with that? Just an example of a looong list of baaad refereeing. I expect that the league will have a long chat with this rookie ref once they review the tapes.
Ottawa played the last half of the third period pretty much on the PK and Windsor took advantage to notch two PP goals: one from Mickey Renaud and the other from Brad Snetsinger.
The game finished with Windsor winning handily 7 – 2 and shots 27 – 40 for the Spits.
Three stars
1st Star: Taylor Hall
2nd Star: Rob Kwiet
no show
3rd Star: Jamie McGinn
Team 1200 hardest working 67s
: Thomas Nesbitt
Random Thoughts:
belated happy birthdays to Radim Ostrcil (January 15th), Tyler Cuma (January 19th) Thomas Kiriakou (January 24th)

give aways, turn-overs, and passes to no-where. The 67s were just plain discombobulated. They couldn't skate or compete with this strong Windsor team.

That notwithstanding, the refereeing was particularly brutal tonight. I thought that Schreibs was going to stroke out with indignation. Apparently this is the ref's second season and I have to agree with The Voice in that he is way too green to be working on his own. Not that the outcome would have been different but it sure was awful. I don't think this guy's is aware of the "new" era of hockey

the defensive play of everyone on the 67s was pretty much indifferent. Not sure if they have forgotten what it means or don't care. I think a refresher session with the goalies would be in order. In visiting the Austrian ancestral home with my dad, we were wandering the property while he explained the various stones that marked the border with the neighboring properties. He said that it was tradition to whack the heir over the head at each stone to reinforce the memory of just which stone marked the boundary (guess they didn't know much about concussions back then). Fortunately my dad did not whack me over the head (we now have reliable maps) but I think the technique might have some merit to less attentive folks or lower tech situations. Perhaps the goalies should be allowed to assist in the refresher sessions for the rest of the team aided by their goalie sticks.

I kept expecting someone, anyone, from the 67s to get seriously PO'd and start playing on the edge. What is it with Ottawa teams anyway? You certainly wouldn't accuse either of them of being remotely close to what one would call "tough". Nice guys finish last guys.

I have to admit that that I was unable to overcome the uninspired play of the team which is why I really don't have any really great pictures. Sorry.

thought it was a bit unsportsmanlike for Windsor to keep their big guns on the ice so late in the third period when it was clear where this game was going.



Go 67s Go!
If he actually paid attention, he would not have been so bored!!
Trying to explain how Carnevale got 5-minutes for being tackled