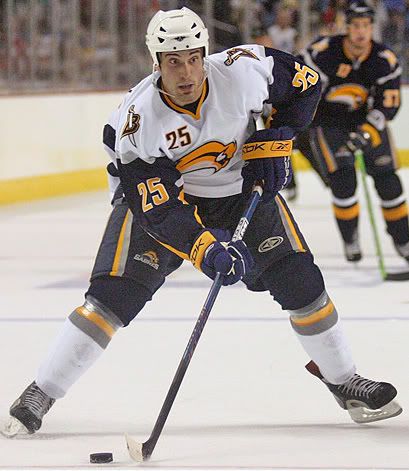 Thought I would do follow-ups on some of the guys that have graduated in the time that I have become a 67s fan. I'll start with Mark Mancari. He was one of my favorites when he played with the team. I still miss seeing him break out from behind his own net and streak up ice with the puck. So, what's up with him since he left the fold?
Well he was drafted by the Buffalo Sabres in the 7th round, 207th overall in the 2004 Entry Draft and he was signed in 2005. He has been playing with the Rochester Americans in the AHL pretty much since then with a few call-ups to the big game, including a game against the Ottawa Senators (even saw him take a couple of shifts). His numbers for this year can be found
here
.
Last year I had noticed that he had not dressed for a few games and went on the fan board to find out what was up. Seems he blew out one of his knees and had surgery. He still finished third in scoring for his team.
The Amerks aren't doing so well this year as they find themselves at the bottom of their division and second from the bottom in the league with just 28 points in 42 games. Last year was the first time in a long time that they had missed the playoffs entirely. Not what Mark had aspired to I expect.
The uncertain future association between the Buffalo Sabres and the Rochester Americans can't help. The Amerks are the farm team of both the Sabres and the Panthers right now and but it looks like the
Buffalo Sabres are pulling out
. Don't know what will happen with the Buffalo players. And really not sure how this would affect Mark in particular as he will become an RFA this summer.
Some fan information on him:
http://www.sabresfans.com/player.asp?ID=118
and
http://letsgoamerks.com/2008/01/06/mark_mancari/#more-253
I hope that Mark gets the big break he was hoping for.
Side note: in checking out the Amerks roster I noticed that Joe Grimaldi was there on a PTO for two games in October.
If anyone out there wants to do an update of a former 67s player, just write it up and send it to us to post. One of the great things about junior hockey is seeing these young men grow up. It's always interesting to find out where life took them after their stay in Ottawa.
Cheers!