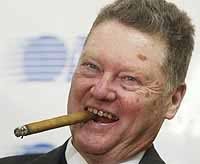 As they do every week on Monday morning, the hosts from Over the Edge start their program with Brian Kilrea to discuss the weekend that was:
discussing the game on Thursday, he said that this is a funny game where the a team can be in it with a score of 5 – 3 and a couple of bad breakdowns leading to a couple of goals and soon the team feels like it's over

he said that the team played really well on Friday and Sunday. he seemed pleased with the effort

in discussing new kid Brett Valiquette, Brian mentioned that he had made his needs known in discussions with coaches and the Plymouth coach said that he has someone if one of his other deals worked out. Brian then checked with some other coaches in the western conference who had had more of a chance to see him and the reference checks indicated that Brett's a good, honest, hard working player. Once the trade was made, Brett drove 8 ½ hours to get here so that he could play in Friday's game. Brian believes he has helped the roster immensely, he has been strong on the PK and does a lot of the little things well. With the depleted roster, he's good to have.

on the subject of the depleted roster, it is tough on the guys who remain and he is concerned that some guys are getting too much time and that that can lead to injuries

on the subject of his OAs, they have stepped up and are keeping the team together; leading both in the room and on the ice to keep moving forward and not looking back

Jason Bailey is logging over 30 minutes and still had the jump to get to the puck quickly and notch the game sealer on Sunday

goal tenders are the last line of defense and when they go through a rough time (as all players do) it's more visible. Adam was extremely sharp both Friday and Sunday.

long road trip coming up: 3 games in less than 3 days but that's how it goes when you want to keep school disruptions to a minimum. Everyone gets somewhat used to it. Conditioning and depth are keys to survival. (As a side note: at the Sens game on Sunday, the Gatineau Olympique team was sitting in the corporate box right behind our seats. They were there because Claude Giroux was doing the ceremonial puck drop. We chatted with one of the players and he mentioned that there is one road trip that has them on the road for two weeks!!)

in discussing the new Kingston arena Killer said he was confident that it'll open soon and he said that Mavety has made some really good moves and that Kingston should be a more competitive club next year.