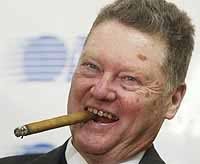 Was able to catch the regular Monday morning chat with Killer and the guys on Team1200's Over the Edge. Here's what he had to say about the hockey (I don't care much for football so I won't bother with his comments on the Super Bowl).
He is really happy with the young guys – especially with the way they have stepped it up with all the injuries lately. He's already looking forward to how they will be even better next year. I believe he actually said that they will be "dandies". I'm sure every aspiring hockey player would just love to be called a dandy. Oy!

He commented on how Kiriakou came to the defense of Jon Carnevale who was nailed by a good hit. Killer noted that it looked like Ottawa was going to get a PP with the game tied in the third period but not only was that negated by the 2 minutes Thomas got but then he was out for an additional 5 and 10. But on the other hand he seemed to understand that Thomas was coming to the defense of one of the young guys. (Can hardly fault him for that and there have been more than a few comments from various fans in various fora regarding the seemingly lack of toughness from our guys – that's my comment not Killer's).

In discussing the goaltending, Killer was very complimentary noting that it's been strong all year in his opinion but was excellent this past weekend. He noted the 6 PPGs, 1 allowed on the PK (2 according to the game sheets), 3 goals allowed in each of the games on the road and thought it was pretty good.

It looks like Cuma and Couture will be back but Killer cautions on expecting too much from Logan. Due to his time off, his own conditioning and timing will be off. But Killer is looking forward to a better team down the road as everyone rounds out into form again.

On the Cuma front, Killer decided that the OHL All Star game is a no-go for Tyler. He needs time to recover from his various illnesses.

Which brings us to Julien Demers and Killer getting as close to gushing as I have heard in a while. Julien is going to the OHL All Star game in Tyler's place and Killer thinks that's great. He said that Julien is a star every night as he does lots of small things that don't get noticed on the score sheet. His skating is getting better, he's the toughest kid on the team, he can QB on the PP, can play a ton of minutes and continues to get better. He's getting greater visibility as scouts come out to see Tyler play and his chance to play at the All Star game will just give him greater visibility which Killer really believes he deserves.

Finally, the discussion turned to Michael Latta and his highlight reel goal in Plymouth. Again, Killer noted that Michael's timing and conditioning needs a bit more time due to the length of Michael's recovery from mono.

Regarding the Greg Stefan incident in Plymouth, Killer has seen different things over the years including sticks, water bottles, pucks and towels thrown on the ice that have taken time to clear up. He understands that Greg was trying to make a point but in the end, the ref is going to carry the day which is the way it's supposed to be. Apparently Jason Bailey was encouraging the ref to roll the clock 'cause they had to play a game the next day in Saginaw.

So a long road trip is out of the way and a weekend at home without any mid-week games is coming up. This is a welcome break in the travel. January and the first couple days of February were pretty tough, a bit more later in February but then March looks pretty good.

All in all, the Coach was as upbeat as we have heard in a long time. He didn't seem at all bothered about getting only two points on the road; he seemed pleased with the effort from the team. Which is pretty much what we all want – a good solid effort. The rest will come in due course.

Go 67s Go!