This was the third of 4 regular season games between these two clubs. Ottawa had won both of the previous outings by one goal with scores of 5-4 and 1-0.
Game Day Set Up:
Game Stats

| Conf | Rank | GP | Record | PTS | GF | GA | P10 |
| --- | --- | --- | --- | --- | --- | --- | --- |
| East | 6 | 52 | 23-24-2-3 | 51 | 163 | 189 | 2-7-0-1 |
| East | 7 | 53 | 22-25-3-3 | 50 | 148 | 172 | 3-4-1-2 |
Power Play

| Team | Rank | GP | ADV | GF | % |
| --- | --- | --- | --- | --- | --- |
| Ottawa | 15 | 52 | 314 | 56 | 0.178 |
| Barrie | 16 | 53 | 304 | 52 | 0.171 |
Penalty Kill

| Team | Rank | GP | TSH | PPGA | % |
| --- | --- | --- | --- | --- | --- |
| Barrie | 7 | 53 | 296 | 22 | 0.824 |
| Ottawa | 10 | 52 | 289 | 52 | 0.820 |
Top Guns - Ottawa

| Player | Position | GP | G | A | PTS | +/- |
| --- | --- | --- | --- | --- | --- | --- |
| Jamie McGinn | LW | 42 | 23 | 25 | 48 | +10 |
| Logan Couture | C | 35 | 18 | 28 | 46 | +12 |
| Thomas Kiriakou | C | 52 | 14 | 21 | 35 | -4 |
Additional Ottawa Player Notes:
Tyler Cuma was out of the lineup today due to a swollen ankle from a blocked shot on Friday. It looked like it stung him pretty badly when it happened. Jason Bailey was also out – his problem is a strained hip flexor. With Alfie's recent experience with that, we are all a little more informed about that part of the anatomy. Jon Carnevale was still out with mono and Matt Lahey with his shoulder.
Top Guns - Barrie

| Player | Position | GP | G | A | PTS | +/- |
| --- | --- | --- | --- | --- | --- | --- |
| Alex Hutchings | C | 53 | 22 | 18 | 40 | +7 |
| Tomas Marcino | C | 33 | 15 | 19 | 34 | -5 |
| Cory McGillis | LW | 35 | -5 | 14 | 29 | -3 |
Additional Barrie Player Notes:
Out for Barrie were Kyle van de Bospoort, Stephen Gaskin, Daniel Michalsky, Adam Payerl and Jaroslav Kruzik. Vladimir Nikiforov was traded from Barrie after playing 36 games….he's still the highest scorer for the Colts with 53 points.
Game Summary
It was more of a case of
My Little Ponies
than
Wild Mustangs
from the Barrie Colts today.
OK, maybe that's a bit harsh. But to the victors go the spoils and that includes the spin of the game. In all fairness, it was much closer than the score would indicate for some of the game.
Ottawa started strongly, for about...oh I'd say ...the first 4 minutes? Then it was all Barrie. They pretty much played the rest of the first period in the Ottawa zone. They forechecked hard, they cycled the puck and they pretty much shut down Ottawa anytime they attempted to get anything started. Even with two power play opportunities, Ottawa only managed 7 shots on Hutchinson for the entire 20 minutes. Chris, however, saw a bit more rubber, 15 shots. As he was kicking out pucks and making saves, I kept thinking about the McDonald's promo for their latest gimmick – mini goalie sticks:
Our mini goalie kept all pucks out of the net.
Early in the second period, with Stefan Della Rovere finally getting called for interference
Jamie McGinn
was in the slot when Logan's shot rebounded off a Barrie skate right to him. He buried it for an unassisted goal and his 24th of the year. That was at about 4:30 into the game. You could see a change in the Ottawa game; the goal seemed to lift them. But the next goal they got was certainly not a pretty one. Less than two minutes later, former Ottawa 67s Tyson Aitcheson was being chased back into his zone by Logan Couture and somehow he made the mistake that all players dread – he scored on his own net. So
Logan Couture
was credited with Ottawa's second unassisted goal of the game. For once a former player worked in
our
favour.
A mere 14 seconds after that, with Della Rovere sprung from the joint, Captain Jamie McGinn had a few words with him – with his fists. I couldn't get any good pictures of this tilt as the officials and other players got in the way. It looked like a pretty good tilt (sorry Rose Ann), and although Della Rovere got the take down, it looked pretty even to me. I'm gonna give it to the home boy.
It seemed that one of Barrie's strategies must have been to get in Chris' kitchen 'cause they were taking their runs at him. And it cost them a goal to be called back. At about the mid-way make of the game, Marcus Pepe pretty much straddled Chris which seriously limited his ability to attempt a save on a Barrie shot. The puck went in but it was a no-goal with Pepe getting the goaltender interference call.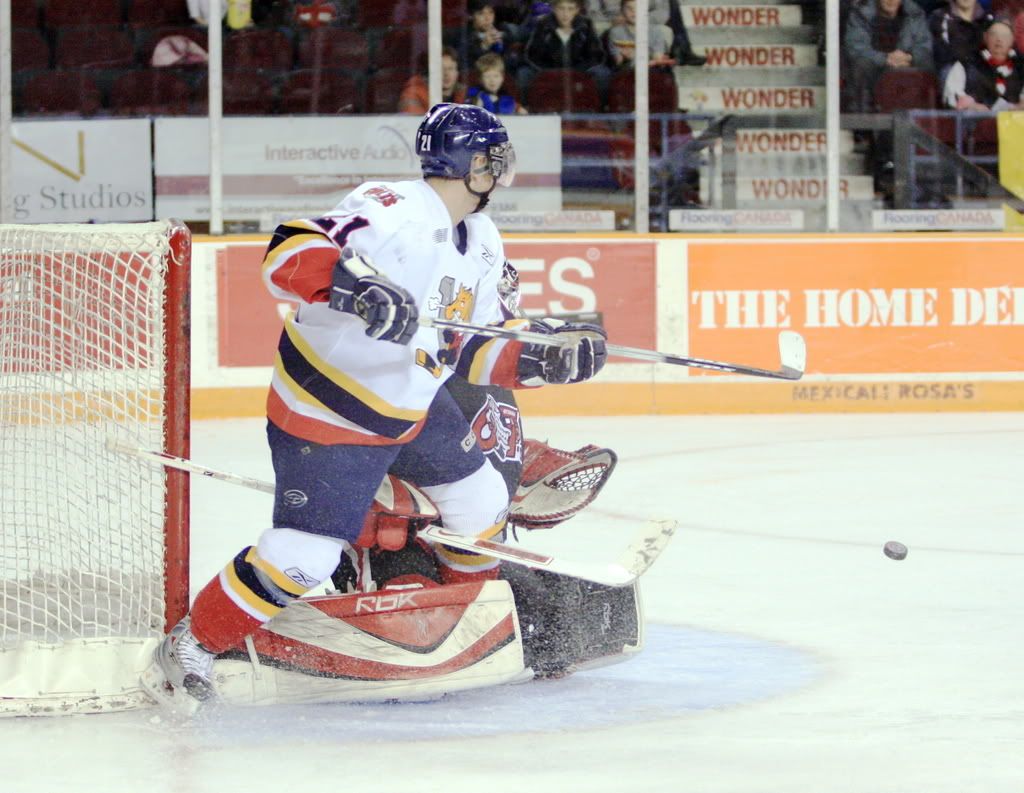 It took
Matthieu Methot
33 seconds to score. That too (or, more precisely three) was an unassisted goal. Ottawa was ahead 3 – 0 and the shots had crept up to 13 – 19 in favour of Barrie. And that spelled the end of the game for Michael Hutchinson. Having allowed 3 goals on 19 shots, he was pulled in favour of Peter Di Salvo.
Ottawa kept up the pressure and on one of their penalty kills, they generated more of a threat than the Colts did, including a great short-handed chance by Sean Ryan that went off the post.
After 2 periods it was Ottawa 3, Barrie zippo and the shots were 18 – 25 for Barrie.
So, what were we going to see in the third period? Well, a whole lotta penalties for one thing. 15 to be exact. Pretty evenly distributed too. Ottawa did a pretty good job of not only defending against the PP, but generating some offense too. They smelled blood and were going for the kill. Precisely what we wanted and needed to see. These ponies needed to know just who was riding who here.
Ottawa notched three more goals in the last half of the third and they were nicely spread around the roster.
Matthieu Methot
scored his 18th of the year on the power play when
Michael Latta
worked hard in front of the net, keeping control of the puck and eventually getting it to Methot who had the open net.
Thomas Kiriakou
got the other assist.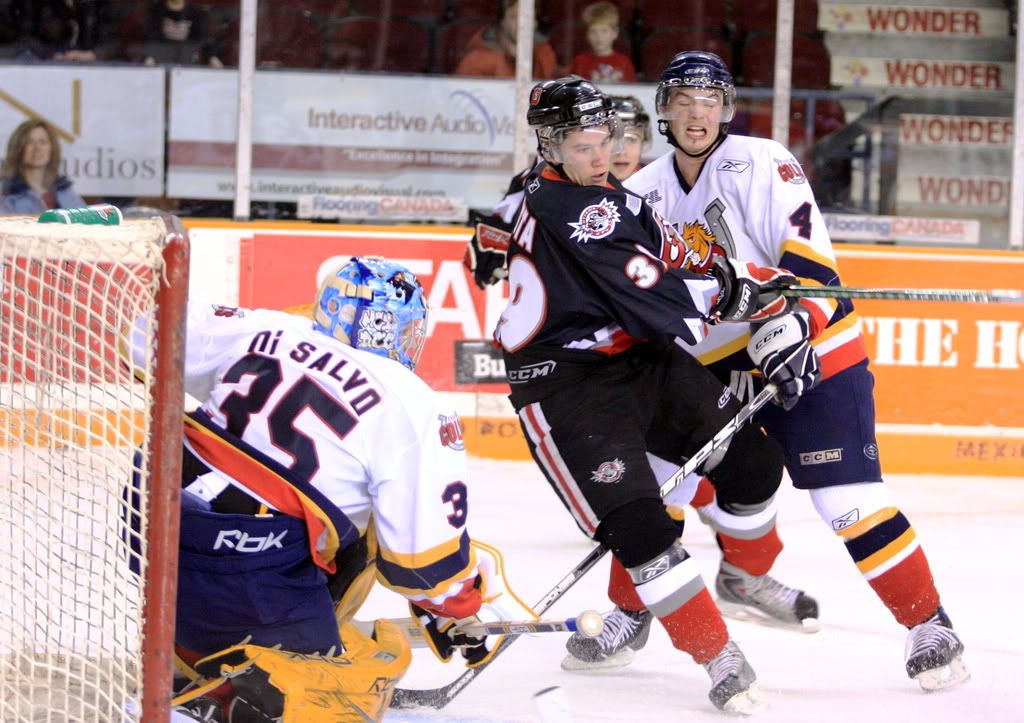 Then, 35 seconds later,
Adam Zamec
scored from his knees.
Thomas Nesbitt
got the assist on that one. And to round out the scoring for Ottawa,
Martin Paryzek
beat Di Salvo with a bullet from inside the blue line for his 2nd goal of the year.
Logan Couture
and
Michael Latta
got the assists.
But, before that goal, Dalton Prout and Thomas Nesbitt mixed it up. Nesbitt had been itching for someone to hit for quite a while and he had a taker in Prout.
The shut-out for Chris was spoiled when, with under two minutes left in the game, Colt Kennedy (perfect name for a Barrie Colt doncha think?) had an easy goal into the open side as Chris could not get back from a great first save. Mitch Lebar and Kyle Clifford got the assists.
So, Chris Perugini kept Ottawa in the game in the first period and the rest of the team got their collective acts together for the rest of the game to hand the Barrie Colts a pretty decisive 6 – 1 loss. Final shots were 37 – 38 for Barrie.
The Game's Three Stars as Selected by the Team1200

| 1st Star | 2nd Star | 3rd Star |
| --- | --- | --- |
| Chris Perugini | Matthieu Methot | Michael Latta |
| | | |
Team1200 Hardest Working 67s:
Martin Paryzek
Random Thoughts:


When I heard that both Cuma and Bailey were out of the lineup, I was not sure about how this game would unfold. Great for the team to pull out a solid win. But everyone on that team owes Perugini big time for his performance in that first period.

Alotta goal tender contact by the Barrie team. Even with two refs and refs not afraid to blow the whistle (27 penalties called today), the Colts got away with a lot of "incidental" contact with Chris including a pretty brazen cross-check. Unfortunately my picture is out of focus or it would have been published here. But Chris stood tall. Waydago kid!

I noticed from the game sheet that, what looked like a fight in the last minute of the game started by McGillis, was only recorded as a roughing call by the refs. If I understand the rules correctly, he dodged a two-game suspension for starting a fight in the last 5 minutes of a game when the team is down by 5 or more goals. Hmmm. Martindale got an unsportsmanlike in the same incident. Maybe he offered McGillis his sister's set of My Little Pony dolls.

What's with the fighting with the helmets on? Let's see…from the official roster information, Prout has 4 inches and 20 lbs on Nesbitt. He could at least man-up and take the brain bucket off. Someone a few seats back from ours suggested that he was missing some pieces of his anatomy.

Doug Wilson, former Ottawa 67s and current GM of the San Jose Sharks was in town to check out his two prospects – Jamie McGinn and Logan Couture. In an interview that was aired in the first intermission he noted that Derek Joslin is doing really well in Worcester; basically taking over the leadership of the defensive core. Doug foresees an NHL career for Derek.

Only 6 more home games left this season. In the Eastern Conference, Belleville, Oshawa and Brampton have clinched playoff spots. In the Western Conference, Kitchener clinched a playoff spot a couple of weeks ago. Going into today's game, teams were only separated by 1 point in each of the 5 to 8 spots. Someone is going to have to go on a real tear if they are going to make it to the fourth spot. So for the bottom four, it will be about trying to pick your poison. With today's win and the Major's loss, Ottawa retakes 5th place in the conference.

Today's Ottawa Citizen reported that former Ottawa 67s Brodie Beard had three assists the final game of the Carleton Raven's first men's varsity hockey season in 33 years. The Carleton Ravens beat the Ottawa GGs 7 – 1 and have made it to the playoffs. They take on McGill in the first round starting Wednesday.



Go 67s Go!
---