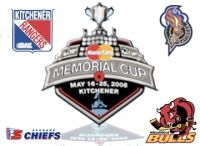 Well, I wasn't able to blog as much as I had hoped to. Not having easy access to the internet was the major issue. The fact that the spousal unit wanted to play golf rather than watch me work away at some internet hotspot complicated it a bit too (not that I blame him – he was a really good sport about the times that I did take to update).
By now everyone knows the results, the highlights, the mishaps so there's no point in going over all of that at this late date. So I will wrap-up with some
Random Thoughts
about the whole event.
Chatted with a lot of really friendly people: Frank and his daughters (I forget their names), Spiderman (aka Walter), Rob Faulds from TSN, Jorg from Vaughn sports, Mr. Jig from The Noof, Admiral the dog and his handler, our usher, the guy who wore the Penguins jersey, linesman 61, the Team Host for the Spokane Chiefs, McGinn fan and others I can't remember. Did not run into a single unpleasant person at the Aud.

Well, maybe one unpleasant person – the security guy who said I couldn't take pictures with my camera gear. I guess he was doing his job. The CHL only wanted accredited photographers taking pictures. The two photographer positions in front of us were unused for the rest of the game I was busted at (Tuesday?) until the final. Sorry to the Spokane fans who were hoping to see more pictures of their team.

It was interesting to watch a bunch of hockey where I really wasn't emotionally committed to the outcome. One on the one hand, it was less nerve-wracking. On the other hand, it was hard to get all worked up and I realize that that's a big part of what I like about watching hockey (which is largely why it's easy to be distracted during the SCF right now – I don't really care who wins).

It was LOUD in the Aud for the semi-final and the final.

Mike Murphy was lights-out during the round robin game against Kitchener. Our host, Larry, thought it was a bad move on the part of the Bulls to play him in that game. He thought it was highly unlikely that Murphy would be able to repeat that performance in the semi-final. He was right.

About that semi-final….after about the 8th goal, several of us noticed Beleskey and Pepe chatting as they skated to their respective benches. Pepe gave Beleskey a tap with his stick in a "man I know this must suck" kind of gesture.

in the "what goes around maybe comes around" category…after their 9-0 blowout over the Bulls, we wondered if Kitchener had used up all their goals. Apparently so.

Spokane was good. Calm, purposeful, committed to the system. Tokarski wasn't half bad either in the third period.

As I mentioned earlier, for a region that can organize Oktoberfest, they really didn't put much together for the fans. We were chatting with a fellow for whom this is his 5th Memorial Cup and in his estimation this was the worst from a non-game perspective.


To get parking, you had to be there at least an hour and a half before the game.

The Molson Haus was in a downstairs arena area and for the pre-game we were "entertained" by watching some radio personality do his radio show which basically involved introducing songs. Even the videos were just some Molson ads on a loop. Nothing at all to get the fans engaged.
The entire food selection: hotdogs, hamburgers and pizza. There isn't anywhere near the Aud to go eat.

We weren't allowed in the arena until an hour before puck drop. The outdoor area for beer and food didn't have any tables so you had to hold your beer with one hand and try to eat your hotdog/hamburger with the other hand and somehow hang onto to the bag of chips that came with the "meal".

the Stanley Cup arrived one day but none of the announcements said where it was. No real advance notice that it was coming (well, one day's notice).
I had a chance to chat briefly with one of the Rimouski officials there to observe and learn for their Memorial Cup next year. I mentioned (in my best government French) that they need to plan many more fan-involvements before each game. This standing around was kinda boring.

Well worth the time and money invested. Not sure I would do this every year but this worked out well for us. Got to do some golfing too which made it a really good vacation. The Kitchener-Waterloo-Cambridge region is beautiful and really easy to get around.

volunteers make a big difference. For the readers in the National Capital Region, if you have not already done so, you should consider volunteering for the 2009 WJHC in Ottawa. I'm already signed up.

So that wraps up the 2007-2008 Major Junior hockey season. The Memorial Cup stays out west for another year as teams, fans and players turn their thoughts to next year.
The final final event for me will be the NHL Entry draft on June 20th here in Ottawa. The tickets are ordered and I'm good to go to at least the first round.
Until then….Cheers!