Well, this was a much better effort today. Kingston's new coach Doug Gilmour made his first trip into the Ottawa Civic Centre.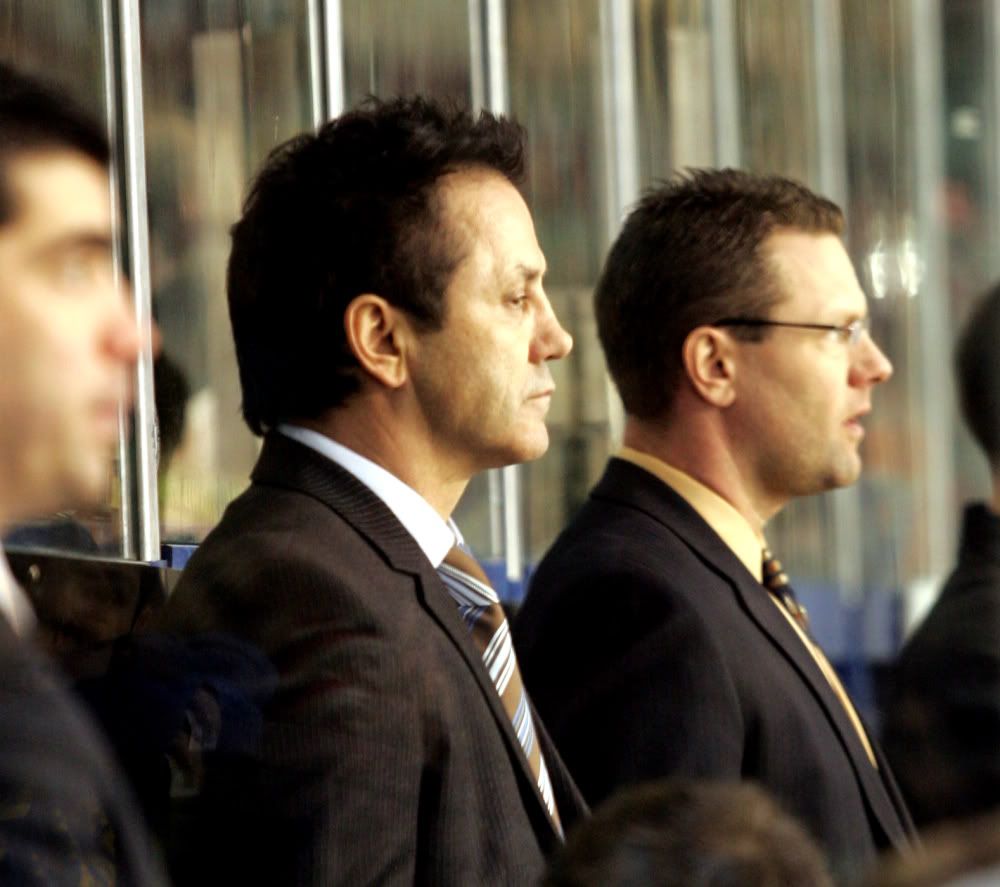 When these two teams last met, Kingston handed Ottawa a pretty solid defeat (5 - 1). If memory serves me correctly, that was Adam Courchaine's last start and he was chased from the net.
Well, things were going to be a little different today!
Forward combos:
Cowick, Couture, Nesbitt (to start)
Nigro, Martindale, Toffoli
Sonnenburg, Lindsay, Schinkelshoek
Blunden, Anderson, Hanes
D-pairs:
Paryzek, Cuma
Demers, Gibbons
Zanetti, Hartwick
Goalie:
Courchaine
Scratches:
Carnevale (concussion), Kiriakou (shoulder), Ryan (groin), Birkhoff (mono)

Ottawa came out with much more jump and purpose to their game than they did last night against Oshawa. They held Kingston to one shot on their first powerplay and just over five minutes into the game, captain Logan Couture put Ottawa on the scoreboard with a short side shot that went in off the far post. I think Parks is still looking for it. Tyler Cuma and Adam Courchaine(!) got the assists.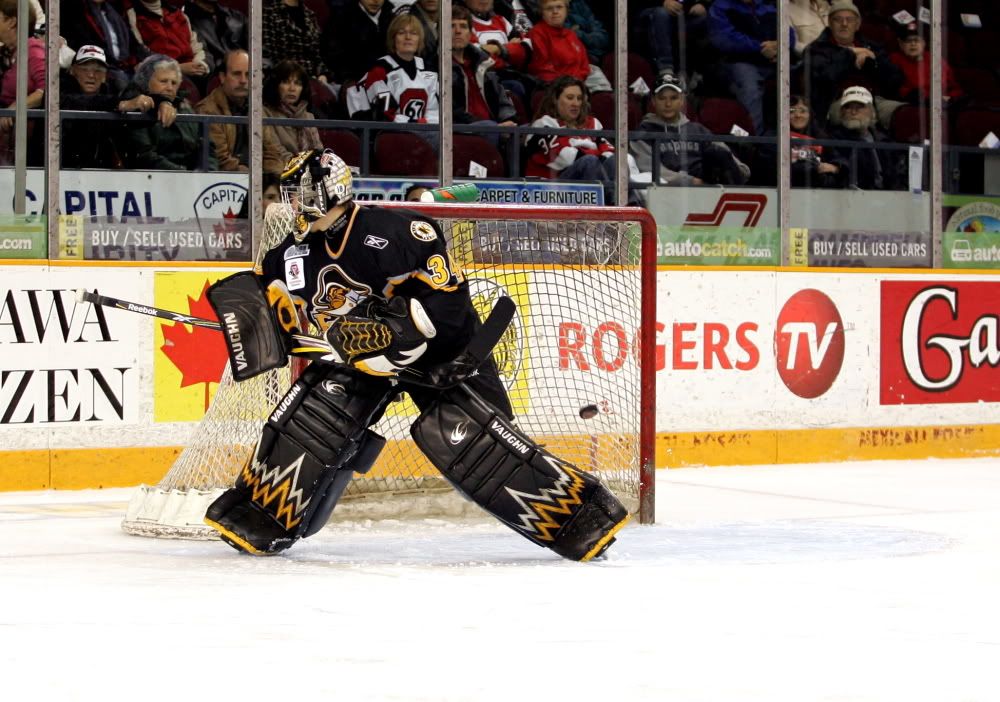 And with just under 5 minutes left in the period (nice bookends doncha think?), Thomas Nesbitt and Logan Couture teamed up on one that counted this time - again beating Mavrick Parks blocker side putting Ottawa up by two.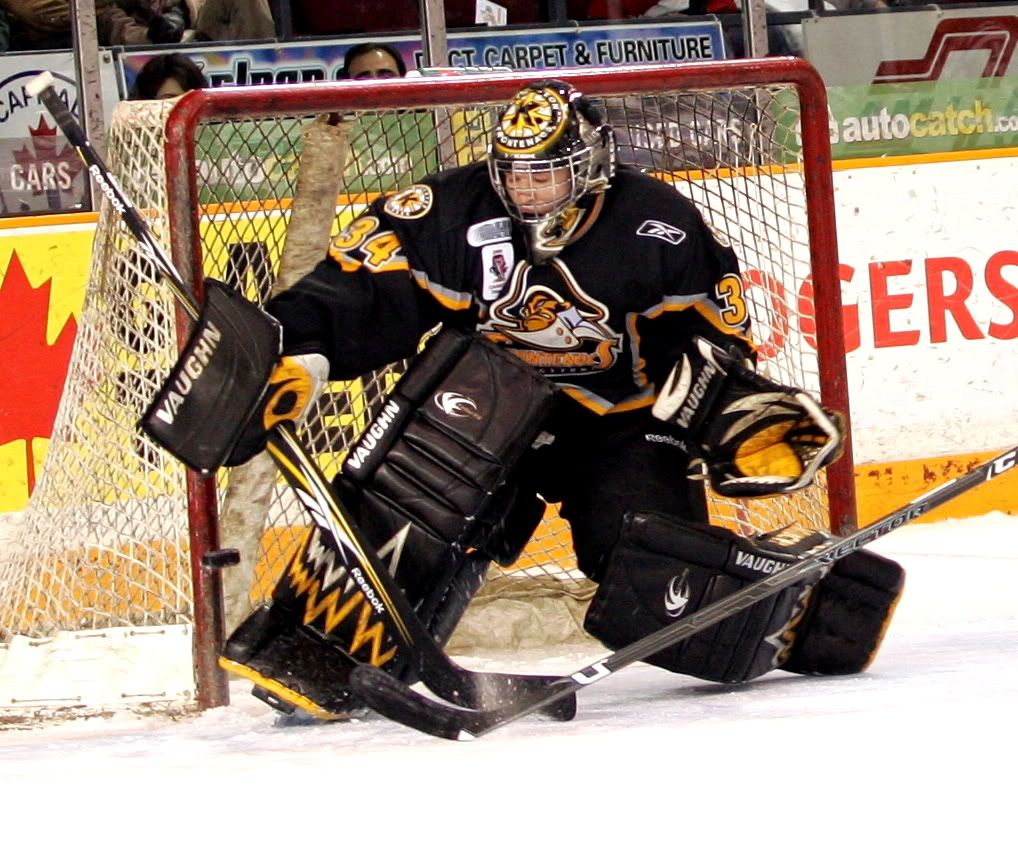 With just over 2 minutes left in the period, Thomas Nesbitt limped to the bench favouring his left leg which is the same side that kept him out of the Oshawa game (high ankle sprain). He started the second period but only lasted 7 minutes before heading for the dressing room. Killer tried a few players in his spot (of note Toffoli and Nigro) but I think Nigro ended up with the steadier gig in that spot.

As the period hit the 13-minute mark, things got a little crazy with three goals on three shots within 26 seconds. It started with a pair from Kingston just 14 seconds apart both beating Courchaine blocker side. First was Andris Dzerins assisted by Ethan Werek quickly followed by Robert Mignardi also assisted by Ethan Werek to tie the game up. But that was it for the scoring output from the Fronts.

Not to be undone and clearly wanting to continue his goal-scoring streak Ryan Martindale restored the lead 12 seconds later (never to be relinquished) with a wrist shot that basically went through Mavrick Parks. Travis Gibbons and Julien Demers got the assists.

And
just 2 1/2 minutes later
Ryan gave Ottawa a two-goal lead with a weak backhander that resulted in Mavrick Parks finding a spot on the bench in favour of Anthony Peters. Stephen Blunden and Tyler Toffoli got the assists.

Kingston came on strong in the third - pressing early in the period but an early PP goal by a very patient Logan Couture put Ottawa up by three and gave Ottawa the momentum. He was assisted by Corey Cowick and Martin Paryzek.

Logan airborne to put the puck in the net.



It was good to see Ottawa continue pressing right to the end including a couple of short-handed chances for Toffoli and Martindale. Anthony Peters made several great saves to keep more pucks out of the Kingston net.

And so the Ottawa 67s even the head-to-head series with a very solid win against the struggling Kingston Frontenacs. Given some of the pushing and shoving, and the nasty, very late period check-from-behind hit by Mignardi on Ryan Martindale, I would expect tomorrow's game to be lively.

Here's the game sheet.




The Three Stars as selected by the Team1200




Hardest Working 67s as selected by the Team1200: Tyler Toffoli
Random Thoughts:


Couture had an excellent game. Great back-checking, creating scoring chances for his line mates, getting 3 points. Closer to what we got used to seeing last year.

Cuma has to have the best diving move in the league for stopping pucks at the blue line or breaking up a scoring chance. We were treated to good examples again today.

About that late called goal last night...the puck entered and left the net so quickly that no one on the ice realized it was a goal. The boys upstairs on video review took a very careful review and called it down to ice-level.

With all the goodness of today's play by the 67s, I was wondering if a better team would have made them pay for the many mistakes they made. There were numerous turn-overs and give-aways in their own zone.

On the upside, the 67s put pressure on the Fronts and caused their share of turn-overs and take-aways.

The Latta trade was stunning news. But with Nigro and Gibbons each earning two points in their first two games - I'm getting over it. They are contributing early and often.

Martindale is back to his natural spot - center. Ryan Hanes was moved up from defense today.

Oh - and a note for Doug Gilmour, you may have earned the nickname "Killer" in the NHL but in Major Junior Hockey there is only on Killer and that's Brian Kilrea. Just in case you didn't know.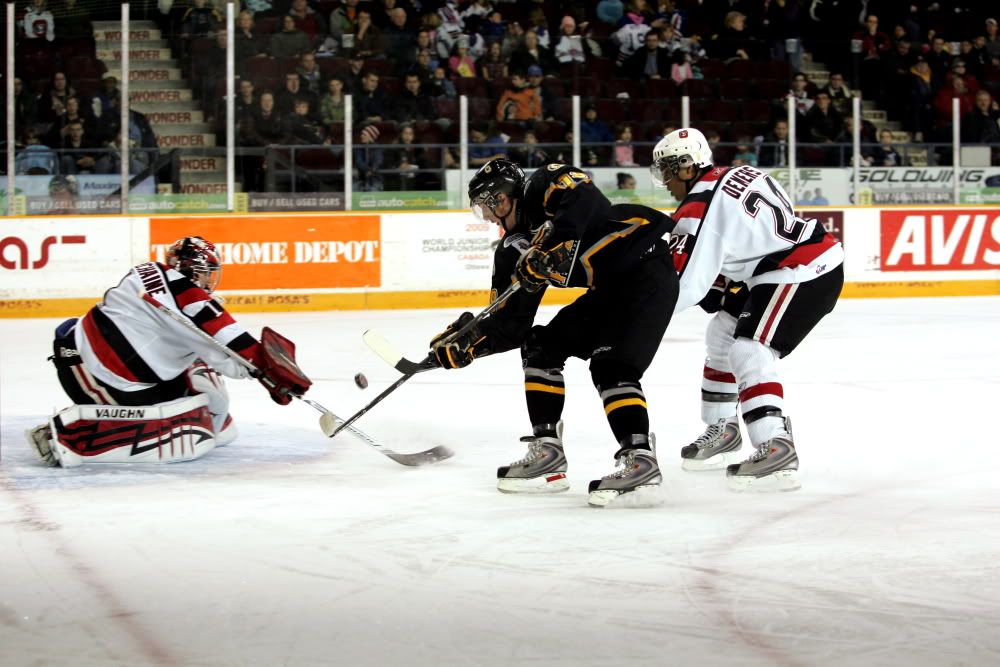 Poke check!!