A perfect 10 (a cultural reference that will be lost on the young). 10 - 0 Ottawa over Oshawa.
Well, not a perfect 10 in that Ryan Hanes was injured but pretty close to perfection.
Forward Combos:
Cowick, Couture, Toffoli,
Nigro, Martindale, Nesbitt
Lindsay, Kiriakou, Carnevale
Blunden, Anderson, Schinkelshoek
D-Pairs:
Demers, Gibbons,
Paryzek, Zanetti
Hartwick, Hanes
Goal:
Courchaine
Scratches:
Sonnenburg, Birkhoff, Cuma

It took a few minutes for the two teams to get the feel of the ice. Oshawa had the first three shots on goal early in the game .......and then their feet went to sleep and the 67s took over.

Logan Couture opened the floodgates 5 minutes into the game when he spun around and fired a shot from the slot that beat rookie goalie Kevin Baillie 5-hole. Travis Gibbons and Corey Cowick assisted on what would eventually be the game winning goal. And within a span of just over 2 and a half minutes the 67s were up by three. Ryan Martindale notched his 13th of the year on a great pass from Anthony Nigro. Thomas Nesbitt assisted. And capping the first period scoring was Logan Couture with his second goal with an assist from his new winger, Tyler Toffoli. 3 goals on 7 shots.

And the 67s simply continued to dominate the entire game. And I mean the entire game. There was no backing off as the goals piled up. They outskated, outworked and out-everything'd Oshawa. While the 67s played well, the Oshawa Generals played equally bad. They had nothing. The only area where Oshawa dominated was in the lack of discipline - taking 13 penalties.

For their part, Ottawa only took 4 penalties and not only defended all of them quite handily, Thomas Kiriakou scored a short handed goal when he picked up the puck at centre ice after Anthony Zanetti broke up the Oshawa play. That put Ottawa up 5 - 0 and that was the end of the day for Kevin Baillie.

In the final analysis, Ottawa got goals from: Logan Couture (2), Cody Lindsay (2), Ryan Martindale, Corey Cowick, Thomas Kiriakou, Tyler Toffoli, Pieter Schinkelshoek, Julien Demers. Assists came from: Jon Carnevale, Thomas Nesbitt, Anthony Zanetti, Thomas Kiriakou (2), Tyler Toffoli (2), Anthony Nigro, Julien Demers, Corey Cowick (2), Stephen Blunden (2), Dylan Anderson (2), Travis Gibbons and Logan Couture. In fact, the only 67s who didn't get a point tonight were Derek Hartwick, Martin Paryzek, Ryan Hanes, (all defensemen) the goalies and the scratches.

I never thought of Oshawa as a particular dirty team but Tyler Taylor did not do his team proud when the 19-year tough guy basically blind-sided 16-year old rookie Ryan Hanes. Ryan did well enough defending himself which probably irritated Taylor even more as he felt it necessary to lay in a couple more shots to the head when Ryan was already down on the ice. In the process of falling, Ryan injured either his knee or his leg. It looked like he might be out for a while.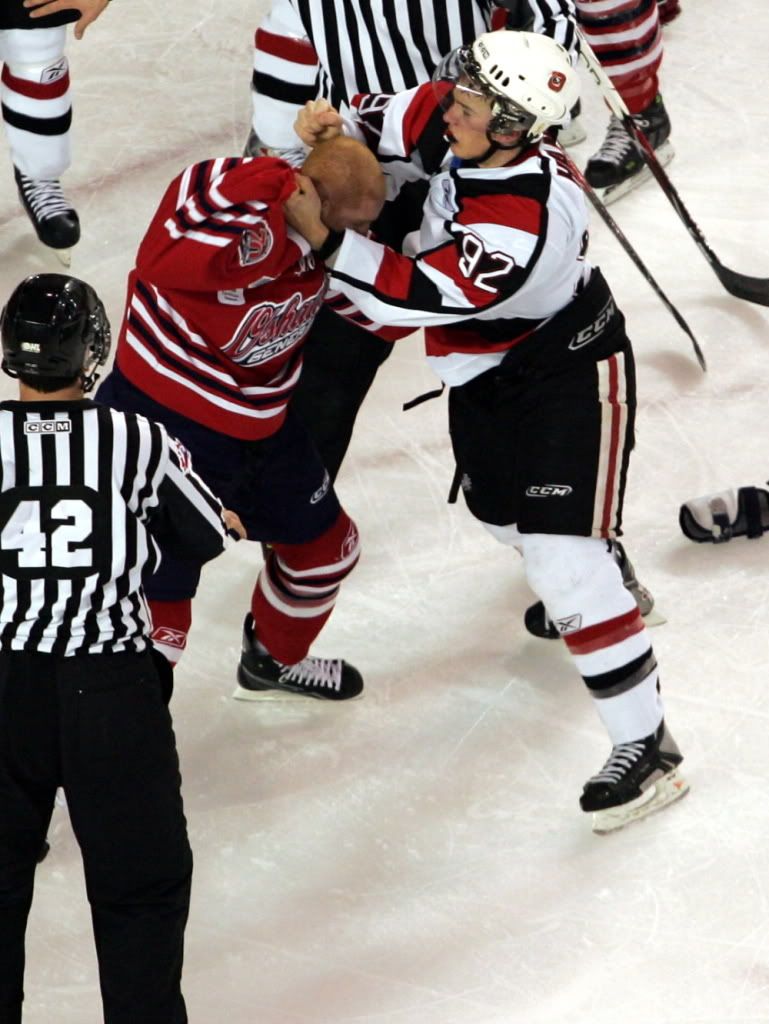 A great bounce-back from last weekend's play. That's what we like to see.



Three Stars of the Game as selected by the Team1200



Hardest Working 67s: Julien Demers (I didn't get a picture of Julien during the game.)

Random Thoughts:

While the Generals didn't have JT in the line-up, that was not an excuse for their display tonight.

Michael Del Zotto had an abysmal night - minus 6 and some very usportsmanlike behaviour including one of the boldest runs on a goalie that I have seen.

The 67s were full value tonight - crisp passes, energy, hard work on the boards, making space in front of the net.

Great to have Thomas Kiriakou back in the line up. He contributes all over the ice.

It's also great to have a trade work out where the guy we get gives his former team fits. Corey Cowick has enjoyed success against his former team. Valliquette - not so much.

Tyler Toffoli sure is working out well on the top line. He's a fun player to watch.

Pieter Schinkelshoek has scored two goals that had muted celebrations. His late-game goal in the shellacking by Kingston wasn't much to celebrate and then scoring the 9th goal in this run-away game. I hope he gets one soon that he can really celebrate.

In the head-to-head numbers, Ottawa had won 3 of the last 4 and all previous games were 1-goal games. This one kinda blew that stat out of the water.

You don't want to see a team running up the score but you don't want the team backing off either. This has to be a coaching challenge. Killer responded by giving more ice time to his rookies.

Some players show the joy of playing all the time. Almost every picture I have of Tyler Toffoli either has him smiling or showing his intensity. It's easy to get great shots of him.


Let's hope the 67s have re-found their energy and excitement for the game.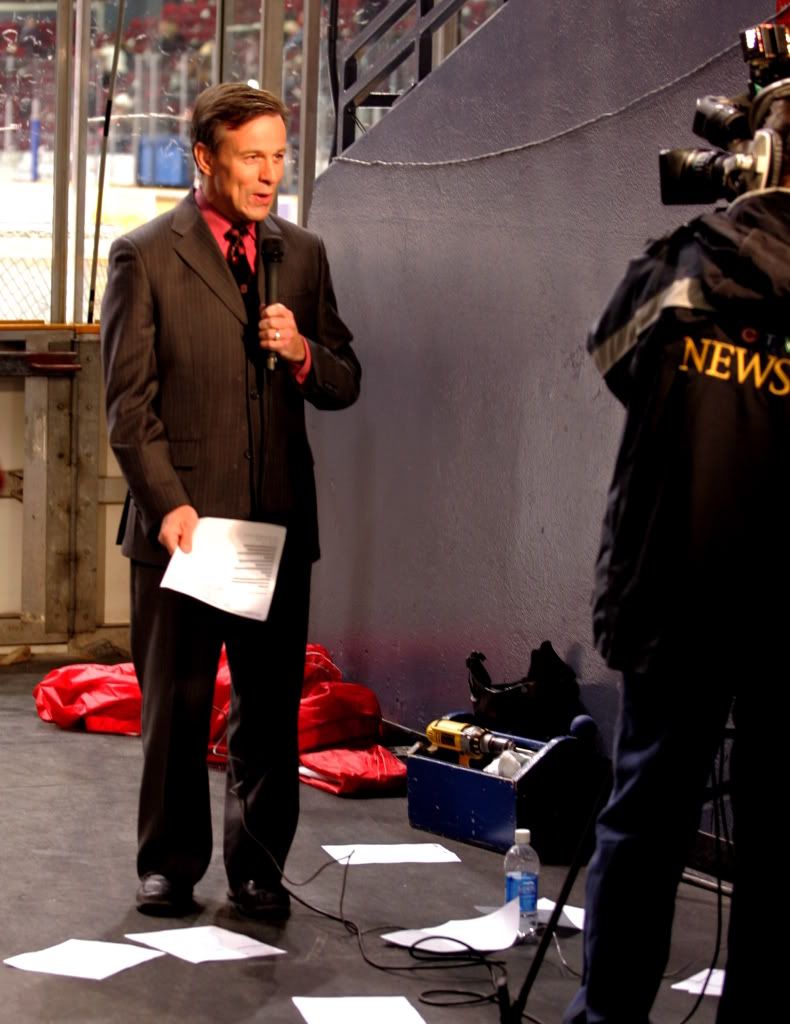 Who knew reporters were so messy?





Ten goals hurt.