Why is this man smiling?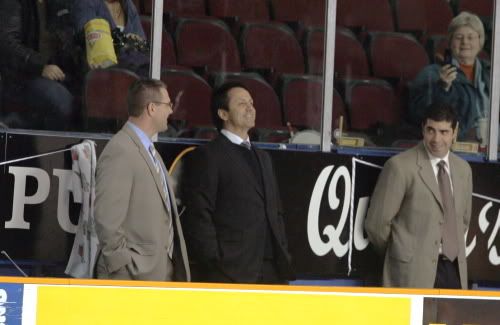 Because his
league
bottom dweller team just seriously schooled the Ottawa 67s in their own rink and got him his second win of the season.
This was easily Ottawa's worst game of the season.
Forward Combos:
Cowick, Couture, Nesbitt
Nigro, Martindale, Toffoli
Sonnenburg, Lindsay, Carnevale
, Anderson, Schinkelshoek
D-Pairs:
Paryzek, Cuma
Demers, Gibbons,
Hartwick, Zanetti
Birkhoff
Goal:
Perugini
Scratches:
Blunden (healthy), Kiriakou (shoulder), Hanes (healthy)

Kingston started the game with energy, purpose and the bitter taste of a 8 - 3 loss in their own barn on Friday still in their mouths. Clearly Ottawa wasn't prepared for this encounter and they never recovered from Kingston's early pressure. You can read the game sheet as well as I can so I won't go into a scoring summary here. But note that game sheets can have their errors too - Hartwick was not the game's first star.

Except for a few brief moments early in the second period and perhaps late in the third, Ottawa really didn't bring anything to match Kingston's determination. The Front's forechecking was solid, their passing crisp and they just seemed to be in the right places at the right times.

The only place that Ottawa won was on the fight card but that doesn't do anything for the standings. First it was Riley Sonnenburg (!!?) taking recently traded Colt Kennedy in the second period followed by rookie Pieter Schinkelshoek taking on sophomore Stephan Francella late in the third.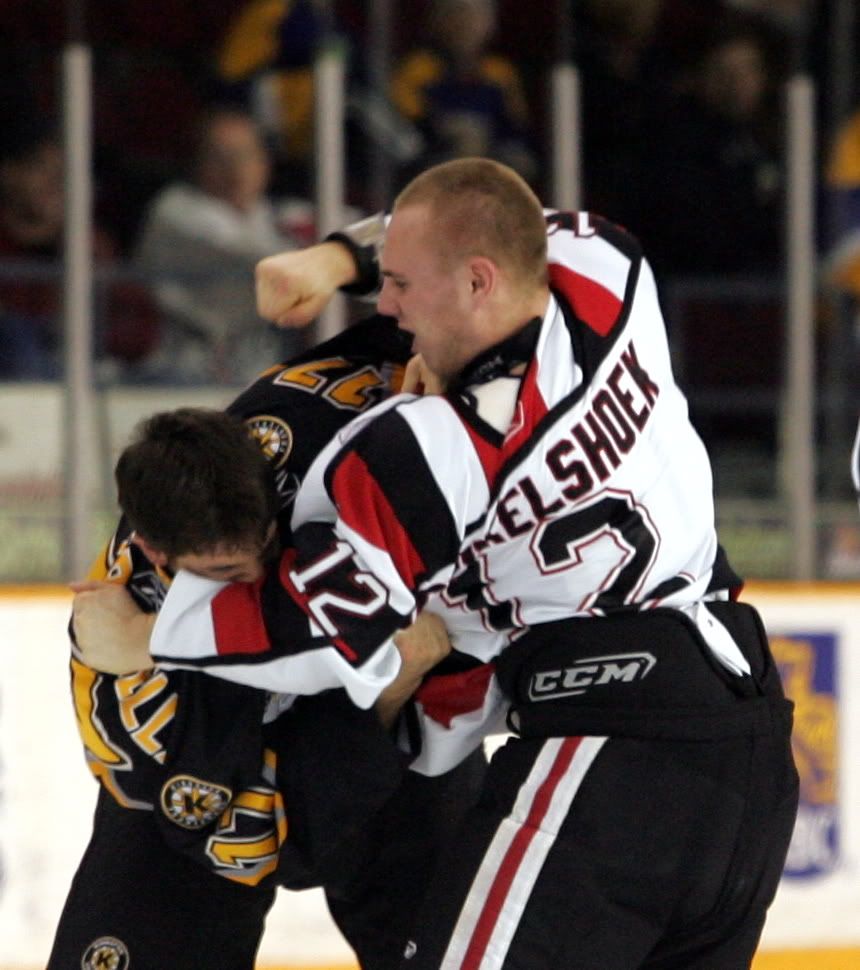 Schinkelshoek and Francella



With Kingston up 5 - 1 going into the third period, I fully expected it to get really boring as Kingston worked to protect the lead. To give Ottawa credit, they didn't quit and in the process put 17 shots on Parks who was chased out of the net the last time he was in Ottawa. Several of them were good scoring chances that he stopped; only two got by him. His team mates didn't quit at all either and scored two of their own.

All in all a really stinky game by the 67s. Let's hope we don't see one of these again for a very long time.



Game's Three Stars as selected by the Team1200




Hardest Working 67s as selected by the Team1200: Corey Cowick
Random Thoughts:


The team really misses Kirakou's energy and face off skills. Come back soon Thomas!!

No OAs on the ice for Ottawa; they played with 7 rookies and 3 and two-thirds lines. Facts, but not an excuse for play that was THAT bad.

No long travel, no heavy schedule.

Ottawa had several good scoring chances but were just unable to finish.

Kingston could have scored several more goals; Perugini was saved by the whistle, posts and luck on a few really good chances.

Kingston and Barrie traded players last week: Colt Kennedy, Brian Lashoff, and Mitch Lebar went to Kingston; Josh Brittain and Peter Stevens went to Barrie. These five players scored a total of 3 goals and 12 assists against Ottawa since the trade with 2 goals and 10 assists from today. Guess that trade was bad for Ottawa!

Pieter Schinkelshoek scored his second goal of the season (first at home) late in the third period but there really wasn't any celebrating.


I have a conflict on Friday. All the WJHC volunteers received free tickets to the Team Canada Red and White game. Oshawa is in town against the 67s. Haven't made up my mind which game I will go to. It might be decided by my agenda on Friday and traffic.


Couture's goal
The Great Escape
Touque give-away