The Saginaw Spirit came to town for their second game in their eastern swing having won in Peterborough on Thursday. It was the second game in a row for the highly ranked (top in NA) goalie, Edward Pasquale although conditioning shouldn't be a concern since he has played 40 of his team's 42 games so far this year.
Ottawa had not seen any action since their bad loss last Sunday. Both teams came into the game with 51 points and in second place in their respective divisions.
Forward Combos:
Cowick, Couture, Toffoli
Nigro, Martindale, Nesbitt
Lindsay, Kiriakou, Carnevale
Sonnenburg, Anderson, Blunden
D-Pairs:
Demers, Gibbons,
Birkhoff, Paryzek
Hartwick, Zanetti
Goal:
Courchaine
Scratches:
Schinkelshoek, Hanes, Cuma

Ottawa was pretty lucky to come out of the first period with the game still scoreless. It took a while for either team to get anything going but it was Saginaw that took slowly took control and had the better scoring chances. Ottawa had an early power play which the Spirit defended very well. They've had some practice at it since they are the 4th most penalized team in the league (behind Windsor, London and SSM). Ottawa is the least penalized team in the league.

By close to the halfway mark, SOGs were 7 - 2 in Saginaw's favour but Ottawa started getting their legs and adjusting to the speed of the Spirit. They managed to close the gap on the shot clock but none of them were serious scoring chances. As the clock wound down for the period, Anthony Zanetti made some great plays to breakup Saginaw scoring chances.

The second period was outstanding. The 67s came out of the gate ready to play a fast paced energetic game of hockey. They had early pressure on Saginaw and over the period, everyone seemed to contribute.

Corey Cowick finally got the scoring started at just about the halfway mark with his 26th goal of the season from a goal-mouth scramble. Travis Gibbons and Tyler Toffoli got the helpers. Then Ottawa went up by two with just under 7 minutes left in the period on a great passing play between Couture and Tofoli that got Pasquale moving and Logan Couture went 5-hole. Tyler Toffoli and Corey Cowick assisted.

But before the announcement was finished, Saginaw scored its first of three unanswered goals. It was a drop pass from former Ottawa 67s Joe Pleckaitis to Jordon Skellett who beat Courchaine blocker side with a slapshot from inside the faceoff circle.

The third period was not as fast as the second but it was still fun to watch. Both teams played hard but it seemed that Saginaw was building strength rather than losing strength. They had Ottawa on its heels as the period started winding down and with just over 2 and a half minutes left, Joe Underwood tied the game with a shot that got through between Courchaine and the goal post.

The game went to overtime but it was very short lived. Just 38 seconds into the period, Corey Cowick was called for goaltender interference. 21 seconds later, T.J. Brodie preserved Saginaw's perfect record (they had not lost their previous 2 OT periods) when he found the back of the net.

Saginaw won 3 - 2 in OT with final shots 35 - 39 for Saginaw.



Three Stars as selected by the Team1200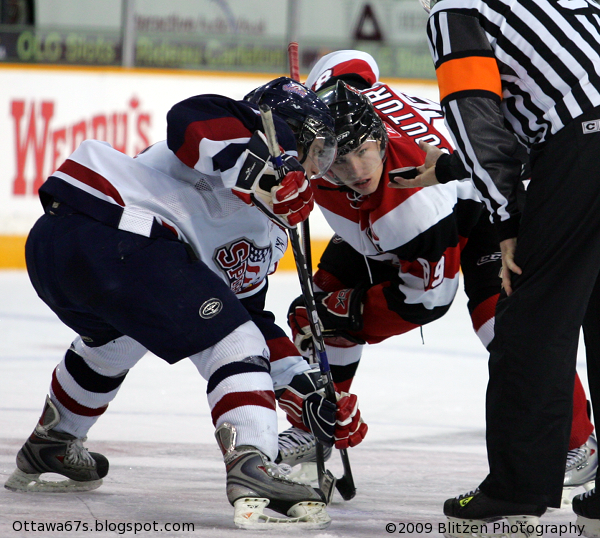 Hardest Working 67s as selected by the Team1200: Logan Couture
Random Thoughts:
Ottawa just could not bury their chances. I would give Saginaw the edge on overall skill and quality of play. They seemed to have control more than Ottawa.

Edward Pasquale is the top-ranked NA goalie in the recently released NHL Entry Draft Rankings. The results speak for themselves but he seems to have a strange style at times. It seemed that he simply got in the way without trying to smother the puck. There were some really juicy rebounds.

Interesting that the 4th most penalized team only was assessed only 5 penalties and the least penalized team was assessed 7 (one was a 10 minute misconduct assessed on Cowick when he probably offered an unsolicited opinion on his penalty). Saginaw got away with a lot of holding and interference.

When we got home, the spousal unit immediately checked the call on Cowick in the OT period (we recorded the game). He watched, re-watched, slo-mo, really slo-mo, frame-by-frame and kept saying "see? see? look here. he was pushed into the goalie. he was trying to stop. he had no-where to go.". It wasn't clear to me. The refs had much less time to make a decision. Corey's driving to the net is part of what makes him successful. This time it cost his team the game.

Looks like Zanetti is trying to improve his draft ranking. He has really picked up his play of late.
A lot of Saginaw fans in the crowd tonight. I spoke very briefly with a few who indicated that they were taking in all the games on this road trip. Dedicated.

The City of Ottawa has to replace, or at least wash, the flags in the Civic Centre. The state of these flags is disrespectful.


More Pictures: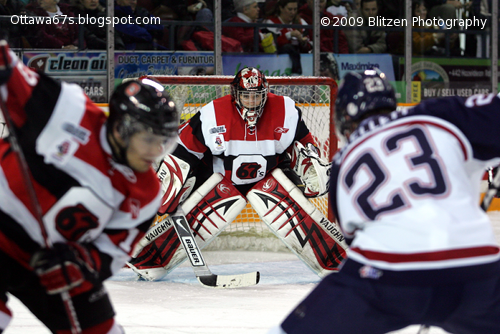 Courchaine at the ready
Fans!



Comrie fans
Canadian Tire Player