The last time the Brampton Battalion came to town they were on a winning streak and looking to set a franchise record which they did (14 games). This time, they are on another streak (11 games) and looking to make it 12. Kingston took them to overtime on Thursday.
Meanwhile, Ottawa did not play since their solid win against London last Sunday.
Forward Combos:
Cowick, Couture, Nigro,
Lindsay, Kiriakou, Nesbitt
Blunden, Toffoli, Carnevale
, Anderson, Schinkelshoek
D-Pairs:
Demers, Gibbons,
Birkhoff, Paryzek
Hartwick, Zanetti
Cuma
Goal:
Courchaine
Scratches:
Sonnenburg, Martindale (strep throat), Hanes

This Brampton team is loaded with talent: Cody Hodgson (Team Canada WJHC), Evgeny Grachev (Team Russia WJHC), Matt Duchene (late cut from WJHC and 2nd ranked NA skater for the 2009 entry draft), Thomas McCollum (Team USA WJHC) and they have won their way to the top of the Eastern Conference (by virtue of a game in hand over Belleville right now).

Earlier this week, those four Brampton players were team mates with Logan, Julien and Corey on the Eastern Conference Team at the OHL All Star game in Windsor (which the East won 11 - 6).

The Battalion are fast and play a strong fore check which for the most part kept the 67s from sustaining much of an attack all game. The first period was rather unexciting with neither team threatening much although Brampton had more puck possession and took the play to Ottawa for the most part. The best scoring chance for Ottawa came when McCollum came way out of the net to challenge Couture and missed his poke check. Cowick was not expecting the puck and was unable to corral it into the wide open net. And that might have been the signal of how Ottawa's luck was going to go.

Brampton opened up the scoring about 6 minutes into the second period. They were keeping good pressure on the 67s, getting shots through to Courchaine and finally one ricocheted off enough players to find the back of the net. Jason Dale was credited with the goal with assists going to Brad Albert and Anthony Peluso.

Ottawa responded 3 minutes later when Martin Paryzek's shot from the point was tipped in by Thomas Nesbitt. Thomas Kiriakou got the other assist on Ottawa's power play goal.

Brampton just cranked it up a notch and potted two quick goals to take the lead for good and give themselves some breathing room. First it was former Kingston Frontenac Matthew Kang lucking out when a rebound off the boards ended up right on his blade and he tucked it in before Adam could react. Adam Courchaine misjudged where the rebound was going. Cody Hodgson and Joshua Day got the assits on that power play goal. And just 45 seconds later, Tanski and Thorne executed a perfect two-on-one with Thorne redirecting a perfect pass from Tanski past Courchaine. Matt Clark got the other assist.

Evgeny Grachev also scored in the second and Matt Duchene added one in the third to finish up for Brampton.

Chris Perugini started the third period and stopped 20 of the 21 shots he faced. Thomas Nesbitt scored his second of the game with just 45 seconds left when he picked up a rebound and easily put it in the net. Cody Lindsay and Tyler Toffoli got the assists in the power play goal.

The Brampton Battalion increase their winning streak to 12 while the 67s head to Oshawa thinking hard about their effort on the ice for this game.

Final shots on goal: 33 - 48 for Brampton.



Three Stars as selected by the Team1200




Hardest Working 67 as selected by the Team1200: Tyler Toffoli
Random Thoughts:
Ottawa certainly did not play with the same intensity as they did on Sunday. Perhaps it was all the changes in the line-ups (Martindale out, Toffoli centering Blunden and Carnevale) or too much rest, or perhaps too much respect for the Battalion. But this was uncharacteristic of the 67s we have come to expect this season.

Any team that expects to do well against Brampton will have to bring their skills up to their tempo. When Ottawa tried to play as quick, Brampton was able to take the puck away, force turnovers or Ottawa simply missed their passes. I should have kept count of all the icings - enough for at least a dozen wedding cakes.

Anderson left the game in the first with what appears to be a shoulder injury, Nigro was lost to the team for 17 minutes when he lost it and retaliated to something and Cuma also left the game. Cuma's game was off as expected but he was still logging decent ice time until he had an awkward stumble.

The game sheet is wrong - both Nesbitt's goals were PP goals.

About the officiating.....hmmm.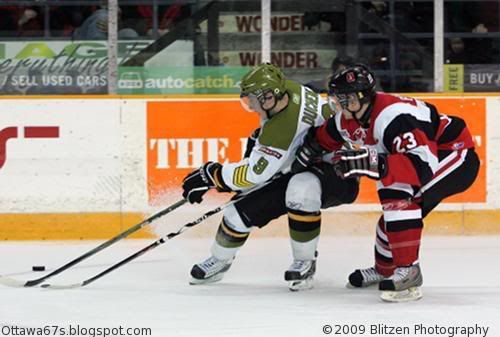 Martin Paryzek angling Matt Duchene away from the net and knocking the puck off his stick
Cuma back in action - briefly
Thomas Nesbitt's near-goal - off the post and out of harm's way
The entire fan-based from Brampton was here for the game - all 12 of them (attendance at the Bunker is notoriously low). The team must look forward to road trips where their success is at least seen by a few people.