Watched this one on TV.
Ottawa came in still looking for their 30th win to overtake their total win count from last season. This was the final time for these two teams to play each other in the regular season.
Ottawa was also looking for a better effort than they had last night in their 5 - 2 home loss to the Conference leading Brampton Battalion.
Oshawa won 4-3 in Kingston last night. At home, they were looking for their first goal in their own arena in over 216 minutes. They played without James DeLory who was assessed a match penalty in Kingston for slashing and jumping Nathan Moon. Here's the
video
of the Oshawa captain's fine work. What every team wants to see from their leader.
This last time for Brian Kilrea and Bert O'Brien behind the visitor's bench in General Motors Centre.
Forward Combos:
Cowick, Couture, Nigro,
Smith, Kiriakou, Carnevale
Blunden, Lindsay, Carnevale
Sonnenburg, Schinkelshoek
D-Pairs:
Demers, Gibbons,
Birkhoff, Paryzek
Hartwick, Zanetti
Goal:
Perugini
Scratches:
Toffoli (elbow to the head in yesterday's game), Anderson (separated shoulder yesterday), Hanes (ankle), Cuma (tweaked his knee, out for precautionary reasons), Martindale (strep throat)

Initially my thoughts were that the Ottawa 67s didn't seem to get it that they have to play with intensity if they want to keep winning games. Then I realized just how much talent was out of the lineup for today's game. Missing Martindale and Toffoli up front really matters. Running into a really hot goalie makes it harder.

So I have tempered my initial reactions somewhat.

The Oshawa Generals played very hard and Conway did everything he had to do to win this one for them but they came away with just the point for all their effort.

Despite being pretty much outplayed in the first period, it was Ottawa that scored first. Thomas Kiriakou drove the net and his shot bounced off Conway and then off his leg into the net. Thomas Nesbitt assisted.

Oshawa kept putting pressure on the 67s and was about to score just as the buzzer sounded to end the period. At the end of the first period, Oshawa had gone 236 minutes since the last time they scored a goal in their own barn (almost 12 periods). But Oshawa finally got off the schneid when Zanetti didn't get to the puck that Perugini had gently sent behind the net. Oshawa's Jeff Brown got to it first and Nick Esposto neatly sent the pass past Perugini to tie up the game. Oshawa's hard work finally paid off; Ottawa's not so fine work, cost them.

Oshawa went ahead at about the halfway mark of the third period when Tony DeHart's wrist shot from the hashmarks beat Perugini glove-side. Conor Stokes got the assist.

With Ottawa getting a face off in Oshawa's end with 1:22 left to go, Kilrea called a time out and kept Perugini on the bench for an extra attacker.

It took a while to confirm the tying goal as the on-ice official's immediate response was that the puck had been kicked in. From his angle, it obviously looked like that but from another angle, it was clearly a goal. Kiriakou won the face off and Demers took a shot from the top of the face off circle. The rebound came out back to the circle where both Kiriakou and Couture going for the puck. It looked like Kiriakou was planning to stop the puck with his foot but before it got to him, Logan reached in with his stick and snapped it past Conway to tie the game. Julien Demers got the assist.

Both teams were careful in the remaining regulation time, both willing to take the point and take it to overtime.

Conway stood on his head all game but it was Thomas Kiriakou bookending the game with the opening goal and the game winning goal when he waited patiently for Conway to commit himself. Thomas put the puck past the sliding goalie to end the game. Thomas Nesbitt assisted in Ottawa's first overtime win this season.

Finally, Ottawa gets that 30th win of the season to overtake their win total for all of last season. With about 18 games left. Pretty good turn-around I'd say.



Three Stars as selected by the Team1200
(all pictures from previous games against Oshawa)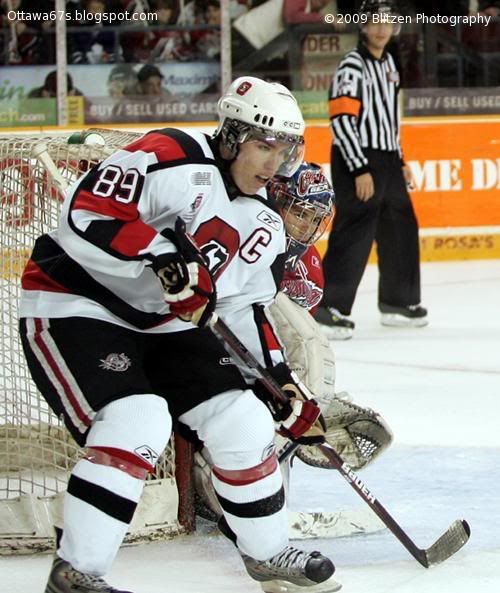 Hardest Working 67 as selected by the Team1200: Logan Couture
(picture from a previous game against Oshawa)
Random Thoughts:
Ottawa has to keep winning...that image in their rear-view mirror is the Mississauga St. Michaels Marjors.

Not that I have been watching closely but it seems like Demers is having his struggles. Seems like a number of passes are getting past him on the point and pucks are not settling on his stick.

Dalton Smith was called up and wore number 33. He didn't have to travel too far - Oshawa is his home town.

Kiriakou had a couple of good scoring chances included a shorty but his stick came out of his hands (is that what they mean by soft hands?).

Tyler Taylor has some issues with Ottawa. He apparently felt the need to chirp the bench so Schinkelshoek stepped up for the team. Schinkelshoek took the worst of it and sat out for 2 mintues. Taylor went to the locker room to sit out his 10 minute misconduct. He's a piece of work.

The Rogers announcers were quite complimentary to the Ottawa 67s club.

In the rink three stars: Conway (first), Kiriakou (second), DeHart.


Ottawa returns to the Civic Centre for their Sunday afternoon game against the Kingston Frontenac. See you there.