Kingston has won only 11 games this year and 3 of them have been against the Ottawa 67s; two at the Civic Centre including today's win.
Forward Combos:
Cowick, Couture, Nigro,
Lindsay, Kiriakou, Nesbitt
Sonnenburg, Blunden, Carnevale
Schinkelshoek
D-Pairs:
Demers, Gibbons,
Birkhoff, Paryzek
Hartwick, Zanetti
Goal:
Courchaine
Scratches:
Toffoli (neck injury), Anderson (shoulder), Cuma (knee), Martindale (strep), Hanes (ankle)

With Ottawa playing its third game in three and dressing only 10 forwards, including 2 rookies, I figured they would be in tough. Kingston has been playing well lately including beating the London Knights last weekend and taking Brampton to overtime last Thursday. They came to Ottawa rested and with a full roster.

Ottawa started the game with jump but Kingston shook off the bus legs and got on the score board first.

Any game that features 14 goals is not a good game for the goalies. Here's the game sheet so you can check out all the scoring yourself.

Despite the result, this was a very good game to watch. Fast, up and down, lots of transition, lots of scoring changes (obviously) and for those who prefer goals over saves, lots of goals. Kingston didn't put the game away until the last minute of play with Ottawa down a goal and a face-off in the Kingston zone. Pulling the goalie got Ottawa within 1 but the 67s weren't able to get two. Dzerins got his hat trick into the empty net.

Kingston played hard for a full 60 minutes and Ottawa could not withstand the pressure. Mavric Parks also kept more pucks out of the net than the Ottawa goalies.

For the second time in as many games, Adam Courchaine was pulled from the game. Today it was with just over 4 minutes left. That's not gonna feel too good.



Three Stars as selected by the Team1200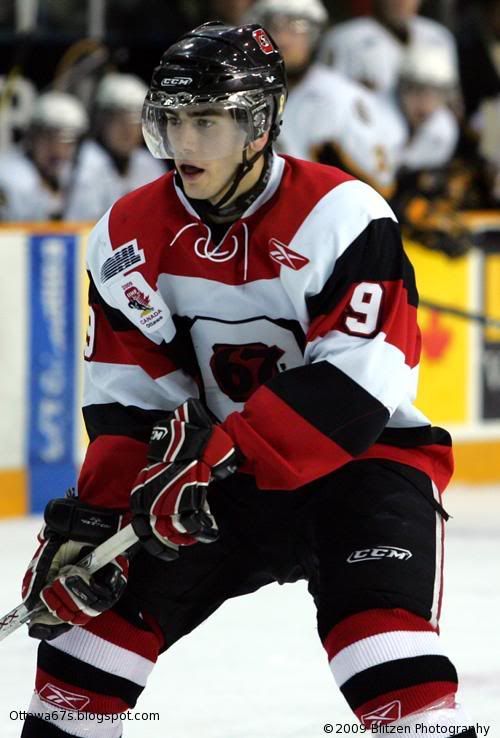 Hardest Working 67 as selected by the Team1200: Thomas Nesbitt
Random Thoughts:
I thought it was much more intense today, they outshot Kingston, and Parks didn't have the hot hand per se. So what happened? Was it goaltending? Was it defensive coverage? Or were they just out of gas? 5 of the goals on Ottawa were scored at the other end of the rink during the third period so it's hard to say what happened. One of the goals was during a 5-on-3.
Corey Cowick scored his 3oth goal today. Gibbons had 2. Logan had a goal and three assists.

Ottawa had a number of scoring chances that they just could not bury from close in. Kingston did a very good job of getting their sticks in the way.

The Ottawa power play connected again, scoring within 15 seconds on the two PP goals.

But the 4th best PK in the league allowed 3 PPGs from the worst PP in the league. hmmm.

Belated 18th happy birthday to Chris Perugini.

St. Mike's won today bringing them 2 points closer to third in the conference.

On another note, Jakub Petruzalek made his NHL debut and notched his first point. Here's the recap from the 'Canes.


2 of 6 points this weekend. Not a great result. Here's hoping that at least two of the wounded return next weekend; Ottawa needs to get back on the winning streak.
More pictures: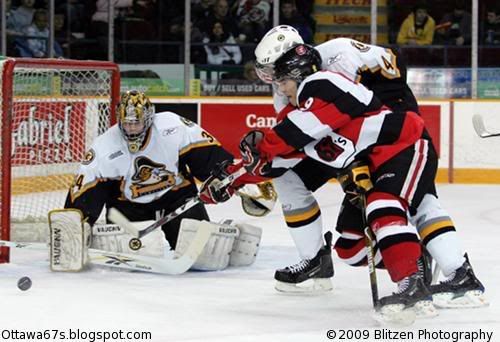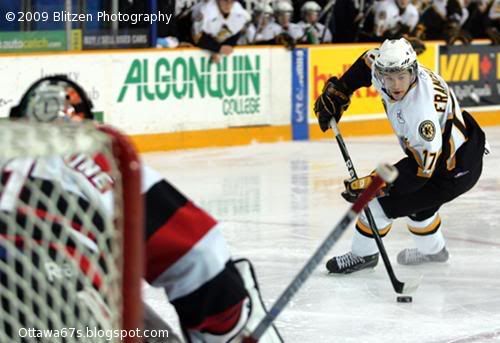 Stephen Francella just before scoring his unassisted goal in the second period to tie the game at 2.