Go big or go home time for Ottawa. Down 3 games to 2 Ottawa had no margin for error in game 6.
This will be a very quick post as 5:00AM gets here really quickly.
Forward Combos:
Cowick, Couture, Nigro,
Lindsay, Kiriakou, Toffoli
Blunden, Martindale, Nesbitt
Hanes, Smith, Carnevale
D-Pairs:
Demers, Gibbons,
Birkhoff, Paryzek,
Hartwick, Zanetti
Goal:
Courchaine
Scratches:
Schinkelshoek, Sonnenburg, Anderson, Cuma (knee)

Both teams seemed a bit tentative in the early going - each unwilling to take the big risk that might lead to a goal against. The teams traded power plays and a few scoring chances but neither team scored.

Niagara had a chance to break the scoring open in the second period when Andrew Agozzino was awarded a penalty about 6 minutes in when Thomas Nesbitt broke up the scoring chance. Courchaine made the save; Nesbitt was injured on the play.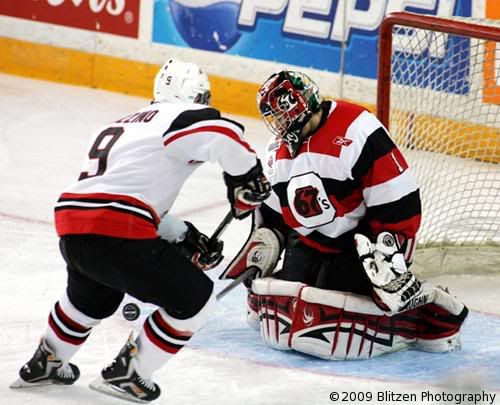 Courchaine makes the big save
Nesbitt gets help off the ice from Demers and Gibbons.



It was Thomas Kirakou who opened up the scoring with what turned out to be the GWG as well. And just two minutes later, he also had the insurance goal. Tyler Toffoli had the first assists on both goals; with Cody Lindsay and Julien Demers sharing second assists.


IceDog heroics can't prevent the goal.



The second period was all Ottawa.

The third period started a bit slowly for the 67s and the IceDogs started taking the play to them but Ottawa slowly took over again. Once Corey Cowick added more insurance during the PP, the game got really chippy. The Dogs knew the game was gone so they turned to playing dirty to make a point. They were trying to set the tone for tomorrow's game. The complete breakdown in discipline from Niagara allowed Corey Cowick to score another PPG to make it a nice round number.



Three Stars as selected by the Team1200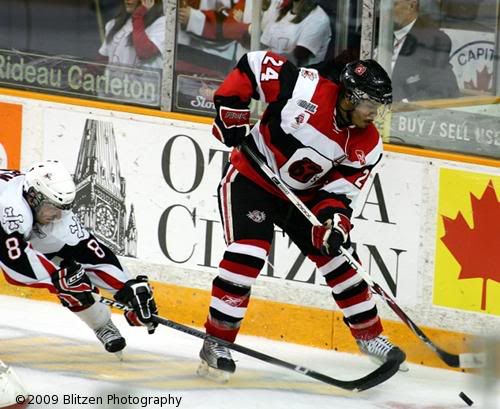 Hardest Working 67 as selected by the Team1200: Julien Demers
Random Thoughts:
As time went on without a goal, I was thinking, the first team to score will win.

This was a solid game by the 67s. They were aggressive, physical, purposeful and they stayed with it.

The IceDogs, especially Pietrangelo, do not like being hit. They went completely of their game. And Pietrangelo a 4-minute penalty near the end of the game. For a captain he sure has taken a number of undisciplined penalties in this series.

Game 7 goes on Tuesday. I have to cancel my workout. I wouldn't miss this game for the world.

More Pictures:
Kiriakou serving notice that he planned to score a goal
Kiriakou's second goal.
Corey Cowick standing his ground.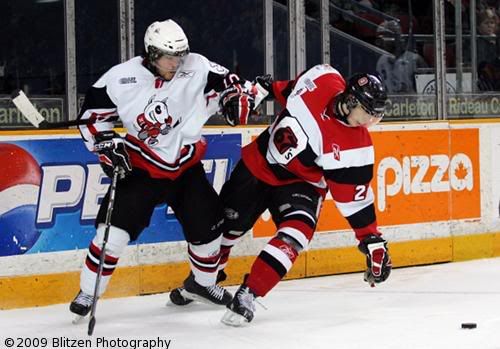 Blunden's hooking call (!).
Tyler Cuma back on the bench - or behind the bench more accurately.