With both teams still battling hard to solidify their playoff positions, this game was important.
This was Sudbury's third road game in three days having lost 4-1 in Kingston on Friday and losing 5 - 2 in Belleville yesterday. Their closest competition for the playoffs are Oshawa and Peterborough. Oshawa lost on Friday; Peterborough won yesterday and beat Oshawa today. As of this update, it appears that the OHL standings were were not updated but it looks like Sudbury just might have dropped out of the playoffs.
Ottawa on the other hand still has Mississauga nipping at it's heels for third in the conference.
Forward Combos:
Cowick, Couture, Nigro,
Lindsay, Kiriakou,
Carnevale, Blunden, Nesbitt,
Sonnenburg, Smith, Schinkelshoek
D-Pairs:
Demers, Gibbons,
Birkhoff, Paryzek
Hartwick, Hanes
Goal:
Courchaine
Scratches:
Zanetti, Anderson, Cuma (knee), Martindale (mono)

The Foligno's were out in full force with dad Mike behind the bench, one son Marcus on the ice and another son Nick in the stands. But all that hockey talent was unable to produce a winning result for the visitors.

The Wolves were able to limit the league-leading power play to 1 goal in 8 tries, including a 44-second 5-on-3 early in the first period but all that time in the hoosegow took its toll on the team in other ways. As the game went on, it was clear that the Wolves were running out of steam and Ottawa simply took over.

As it has been his habit lately, Thomas Kiriakou opened the scoring when a rebound went right to him and he potted it into the open side for Ottawa's only PP goal. There was a certain symmetry to today's 6 goals (third game in a row where Ottawa has scored 6 goals) with 2 in each period. Logan Couture had an unassisted goal in the first period, Thomas Nesbitt and Anthony Nigro scored in the second and Logan Couture and Tyler Toffoli scored in the third.

With Ottawa up 2 - 0 in the second period, the Wolves got on the scoreboard with an unconventional goal. The Wolves were on the PP and Courchaine had stopped the initial shot but could not control the rebound. Meanwhile, in the crease, John Kurtz was cross-checked by Demers and it looked like the rebound went off Kurtz and into the net (with him). Toffoli came out of the penalty box and Demers went in. Ottawa survived that penalty and the two others that followed in quick succession and, despite getting another goal, Sudbury never really gave Ottawa a sustained challenge during the game.

The Wolves goalie, Alain Valiquette, however was outstanding, facing 57 shots (the game sheet is wrong) and only (!) allowing 6 goals.



Three Stars as selected by the Team1200




Hardest Working 67 as selected by the Team1200: Brian Birkhoff
Random Thoughts:
Relatively speaking, I have not been coming to 67s games for a long time (when compared to many season ticket holders) but in my recollection, Sudbury has always been a mean, dirty team. Marcus Foligno showed his team spirit when, late in the third, he basically pasted Adam Courchaine against the boards. Adam had gone to the trapezoid to play the puck and with the puck long gone, Marcus went in for the late hit. All the players on the ice got into it and when the dust settled, Sudbury had three in the penalty box while Schinkelshoek and Smith took a seat for Ottawa (both for roughing).

Adam had a good game including stoning Eric O'Dell early in the game.

Add Logan Couture to the list of Ottawa players having a career year. With today's 3-point performance he has 79 points - 1 more than his 06-07 season.

Alim Aliu was well behaved. Hopefully between Mike Foligno and threats from the Blackhawks he is learning a bit more self-control. His former buddy Steve Downie has managed to earn himself another 20-game suspension (AHL); hopefully Akim is paying attention.

Julien Demers didn't return for the third period. He apparently injured his elbow in the second period. This is not good news. Hopefully it's not serious.

Ottawa apparently needs only 1 more point to clinch 3rd place.

Points from all over the roster today: top line - 3 goals and 2 assists; second line - 2 goals and 2 assists; third line - 1 goal and 1 assist; the D - 5 assists. Gotta like that!

More Pictures:
Reach for the top!
Goal line heroics steal another goal from Ottawa.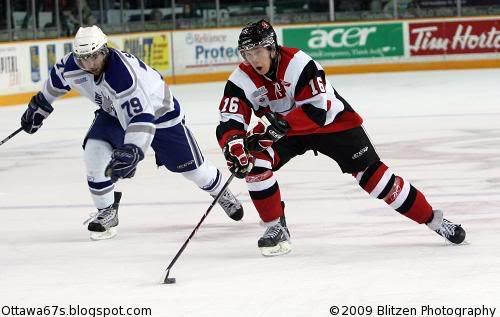 Toffoli break away - foiled!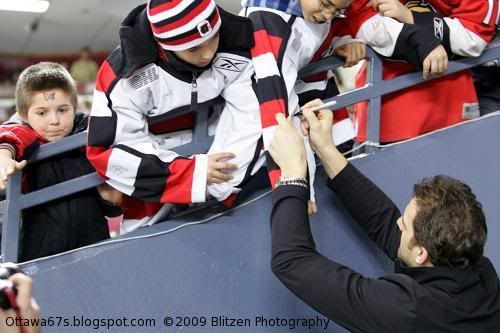 Fromer Sudbury Wolf and current Ottawa Senator (and first star in last night's game against Buffalo) drops in and greets fans.