I made it across the river for the second game of the home-and-home series with the Gatineau Olympiques. Ottawa lost 2 - 1 in a shootout (no overtime) but it was a much better product on the ice. Not terrific (yet) but better.
Lineups weren't available to me prior to the game; from what I could tell, there weren't any changes.
Forward Combos
Lindsay-Martindale-Merrett
Smith-Toffoli-Nesbitt
Sointu-Anderson-Carnevale
Janes-Graovac-Schinkelshoek
D-pairs
Hartwick-Gibbons
Birkhoff-Ceci
?-Hanes
Goal
Petr Mrazek (Josh Cooper was the backup)
Scratches:
Cuma (Wild camp), Demers (Sharks camp), Nigro (Blues camp), Zanetti (Bruins camp), Perugini (Coyotes camp), Cowick (injured)

The passing got better (although there were still way too many passes to nowhere in particular) and everyone was working harder.

There were far fewer penalties called but I think the refs were letting a lot go too. It was still chippy enough but I think both coaches told their teams to tone it down a bit. It didn't stop them from the late'ish hits and the behind the play shenanigans.

Christian Ouellet of the Olympiques scored the 'Piques regulation goal, on the 4th shot of the game just 5 minutes in. Jean Gabriel Pageau got the lone assist.

Ottawa evened it up with just 40.1 seconds left in regulation. Mrazek was pulled for the extra attacker. It was a goal mouth scramble from what I could see from centre ice and when the ice chips settled, Dalton Smith was credited with the goal with assists going to Travis Gibbons and Cody Ceci.

In between was some decent pre-season hockey. Both teams were perfect on the penalty kills and which means both teams were shut out on the powerplays. I believe this was Petr Mrazek's first game. He had some good saves, gave out some really juicy rebounds and got downright lucky a few times. He also got caught playing the puck in the no-goalie zone which earned him his first penalty minutes.

In the shootout, it was Christian Ouellet, Alexandre Quesnel and Joshua Domingues shooting for Gatineau (Ouellet scoring) and Cody Lindsay, Ryan Martindale and Tyler Toffoli shooting for Ottawa (no goals - Toffoli rung his off the iron).

Final shots on goal: 24 - 22 for Ottawa (but the person doing the counting was either distracted or very cheap).

No Three Stars were named. If forced to pick a hardest working 67s, it would be a toss up between Ryan Martindale and Travis Gibbons.

Random Thoughts:

It looks like this version of the 67s intend to be a bit tougher to play against. A few players tried too hard for the hit now and again though. It's still pre-season; they'll get their timing sorted out.

Birkhoff got stung a couple of times; one had him hobbling around while the play continued. He finally got ahold of the puck to ice it so he could get to the bench.

One of the linsemen was pretty fast between the whistle and puck drop. Martindale was caught out of faceoff position more than once.

Ottawa will be missing yet another player on Friday's game against Kingston. Matias Sointu will have just wrapped up rookie camp with the Lighting (poor kid - what a mess of a franchise that has turned out to be). Not sure if any of the other camps will be wrapped up by then. We will only get players back who are not moving on to their main camps.

The number changes are indeed temporary until the new sweaters are unveiled this week.

Pictures: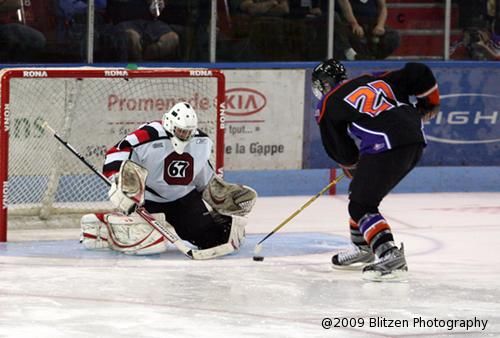 Petr Mrazek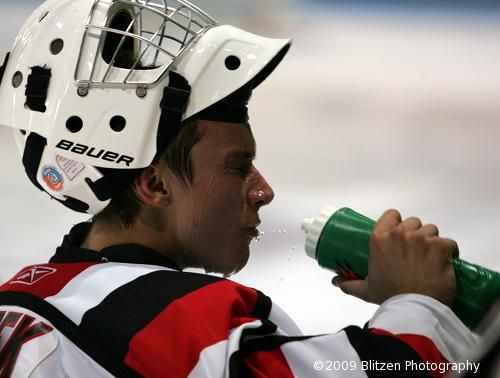 Petr Mrazek
Andrew Merrett
Derek Hartwick
Ryan Martindale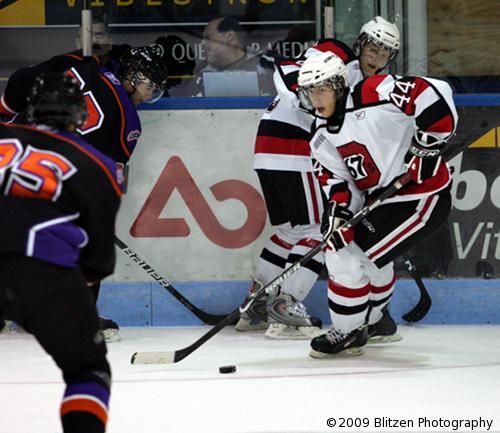 Dylan Anderson
The Olympiques' reasons to be proud.