Not sure what to make about that game.
The Gatineau Olympiques made their first trip across the river in 7 years. This was before I was a major junior fan but by all reports it was quite the rivalry. Given the looks, chirps and scrums, it seems that neither team missed a beat.
First, the line-ups.
Forward Combos
Lindsay-Martindale-Merrett
Smith-Toffoli-Nesbitt
Sointu-Anderson-Carnevale
Janes-Graovac-Schinkelshoek
D-pairs
Hartwick-Gibbons
Birkhoff-Ceci
Zanetti-Hanes
Goal
Perugini
Scratches:
Cuma (Wild camp), Demers (Sharks camp), Nigro (Blues camp), Cowick (injured)

The Olympiques were missing Paul Byron (Sabres camp) and Tye McGinn (ankle injury). The 'Piques have a few Ontario players who were not drafted or were waived including former IceDog Thomas Middup

The 'Piques were certainly the better team in the first period. They were more organized, sharper and had kept up most of the pressure. They started camp a week earlier so Dupont has had more time for his systems to set in with the players.

It took Ottawa almost 5 minutes before they even had a shot on net.

The 67s had two power plays but it was Gatineau that scored first...on the PK. Thomas Middup took a sweet pass from Ouellet on a two on one breakaway and beat Perugini glove side.

Gatineau went up by two on a two minute 5-on-3 powerplay that was split across the first and second periods with 1:34 to start the second period. Martindale, Birkhoff, and Gibbons were unable to clear the puck and after holding off the 'Piques for more than a minute, Alexandre Quesnel scored on one of the few rebounds that Perugini let out.

Dalton Smith's game was shortened. It started with a pretty hard, open-ice hit on Hugo Laporte that had him on the ice for a very long time. Then, later in the period, Smith and Nicolas Boyer had a dust-up (Smith gets the call, including the take-down) which resulted in both of them hitting the showers.




Ottawa finally got on the board with just over 6 minutes left in the period when Tyler Toffoli beat Clermont top corner stick side on a two-on-one with Zanetti. Thomas Nesbitthad the second assist.

The tying goal came with Gibbons testing out the new penalty box and following Ottawa killing a 33-second 5-on-3, while still short-handed when Tyler Toffoli beat the Olympiques defensemen in a foot-race to the puck and then neatly beat Clermont glove-side.

The Olympiques scored two in the third...one that was a shot from the blue line that was deflected past Perugini and the winning goal was Middup's second shortie of the night.

Ottawa got one back when Thomas Nesbitt finished off the rush with Matias Sointu and Tyler Toffoli.

Chris Byrne pulled Perugini in the last minute for the extra attacker and the 67s had good pressure and had a couple of scoring chances but the game ended 4 - 3 in Gatineau's favour, final shots were 28-36 also in Gatineau's favour.



Three Stars




Hardest Working 67 as selected by me: Chris Perugini
Random Thoughts:
Toffoli has changed since we last saw him. Not only is he bigger, he's now wearing number 19 and has developed some attitude. A couple of penalties, pushing and shoving, and generally dishing as much as he was getting.

Cody Lindsay is also sporting a new number this year - 25.

Travis Gibbons was wearing 5 but that's just a temporary thing.

Schinkelshoek certainly was a target by the referees. I lost track of the number of penalties he earned. It won't take many more for him to qualify for the engraved name-plate in the penalty box.

Ottawa certainly had a lot opportunities to practice their penalty kills - including several (at least 4) 5-on-3s.

The third period was the weirdest of the three. It was hard at times to figure out what kind of hockey were seeing. Just before Ottawa scored its third goal, it was crazy out there - can't describe it - it was just...crazy.

Ceci and Sointu had lots of specialty-team time.

Corey Cowick's shoulder injury is bad enough to warrant surgery (scheduled for next Tuesday). It's a fairly big tear with other damage caused when his shoulder was dislocated in what some might consider a late hit. He won't be back for 4-6 months.

The trainer from the Olympiques mentioned that drums, horns and other noisemakers are not allowed to be used behind player benches in the Q.

Gatineau was pretty good at moving the puck.



The game on Sunday should be interesting.

More Pictures: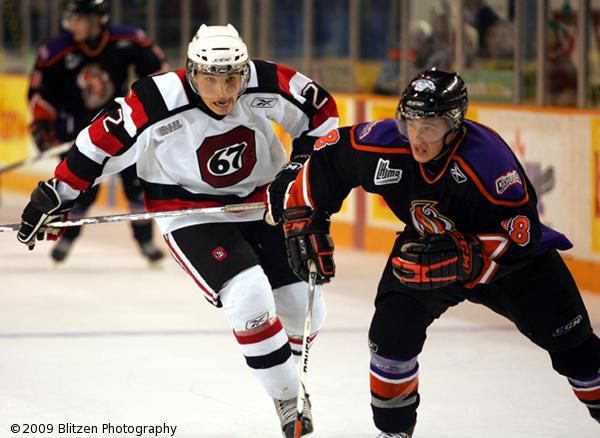 Cody Ceci
Brian Birkhoff
Thomas Nesbitt interviewed by Scott McArthur
Matias Sointu