Yes, there was a game today (and I will post about it eventually - probably tomorrow) but the main event was the celebration of Brian Kilrea's final regular season game behind the bench. Some of his coaching numbers:
2,156 games coached (a CHL record)

1,192 career wins

32 seasons behind the 67s bench

31 playoff seasons

2 Memorial Cups

5 OHL Coach of the Year awards

1 CHL Coach of the Year award

induction into the Hockey Hall of Fame

countless lives touched

Celebration worthy numbers - some of them not likely to be repeated anytime soon (if ever).
It was a sold-out house and with a career like Brian's, you probably could have filled half the seats with the young men that went through this club and their families. There were a number of former players and other dignitaries involved in the ceremony and in the attendance.
Roy Mlakar, Jeff Hunt, Howard Darwin, Earl Montagano, family members wife Judy, kids Billy, Linda, spouses and grandkids. There were players representing each of the decades of of his career: Steve Mortinger, Alan Hepple, Mark Edmonson and Alyn McCauly.
Dave Schriebert (The Voice) served as master of ceremonies. He has a very long history with Brian. Both men had their debuts in the same game: Brian as a coach and Dave as the radio game announcer.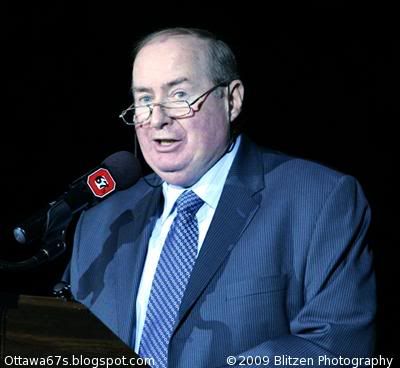 There were video message from Don Cherry and Ron MacLean; Darren Pang and Wayne Gretsky; and Jeff Hunt.
There was a great highlight video to the tune of "My Way".
(if any of the videos become available online I will post links)
Then it was Brian's turn to speak. He spoke of, and thanked the many many people who have been part of his success: doctors, trainers, assistant coaches, front office staff, volunteers and others.
He thanked the Kingston Frontenacs for their patience and noted that Doug Gilmour and his assistants took his advice and wore vests (they were all wearing sweater vests).
Becoming a member of the Hockey Hall of Fame was clearly a highlight of his career but it was when he mentioned the Teaching Room at CHEO and acknowledged the players past and present who were in attendance that he choked up.
The sell-out crowd, including the visiting Fronts were on their feet, cheering the man who consistently brought great major junior hockey to Ottawa.
The ceremony concluded with the Kilrea clan unveiling the permanent Brian Kilrea banner that was raised to the rafters.
Brian and his guests left the ice as Anne Murray sang Snowbird.
It was a good celebration of a great career of a humble man.
Brian was relaxed at the post-game press conference, sitting at the table with a collection of junior hockey hardware beside him, including the trophy given to the CHL Coach of the Year that bears his name. He mentioned how difficult it was today - it was hard to see his speech and he was concerned about omitting people from his speech. He wasn't sure whether he thanked the fans and wanted those at the press conference to be sure to let them know of his appreciation. He was very touched that so many people from his time in hockey came to the game. Cliff Fletcher was supposed to be here but an injury when he arrived prevented him from making it to the arena.
When asked if he would prefer to end his coaching career at home or one the road, ever the competitor he said that he would prefer to end it with a win.
Here's a link
to the TSN clip of the ceremony;
Here's to Killer's last charge!!